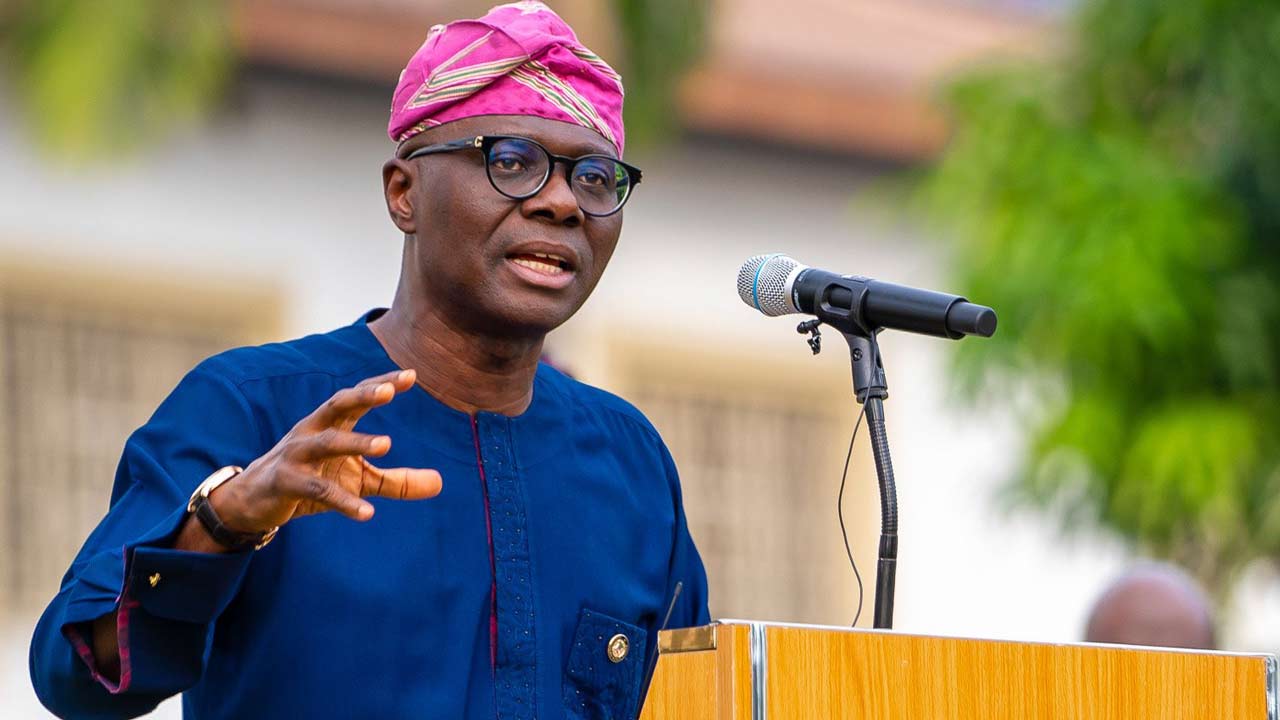 .
.Begs residents to keep faith with the administration
By Olasunkanmi Akoni
Ahead of the general elections in February and March 2023, Lagos State Governor, Babajide Sanwo-Olu has urged the people to shun evil predictions of anarchy and violence being peddled by false prophets and enemies of the country.
Sanwo-Olu, who also offered a prayer for peaceful coexistence in Nigeria, urged residents to continue to keep faith with his administration, saying his government has kept its promise and lived up to the excellent spirit associated with Lagos State in line with the THEMES developmental agenda.
Sanwo-Olu, made the remarks, yesterday, during the state's 23, Annual New Year Thanksgiving Service, held at the Tafawa Balewa Square, Lagos Island.
The programme, with the theme 'Praising The Name of God', was attended by various dignitaries from all walks of life.
Meanwhile, prayers were offered for Nigeria, Lagos State, 2023 general elections, families, children and youths, among others.
Roll call
The thanksgiving service, which coincided with the 56th birthday of the wife of the state Governor, Mrs Ibijoke Sanwo-Olu, was attended by Deputy Governor Obafemi Hamzat and his wife Oluremi, Speaker of the House of Assembly Mudashiru Obasa, former Commissioner for Information Dele Alake (who represented the All Progressives Congress, APC Presidential Candidate, Bola Tinubu, former Deputy Governor Femi Pedro, wife of former Lagos State Governors, Abimbola Fashola and Abimbola Jakande, Special Adviser to the President on Sustainable Development Goals (SDGs) and former deputy Governor of the state, Adejoke Orelope-Adefulire, APC chieftains, members of the state Executive Council, clerics, including, Evangelist Ebenezer Obey and ministers of the gospel from various churches in the state, minister at the inter-denominational Service, among others.
Sanwo-Olu, stressed that his administration has delivered laudable and iconic projects in virtually all six pillars of his administration's THEMES agenda.
He said that President Muhammadu Buhari will be in Lagos in two weeks to officially kick off some of the iconic projects undertaken by his administration, among which are: the First Phase of the Blue Line Rail from Marina to Mile 2, Imota Rice Mill, First Phase of the Lekki-Epe Expressway and the J.K. Randle Centre for Yoruba Culture and History, as well as the kick-off of Phase II of the Blue Line Rail from Mile 2 to Okokomaiko.
"As we offer our deep and heartfelt gratitude to God, at this thanksgiving, I enjoin Lagosians to continue to keep faith with us and rest assured that the Greater Lagos of our collective dream is within reach," Sanwo-Olu assured.
The governor added that the thanksgiving which is traditional, held at Lagos House Alausa, Ikeja, took place at the TBS this year to give more people the opportunity to participate, in line with his administration's policy of inclusion.
According to bro Sanwo-Olu; "This year's thanksgiving is significant because this is a general election year for Nigeria. Part of our supplications to God is for us to witness another smooth and peaceful transition of government; a transition that will defy the evil predictions of anarchy and violence peddled every election season by false prophets and enemies of our dear land.
"Even as we seek the face of the Lord regarding this transition season, I am certain that the good people of Lagos State will once again choose the team that has been able to fulfil the mandate entrusted to it.
"We have done everything we promised, by the special grace of God. We have kept the promises we made to you, this time four years ago.
"Indeed, we are well on our way to the Greater Lagos of our dreams, and even as we get to the end of our first term in office, our energy has not flagged. We are still going strong because our goal is to finish strong, and start a new term on an even stronger note."
Earlier, Commissioner for Home Affairs Prince Anofiu Elegushi said all the promises made by Sanwo-Olu's administration in line with the THEMES agenda have received attention in the last four years.
Elegushi, therefore, urged Nigerians, particularly, residents to continue to commit Nigeria and Lagos to God's hands to keep it in unity.