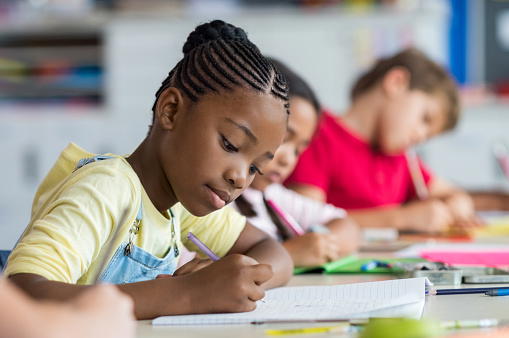 Yewande Hakeem-Habeeb, the creative director of Qubraz Designs and Fashion Academy, has urged parents to encourage their kids who are interested in pursuing professions in fashion design.
She made this call while delivering the keynote speech at the 2022 Fashion Show, which was hosted at the Lagos campus of Greensprings School, Anthony.
She claims that since there is little entry-level competition for the field of fashion design, parents should support their kids if they express an interest in it.
Yewande's claim was supported by the head of school at Greensprings Anthony campus, Mrs Magdalene Okrikri, who said that the yearly fashion show was planned to give students interested in the fashion business opportunities to find their career interests.
"At Greensprings School, we are actively interested in helping our pupils uncover their abilities and make them future-ready, in addition to academics," she stated.
In keeping with that, one of the things we do is find out which of our students have a passion for fashion design, and then we give them the chance to plan and carry out the yearly fashion show so they can have first-hand experience in the process of putting one together.
We think the programme will aid in their career exploration, and whether they choose to pursue fashion design as a main career or as a side gig in the future, the lessons they gain through the programme will be very beneficial to them. "
Mrs Anuoluwapo Adeyemi, the school's art and design teacher who organised the event, discussed its significance and said that it gave the pupils a platform to showcase their creativity.
The High Low style is going out of style, so we decided to bring it back in a unique way while combining stripe designs for this year's fashion show, which will have the hashtag "High Low #Driven by Stripes."
Our students gained knowledge about drawing, finding fabrics, sewing, managing a clothing line, and working with models through the performance.
We had five clothing lines with fifteen models each, and the event gave our pupils a chance to show off their fashion sense," she said.
Three campuses of the British international school Greensprings School are located in Lagos: Anthony, Lekki, and Ikoyi. The institution became publicly accessible in 1985 and is today considered one of Nigeria's top universities.