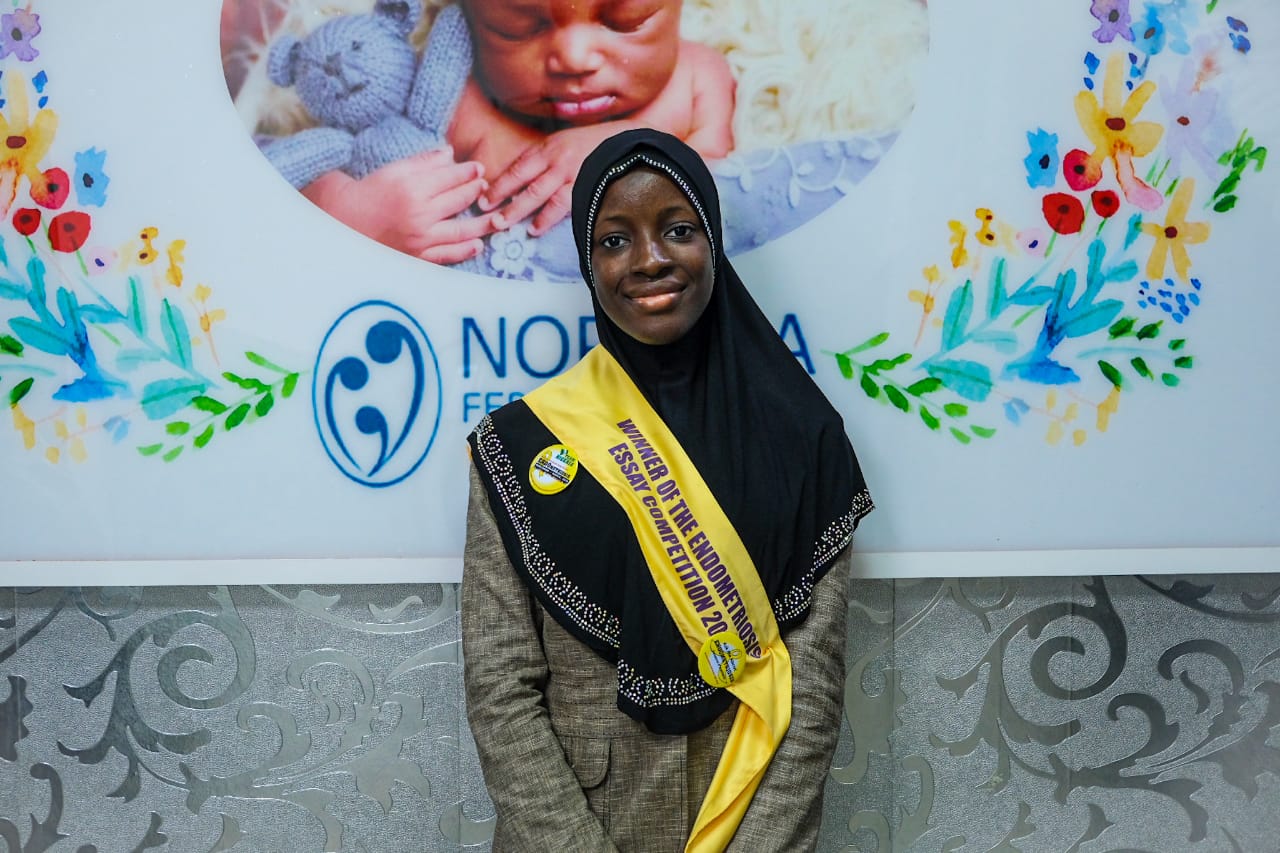 .
…Acts as One-day AstraZeneca Country Manager
By Ebunoluwa Sessou
Miss Aisha Tijani, winner of the 2022 Endometriosis Support Group Nigeria, ESGN, Senior Secondary School Essay Competition, has said she is ready to be an advocate of endometriosis in Nigeria by bringing to the consciousness of young girls the challenges posed by the health condition.
She made the promise during a press conference showcasing winners of the 2022 ESGN Essay Competition organized by the Nordica Fertility Centre in Lagos in conjunction with AstraZeneca.
Winner of the competition, Aisha Tijani, student of Crescent College, alongside Udom God'sFavour, student of Prudence City College, Yaba, first runner-up and Oluwafemi Olafuyi, student of Rainbow College, second runner-up were awarded cash prizes for the determination to contribute their quota to ensuring endometriosis is brought to its barest minimum.
Aisha Tijani acted as the One-day Country Manager of AstraZeneca in commemoration of the International Day of the Girl Child. Between 11:30-12:00pm, she joined AstraZeneca Global Girl Child meeting (#GirlsBelongHere) where she had a zoom meeting with other girls from countries like Ghana, Kenya, and South Africa.
This was followed by a visit to AstraZeneca head office in Ikeja, where she hosted a Team meeting with the entire staff of AZ and finally had brunch with AZ senior Management and interacted with other top female managers at AstraZeneca.
Speaking about her essay competition, Aisha said, "I sourced materials for my essay competition from the internet and my teachers also assisted me. I wrote it in a narrative format. I had an Aunt who had the endometriosis condition, she was my favourite but she passed on. I also wrote that she motivated me to become a gynecologist and that was how I developed the topic.
"I intend to create a social media platform where I would be able to talk about endometriosis conditions as well as other female health conditions. My purpose is to join other advocates who are saving lives.
"The competition enlightened me about the disease which I knew nothing about before now. It also enabled me to know that research is very vital in information gathering. I have also been able to enlighten my friends about the endometriosis condition.
In his address, the Managing Director, Nordica Fertility Centre, Dr. Abayomi Ajayi while congratulating the winners observed that endometriosis is capable of endangering the lives of people.
According to him, "It is best to empower women. Patients, especially women, should take interest in their bodies' metabolism.
"It is better to continue to raise awareness on endometriosis. It is important to raise advocates among the young girls who would talk to their peers. Awareness has gotten better from year to year.
"Endometriosis is a condition which normally grows inside the uterus and grows outside the womb. Averages of 178 million women worldwide are affected by the health condition.
"It is a common health condition affecting women irrespective of class or race who menstruate. Its growths are benign and non-cancerous.
"Signs of endometriosis are severe menstrual cramps or chronic abdominal pain, difficulty in becoming pregnant, bleeding and digestive problems and the causes are unknown, problems with menstrual period flow, genetic factors, hormones as well as surgery that involves opening into the cavity of the uterus for instance, C-Section.
"The effects of endometriosis include blockage of the fallopian tubes when growths cover the ovaries or directly affects the tubers, inflammation which forms scar tissue and adhesions, as well as problems in the intestines and bladder.
In her contribution, Clinic Manager, Nordica Fertility Centre, Tola Ajayi, , urged the girls to become advocates of endometriosis in their various localities and ensure that more people are informed.
Meanwhile, Country Manager, AstraZeneca Nigeria, Morris Nyarko, disclosed that the company will continue to champion the course of women. He however advised the winners of the competition not to allow their environment to determine their greatness.
"Ensure that you build on what you have learnt and attained and become an inspiration to your colleagues and your environment as well as other young girls. This is a memory to be captured.
"Endometriosis is a health condition that is under-represented in society. It is noted to be very common among black women.
"We are happy to drive the agenda that bothers on awareness creation, every initiative that bothers on women becoming more conscious of their health that will lead them to better access to education and health care.