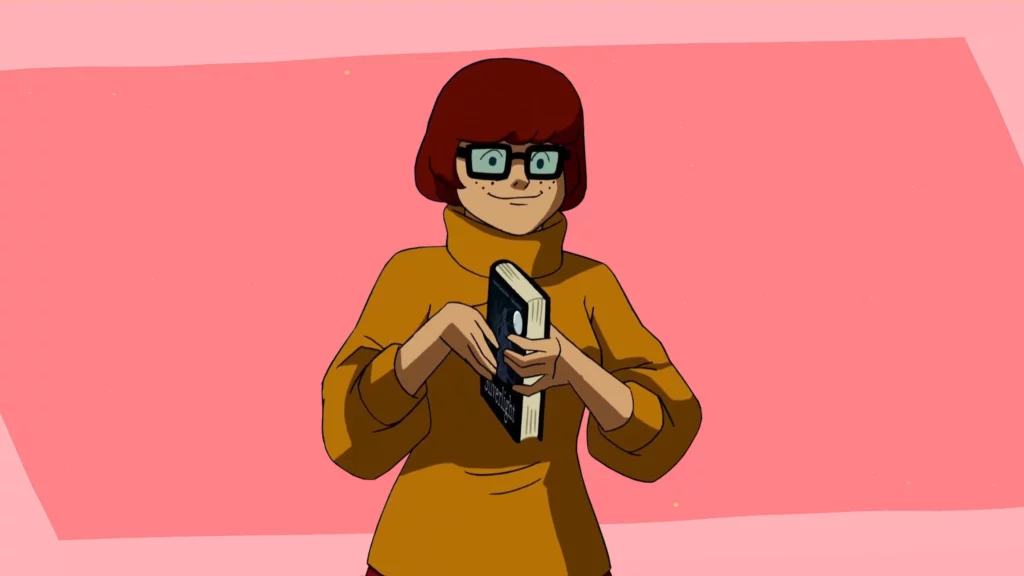 Velma Dinkley, fictional character in the Scooby-Doo franchise has finally 'come out' as a lesbian ahead of the new film.
The character officially came out as a lesbian with a joyful animation.
Velma's official sexual status in the new film "Trick or Treat Scooby Doo!' comes afters years of ambiguity about the character's sexuality
She is usually seen wearing a baggy orange turtleneck sweater, a short red pleated skirt, knee socks, Mary Jane shoes, and a pair of black square glasses, which she frequently loses.
Velma is seen as the "brains" of the group.
Earlier in 2021, it was announced that Velma will have her own streaming television series which will be released on HBO Max.
Titled Velma, the series will be adult-oriented, and Velma will be portrayed as being of Indian descent.
On July 11, 2022, the trademark for the series was listed as abandoned, but HBO Chief Content Officer Casey Bloys said the series is still in production in an August memo.
Here is more details to learn about the fictional character Velma.
Character description
Throughout her various incarnations, Velma is usually portrayed as a highly intelligent young woman with an interest in the sciences.
She is also often portrayed as being very well-read on obscure fields such as Norse writing (as in the third Scooby-Doo series The Scooby-Doo Show).
Due to her intelligence and problem-solving abilities, Velma is typically the first one to solve the mystery and, like Sherlock Holmes and many other fictional detectives, often keeps her conclusions secret till the end of the story. Velma Dinkley was inspired by the brainy sweater girl Zelda Gilroy, as played by Sheila Kuehl, from the late 1950s/early 1960s American sitcom The Many Loves of Dobie Gillis.
Velma is characterized as the most skeptical of the gang and is most likely to discount any paranormal explanations to their mysteries.
This is particularly evident in the films Scooby-Doo! and the Curse of the 13th Ghost and Scooby-Doo! Return to Zombie Island, in which she discounts ghosts and zombies (which are real within the context of the franchise) that could not be unmasked by claiming they are hallucinations.
Character background
Like all of the Scooby-Doo kids, later ret-conned as Mystery Incorporated members, Velma has a differing personal backstory and origin in different series.
In the original flagship Scooby-Doo, Where Are You! series, Velma is shown to attend the same high school as the rest of the gang (as stated in the inaugural episode "What a Night for a Knight"). However, by The New Scooby-Doo Movies, Velma is said to have graduated from a different high school (as stated in the episode "Spirited Spooked Sports Show").
In the film Scooby-Doo! Curse of the Lake Monster, it is revealed that her middle name is Daisy.
According to Scooby-Doo: Behind the Scenes, before she said "Jinkies!" she used to say "Oh, my!" but it wasn't as catchy. Her parents are depicted to have pushed her from an early age to excel in her studies, resulting in hundreds of awards for outstanding achievement. Because of this, she is more vocal than her comrades would like. Of course, she also does her share of sweet-talking too.
Sexuality
Velma Dinkley has been primarily shown in heterosexual relationships with men such as Shaggy, Johnny Bravo, Patrick Wisely, Sam Winchester, and many other male characters.
While addressing comments on his Instagram page in 2020 about the episode's director labelling Mystery Incorporated's version of Velma as bisexual, producer Tony Cervone claimed in response that his intention was for this iteration of Velma to be depicted—as clearly as would be permitted at the time—as a lesbian.
Subscribe for latest Videos