.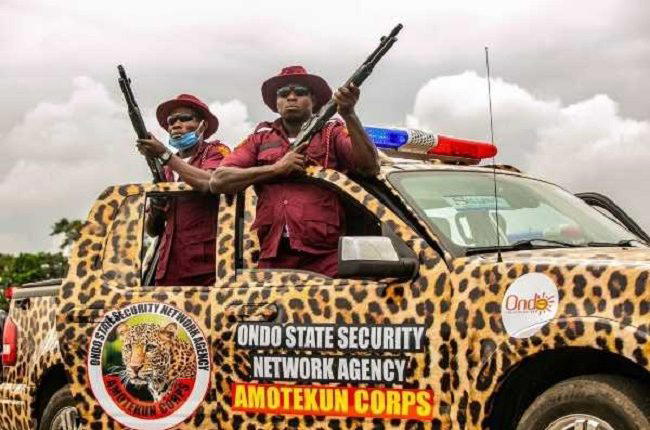 By Dayo Johnson, Akure
No fewer than 45 suspected criminals were yesterday, paraded by the Ondo State security outfit codenamed Amotekun.
They were arrested in different parts of the state in the last two weeks
Parading the suspects, eight of who are suspected kidnappers, the state commander of Amotekun Corps, Adetunji Adeleye said: "Today is another major harvest of criminals operating in the Ondo State.
"A couple of weeks ago, we deployed additional hands to all the 18 local government areas of the state to assist in beefing up security in the state and it has actually yielded a lot of results.
"In the last two weeks, we have been able to curtail the excesses of the criminals ranging from kidnapping, armed robbery, and rape among others.
"We have 45 criminals that we have concluded their investigations and they are ready to be prosecuted in courts.
"We have a case of one Okoyie Chukwuma, who specialises in burgling cocoa stores; we also have one Philip Jacob, who specialises in vandalising vehicles parked in mechanical workshop overnight.
"In Ore, there was a family that was kidnapped. We moved there immediately and were able to arrest the kidnappers and released the victims.
"We also have those that are regular in housebreaking in the midnight, they have their ways of opening doors and silently entering to molest innocent people and disposing them of their valuables.
"We also have some people who specialise in using vehicles to steal goats across the state and some of the goats have been recovered from them.
"We have a gang of fraudsters that use spiritual means to defraud some people in the society.
"We have a case of some kidnappers who will fake that you have hit their bikes, and when you come out to sympathise with them, they will just enter your vehicle and drive the victims away. We have eight suspected kidnappers from the Central and Southern senatorial districts of Ondo State.
"I must let you know that factually, all the operations were done in collaboration with other sister security agencies in the state."
Subscribe for latest Videos