.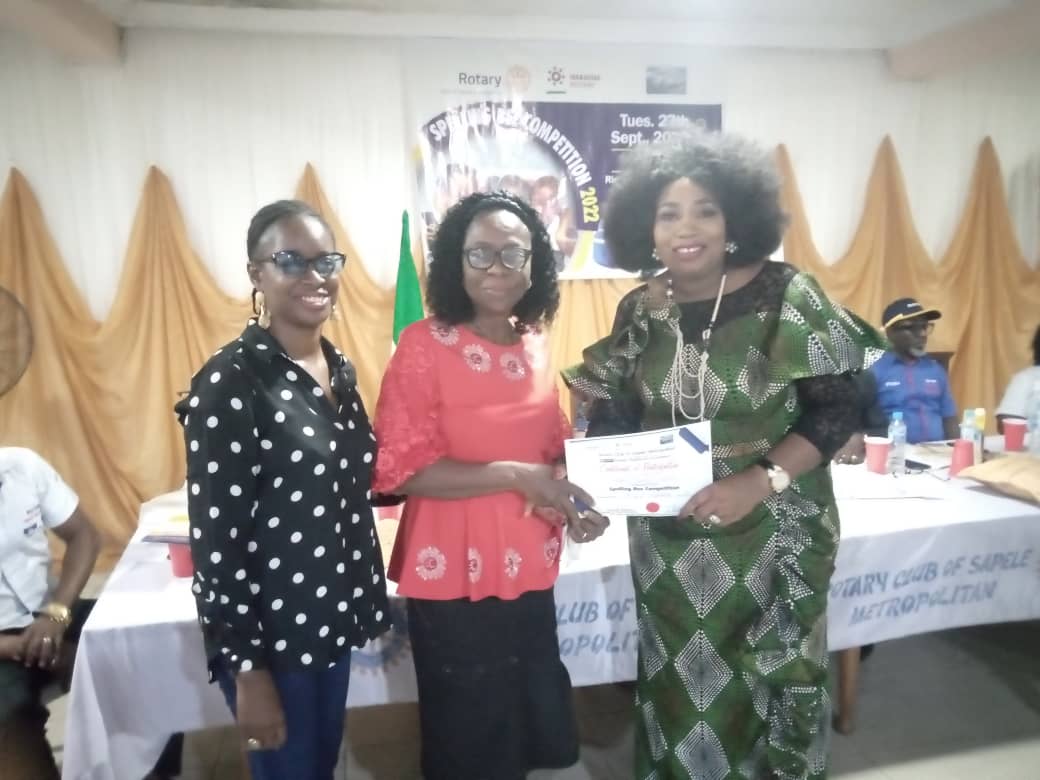 By Paul Olayemi
The Maden Health Care Foundation, MHF, a non-governmental, non-profit organization committed to improving health, in partnership with the Rotary club of Sapele Metropolitan has organised it's first Spelling Bee Competition for Primary and Secondary schools in Sapele.
The competition with schools mostly from the Public sector in Sapele, saw four primary schools, Omarin Primary School, Wesley, Primary School, Ogodo Primary School, and Abbott Primary School slugging it out at Richards Continental hotel in Sapele, and in the secondary category, schools like Okotie Eboh Grammar School, Ethiope Mixed Secondary school, Ziks Grammar School, Orodje Grammar School and Blazer's international school battled each other out at the same venue
At the end of the 3-stage exercise for the Secondary and Primary schools, Omarin Primary School represented by Daniel Okerediden and Gift Ocha emerged the winner of the spelling competition with 21 points, while Abbott Primary School represented by Evans Eromosele and Best Umukoro came second with 14 points, Wesley and Ogodo Primary school came 3rd and 4th.
Chindo Charity and Paul Peace of Orodje Grammar School came 1st in the secondary challenge with Omamidi Marvelous and Ojo Eseoghene Ofeoritshe who represented Ethiope Mixed Secondary School coming 2nd, Blazers International School came 3rd while Ziks Grammar School and Okotie Eboh Grammar school came 4th and 5th.
  All the participants were rewarded with cash prizes including educational materials and other consolation prizes.
In her speech, Rotarian Eseoghene Agbatutu, the Chief Executive Officer Maden Health care Foundation said the body has three areas of focus, menstrual hygiene, school health and medical outreaches while actively promoting behavior(s) of individuals through investment in health.
She noted that education and promotion, advocacy, and provision of basic health care are needed amenities required to improve the health of people in schools and communities.
"Health is not just the physical health being but the mental health being and Spelling Bee has helped to check this and we are advocating for the Government to do same"
Rotarian Tony Uba, the District Assistant Governor on his part, while speaking said Rotary was paying more attention to the Society because an elevated mind is an enlightened mind, adding that as education and literacy month for the rotary, what they are doing now conforms with their drive.
 Rotarian Kenedy Ebimaro, President of Sapele Metropolitan who spoke to Newsmen said they are looking for ways in which they can impact the student's lives directly " And involving in the competition of spelling bee, we will now see their spelling prowess and what they can do and impact in their lives" adding that rotary pays more attention to education because an educated mind is a sound mind.
Subscribe for latest Videos