.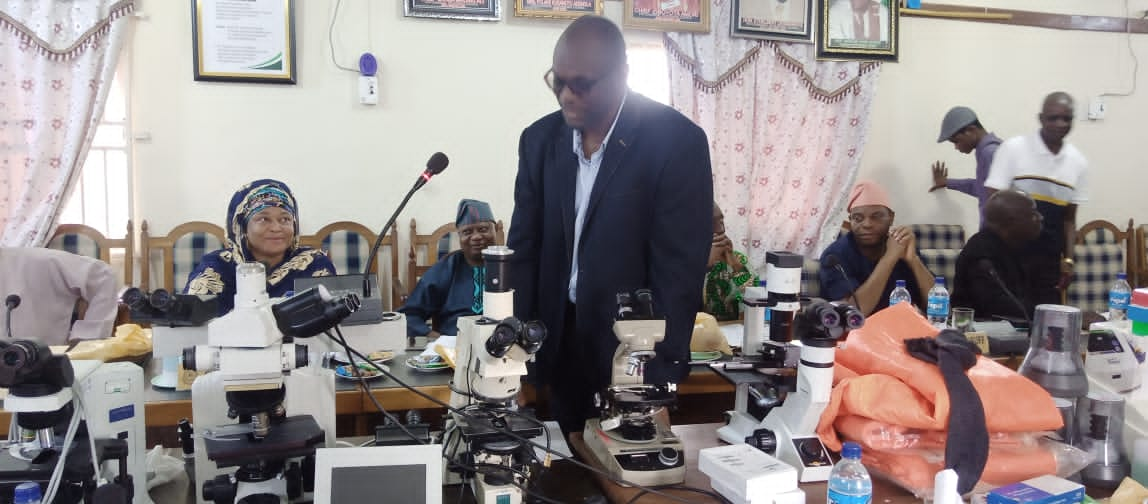 By James Ogunnaike, Abeokuta
An alumnus of the Federal Polytechnic, Ilaro, in Yewa South local government area of Ogun State, Dr Adetokunbo Ogunfemi, has donated medical equipment, worth over N100 million to the institution's Health centre, with an appeal to other alumni of the institution to give back to their alma mater.
Ogunfemi, a Medical Scientist and lecturer at a University in London, while unveiling the medical equipment in the presence of the institution's Governing Council members, said the gesture was for the students of the institution to benefit from what God has done for me.
Some of the equipment donated included 12 microscopes, disc incubators, osmometre, 150 sample bottles, fasten blood sugar, protective jackets with gears, among others.
"One of the equipment is for detection of cancer; there are also microscopes for detection of microorganisms and microbes. There are instruments to check people with staphylococcus among others".
"The microscopes can be used to detect malaria parasites; they can use it to detect if someone has low blood; they can use it to test anemia, food poison, soil, pollution, diabetes, low sugar among others".
"The Polytechnic just opened a new hospital and I hope they will be able to use the equipment properly. Those instruments are to empower the institution. But what I want to say is that, they should not charge the students".
"Before this donation, I also see that most students have the theoretical and practical knowledge but they don't have the equipment to practice".
"There are hundred of people that are better than me, and this is to urge them to come and give back to the school".
"To other alumni, let's come and assist our students. You can do many things for the students. You can even employ them.
Receiving the equipment, the institution's Governing Council Chairman, Dr. (Mrs.) Veronica Ogbuagu, while commending Dr. Ogunfemi for the donations, pointing out that the donor allowed the Polytechnic to pass through him, while he was a student of the institution.
She said, " we are indeed grateful for the donation, promising that the institution will put the equipment to maximum use".
Subscribe for latest Videos