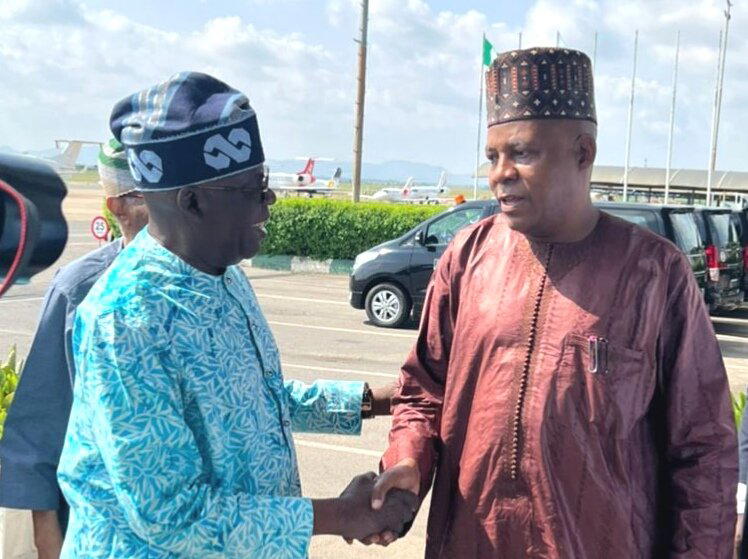 By Luminous Jannamike, Abuja
All Progressives Congress, APC, stakeholders from the North Central, yesterday, stormed Abuja to protest the Muslim-Muslim ticket adopted by the presidential candidate of the party, Asiwaju Bola Tinubu. 
The over 1,000 supporters of the APC, from the six North-central states, also rejected the appointment of Governor Simon Lalong as Director General, DG, of Bola Tinubu Campaign Council.
The aggrieved APC loyalists, under the aegis of the North-Central APC Stakeholders, chanted solidarity songs and marched to the Presidential Villa to submit a protest letter.
The protesters, who were mainly APC women and youths in the six North-Central states and the FCT, said they were humiliated by the recent actions of the party's leadership, which, they said, did not demonstrate ethnic and religious inclusion.
Addressing journalists, the leader of the group, Dauda Yakubu, among others, said: "We are worried that the various indices at play with our great party do not suggest that the Christians from Northern Nigeria are considered in the party's scheme of affairs.
"As concerned stakeholders of the party in North Central, we feel humiliated by the actions of the party's leadership which do not demonstrate ethnic and religious inclusion.
"We, consequently, feel the appointment of Governor Simon Lalong as the Director General of the Presidential Campaign Council is an insult to our collective sensibilities as devoted party faithful in North Central."
The group, in a protest letter, addressed directly to President Muhammadu Buhari, reads in part, "You may wish to recall that in the annals of the party, the North Central zone has demonstrated an unalloyed commitment to the growth and development of the party. But what has the north central received in return?
"As stakeholders of our party, we have consistently advocated for Governor Simon Lalong to be the party's vice presidential candidate because he possesses all the necessary qualities. But to our dismay, he was appointed the DG of the presidential campaign council.
"So many questions are left unanswered in our minds regarding the position of the party in the interest of Northern Christians.
"We beg to ask the question whether a Northern Christian is good enough to lead the Presidential Campaign Council, why then is a Northern Christian not good enough to be nominated as the Vice Presidential Candidate of our party?
"It is our considered position that the lines are not connecting for us as stakeholders of the party in the North Central zone of the country. Consequently, we demand explanations as to why our interests have been jettisoned using a yardstick that defeats common sense.
"We stand by our position that something fundamental is wrong and we are convinced beyond doubt that you cannot sanction such a move by his antecedent as a unifier and an advocate of peace.
"Mr President, it is our earnest desire that you, in your fatherly manner, ensure that a Northern Christian is considered as the vice presidential candidate of our great party, and that the North Central zone deserves to be considered, given the prevailing circumstances and the strategic importance of the zone in the affairs of the country
"The party leadership should convoke an emergency meeting to reflect the wishes and interests of Northern Christians in the composition of the presidential team of the party for the 2023 presidential elections."
Subscribe for latest Videos