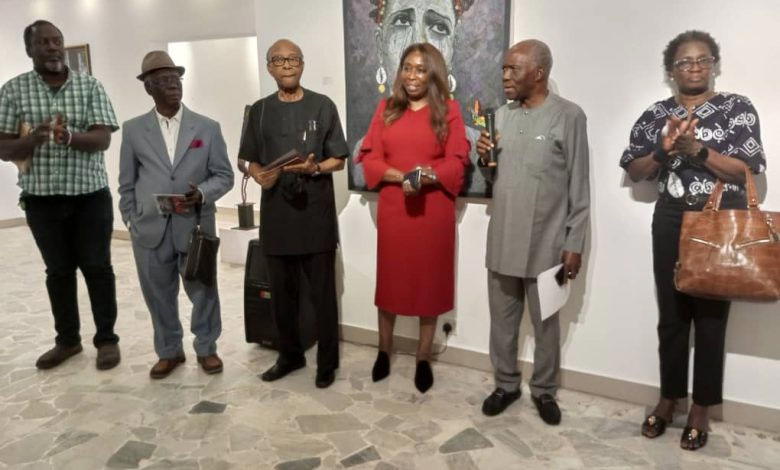 By Japhet Davidson
After two years of break occasioned by the Covid- 19 pandemic that affected many businesses, Life in My City Art Festival (LIMCAF), the annual festival for the celebration of creativity among youths, came alive again with the opening of the Lagos region exhibition themed "Paradox of Muted Echoes" .
The exhibition, which had about 34 artworks on display, was declared open by renowned artist and former Provost of Federal College of Education, Abeokuta, Dr Kunle Filani at Thought Pyramid gallery, Ikoyi, Lagos.
LIMCAF which is in its 15th edition,boasts of the largest gathering of young artists, patrons, scholars, gallery owners and other stakeholders in the visual arts in Nigeria and it features competition and exhibition of works by young talents with the climax been the grand finale/award night in Enugu.
In his opening remarks, Dr Filani who commended the management of Life In My City Arts Festival, LIMCAF for creating a most consistent platform to discover and support youths with passion for Arts showered praises on the Executive Director, Mr Kevin Ejiofor for his dedication and support of art.
Filani said "it was rare to see someone so committed to the promotion of visual arts and that Mr Ejiofor was a symbol of hope for artists."
He pointed out that promotion of young artists was critical, which was one of the things the festival and the exhibition would help to achieve. And enjoined the youths to take advantage of the platform to achieve their desired goal in Arts.
"Promotion of young artists is critical to our environment and this exhibition would give them more opportunities to compete and transient to international level which is very significant. Art and creativity gives you the space to participate in a lot of things. I am happy with what I see today and I commend the artists for their interpretation which is key in the skill of an artist," he said.
Also speaking, the Executive Director, (LIMCAF) Mr Kevin Ejiofor, stated that the festival would help to make young artists proud to be called artists and also help them make a living from their creativity.
According to him, "There are eight other regions for this year which include Lagos, Abuja, Ibadan, Osun, Port Harcourt, and this year we have to shrink the number of regions because of what we have in the country. First all the universities have been on strike and we think that it will be very difficult for young people and their guidance to have space to compete. We normally have 400, 500, 700 and thereabouts entries but this year we have 270 entries the lowest in a long time.
However, we are lucky that people like MTN Nigeria foundation has come to rescue us and we can do this from a minimal and hope it with grow from next years."
Continuing, he observed that, 'Everybody appreciates art but not everybody is able to manifest the appreciation. They would not know they are appreciating art because art is life."
On his part, Mr Dennis Okoro, the Director, MTN Foundation, sponsor of the festival said that MTN Foundation was always committed to promoting young talents, one of which was the festival. Adding that MTN Foundation granted young Nigerians scholarships to study abroad and they came back to Nigeria to practice in the art sector after their studies. He further urged the artists whose artworks were displayed, to be courageous and never feel intimidated by other professions.
"Whenever you come to the realm of art, know that you are the best creative talent nature can have. Never you feel inferior to any profession. You are creative and you not winning this competition doesn't reduce your creativity.," he added.
The Art Director (LIMCAF), Mr Ayo Adewunmi, also commenting on the low entries said that "we have 34 quality artworks, which we consider low and it is due to the ASUU strike which kept students at home as the entry for the festival was driven through the schools which are all closed."
Adewunmi added that the local juries will select 14 of the 34 artworks to join the top 100 works for the grand finale exhibition in Enugu where winners of different categories will be decided by the jury.
Finally, some of the exhibiting artists took turns to explain their works to the audience.
Subscribe for latest Videos