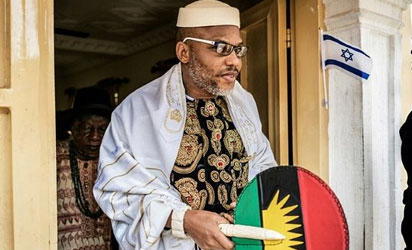 •Writes British envoy to Nigeria, Catriona Laing
•As church confers award on Nnamdi Kanu, urges Buhari to free him as requested by UN

By Steve Oko
American legal luminary, Bruce Fein, Special Counsel to the detained Leader of the Indigenous People of Biafra, IPoB, Mazi Nnamdi Kanu, has written a strong-worded letter to the British High Commissioner to Nigeria, Catriona Laing, demanding enforcement of the United Nations, UN, Human Rights Council Working Group on Arbitrary Commission Opinion on the IPoB leader.

The UN Working Group had, in its Opinion, requested Nigeria to ensure Kanu's "immediate and unconditional release."

The document indicted both Nigeria and Kenya for Kanu's abduction, rendition, torture, and continued detention, and recommended payment of adequate compensation to him.
The UN Working Group decided, on April 8, but made its recommendations public on July 20, in an unedited advanced copy sighted by Vanguard in Abia.

According to the document, Nigeria has six months to comply with the UN Opinion or the world body would be forced to take action.

Ever since the document was made public, Nigeria is yet to formally comment on the matter despite the growing clamour for the country to comply.

Piqued by Nigeria's non-compliance and Britain's inaction as Kanu holds British citizenship, Fein decided to write the UK envoy to Nigeria.

A copy of Fein's letter made available to Vanguard in Abia by Kanu's other Special Counsel, Mr. Aloy Ejimakor, queried the continued silence of Britain over the ordeals of her citizen when there is a document she could leverage on to effect his freedom.

The letter wondered why Britain which in the past, fiercely defended its citizens against lawlessness by foreign nations, is complacent over Kanu's matter.
Part of the letter read:

"On July 20, 2022, the United Nations Human Rights Council Working Group on Arbitrary Detention issued a unanimous opinion addressing United Kingdom citizen Nnamdi Kanu's kidnap, torture, extraordinary rendition, and protracted detention without trial by Nigeria acting in collusion with Kenya. "Among other things, the Working Group Opinion called upon Nigeria "to take urgent action to ensure the immediate unconditional release of Mr. Kanu." (Paragraph 107).

"The Opinion cataloged the serial human rights violations of Nigeria and Kenya regarding Mr. Kanu: "The deprivation of liberty…in contravention of articles 2, 3, 7, 8, 9,10, 11, and 19 of the Universal Declaration of Human Rights and articles 2, 9, 13, 14, 16, 19, and 26 of the International Covenant on Civil and Political Rights…." (Paragraph 105).

"The villainous maltreatment of Nnamdi Kanu by Nigeria and Kenya prompted the Working Group to refer his case to Special Rapporteur on torture and other cruel, inhuman, or degrading treatment or punishment. (Paragraph 109).

"Nnamdi Kanu is a British citizen. He has suffered far more than Captain Jenkins at the hands of Nigeria and Kenya as corroborated and held by the U.N. Working Group. Yet, you have done nothing to secure Mr. Kanu's immediate and unconditional release as mandated by international law.
Indeed, you have idled like Nero fiddling while Rome burned. You cannot claim ignorance. A copy of the crystal-clear Working Group Opinion is before you."
Church confers award on Nnamdi Kanu
Meantime, Mazi Nnamdi Kanu has been conferred with the "Battle Axe of God" Award by a church based in Umuahia, Abia State.

Presenting the award to him, the President, 'Women of Favour 2022', Gracious International Ministry Church, Umuahia, Rev. Amarachi Joseph, said the women decided to honour Kanu because "he is a fighter and believer in peace, justice, and liberation of humanity".

The Women Leader who said that Kanu did not commit any crime to warrant his persecution, pleaded with President Muhammad Buhari to release him without further delay.

She argued that his immediate and unconditional release just as the United Nations Human Rights Council had requested, would help douse tension in the South East.
Subscribe for latest Videos