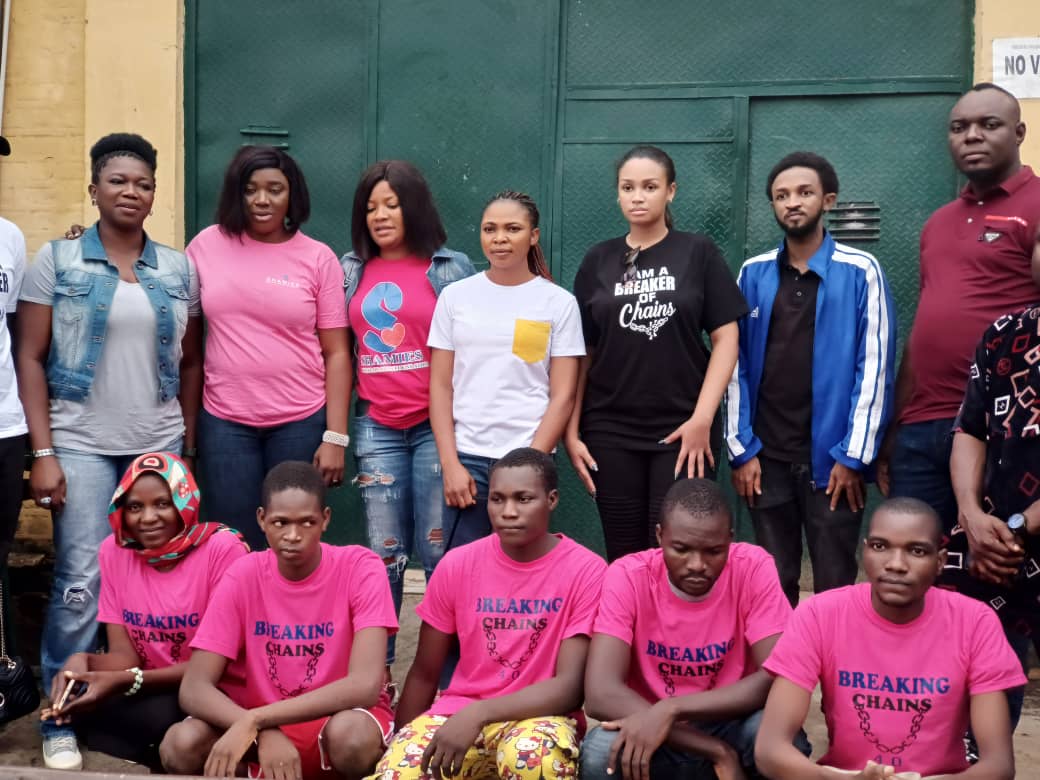 .
By Luminous Jannamike, Abuja
A group, Shamies Unusual Hearts Foundation, has facilitated the release of five prisoners from Suleja Medium Security Custodial Centre, Niger State.
Program Director of the foundation, Shedrack Okah, who disclosed this yesterday during release of the prisoners, said that the gesture was part of the foundation's legacy project.
He explained that the gesture to release the inmates is out of love and compassion of the founder of the group for the less-privileged, especially those who were in prison for bail able offenses.
Okah said: "The motivation behind this humanitarian service to prisoners is the story behind the founder of the foundation Ambassador (Dr) Sara Abdul, because of the experience she had during her childhood when somebody very close to her was wrongly imprisoned on the allegation of stealing although innocent of the crime.
"Since then, she developed the mindset of looking into the welfare and affairs of inmates.
"Ambassador Abdul believes that not all the inmates are guilty and that was her reason for establishing this NGO for the welfare and re-integration of inmates into society.
"Shamies have a series of activities, and this particular one today, is called the founders day which use to Mark her birthday, 12 August every year. The nationwide initiative sometimes covers 15 States with the release of petty criminals who are equipped with entrepreneurial skills and also empowered to keep them busy and not go back to crimes.
"We have layers of activities and this is just first step which is to gets them released from the correctional centre, depending on their crimes, after then, some would be rehabilitated and through partnerships with some sisters NGOs they can be administered medicals based on their need. We also establish them to make sure they are busy, we do check on them every two months, quarterly, and every year", he said.
Earlier in his address, the Assistant Controller of Corrections, Ali Dayyabu Ali, commended Shamies foundation for their initiative of empowering the less privilege in Nigeria.
He also called on other NGOs to key into what Shamies foundations is doing in areas releasing prisoners, noting that the foundation has also contributed a lot in the aspect of inmates' education.
He said: "We have secondary to degrees level, the vocational center where we train some inmates in tailoring, shoe making, and others.
"We urge other NGOs to participate in the general development of our citizens so that they can be discharged as law-abiding citizens that is what is expected from us with the collaboration of NGOs".
Confirming the numbers of inmates released, he said "When the foundation came here, they paid for the bail of five (5) inmates and promised to establish them, rehabilitate and reintegrate them back to the society," he said.
Speaking with journalists, one of the release inmates, Rebecca Danjuma, who commented the foundation for the kind gesture, said, "Is only God that can help and blessed them. They came to my life at the point of need and God will come to their life at the point of their need. May God continue blessing them. I don't know them but God knows them," she prayed.
According to Shamies Unusual Heart, "the Foundation is a Nigeria NGO with a mission to rehabilitate, empower and reintegrate ex-convicts into the society: through a wide range of advocacy, representation, trainings, and support programmes.
"Since the inception of our organization, we have carried out various medical and humanitarian outreaches and sponsored the release of inmates with minor crime charges in major correctional facilities across Nigeria.
"Our vision is to see a society where crime is less attractive (dignity of ex-convict restored) and ex-convicts becomes part of sustainable solutions to peace and security, and a mission to rehabilitate, empower and reintegrate ex-convicts into the society: through a wide range of advocacy, representation, trainings, and support programmes".