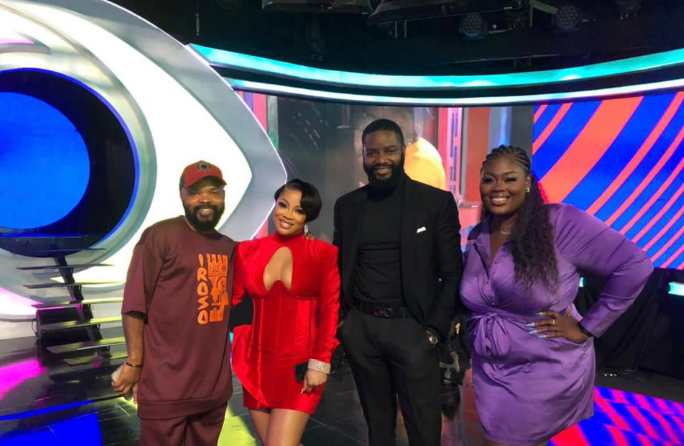 Ex-BBNaija housemate, Leo Dasilva has linked the several fights in the ongoing reality TV show (season 7 edition) to sexual tensions among housemates.
Leo made the assertion on the 4th episode of BBNaija S7: The Buzz, where himself and On Air Personalities, Nedu, Taymi B joined the host of the show, Toke Makinwa to discuss the happenings of the past week.
During the conversation, Leo mentioned that a good number of the fights in the house might be caused by sexual tension. He attributed that as the cause of the fight between Bryann and Ilebaye. He added that the tension is expected to brew as the housemates are in a secluded and controlled environment. Nedu agrees with him adding that Amaka telling Pharmsavi that she would take care of him might be due to her experiencing the midnight rendezvous between Daniella and Khalid.
This might not be far from what it is, as many housemates seem to be coupling up or looking to couple up. Some have been in and out of situations within the past few weeks and are looking for new ones to get into.
Taymi B joined the conversation, and they talked about Allysyn and how she is serving Adekunle breakfast and going after another guy, Deji, within a short period. She told Adekunle that she did not want to have anything deep but would still like to maintain their friendship and that he should not misinterpret her actions towards him as an attraction.
Speaking on the levels, the Toke believes there's a safety net the level 1 housemates have that needs to be shaken as it seems they have gotten so comfortable. Taymi B added that she wants Biggie to put everybody up for eviction as it looks like the Level 1 Housemates are putting all their energy on just the Head of House games.
Further on the ships in the house, some are sailing, and some are sinking just at the beginning. Taymi B said Sheggz is a very strategic Yoruba guy. She does not think his feelings for Bella is genuine. Leo added that many housemates in ships tend to last longer in the house than single housemates.
On the jaw-dropping moments, Toke and her guests reviewed the moment Doyin realised Beauty and Cyph were no longer in Biggie's house, which brought her to tears; Bella and Sheggz's arguments, and the latter revealing he had blue balls; as well as Khalid's birthday celebration at night. Nedu and Leo think that Bella will give into Sheggz's request soon as he has broken down her walls to the point where she cares about his emotions.
With these Level Up housemates, you never know what to expect as they are unpredictable and spontaneous. However, fans can trust Toke Makinwa to dish all the juicy details from the house with the assistance of her guests.
Subscribe for latest Videos