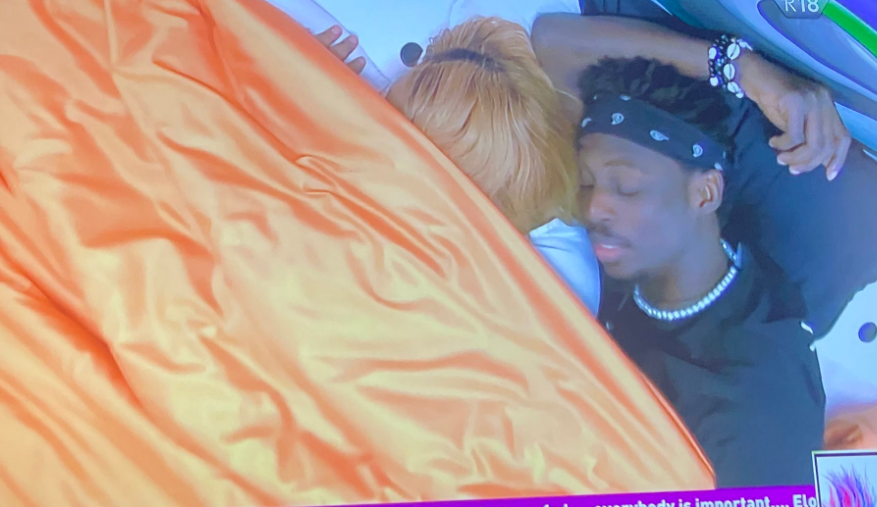 By Miftaudeen Raji
The Level Up housemates, Eloswag and Chomzy came back with a shocking reconciliation to the utter surprise of fans after engaging in a hot fight in the early hours of Thursday.
The duo were later seen cozying and napping together under the duvet.
This development, which apparently met fans as a surprise, has been generating different reactions on social media.
Recall that Chi Chi, Chomzy and Eloswag were the ones who headlined the pool party, which had viewers asking for more.
The housemates had a lovely timeout with the female housemates slaying and twerking away in brightly coloured bikinis.
The first and current Head of House, Eloswag, was adjudged the man of the night as he was frolicking with almost all the ladies with blessed behinds.
Reactions:
@tchenna wrote, "Wait am I seeing Eloswag and Chomzy napping together? What a life😂 Put a mouth for lovers at your own peril!"
@Talkactive3 wrote, "Amaka: Akproko is my career and thank you is my salary 😂😂😂😂😂theh obviously heard the Eloswag and Bella and Chomzy fight #BBNaija #BBNajiaS7."
@BBgossip wrote, "I can't believe this, Chomzy and Eloswag Cuddling after Quarrelling few minutes ago 🤣🤣.. Cc @BBNaija #Bbnaija#BBNajiaS7."
@Bellastann_ wrote, "That is how we do it here😂😂 Please those of you that like the other level, leave us alone now stop pushing agendas on us we move differently here."
@LividSun wrote, "Bella and Sheggz saying Eloswag is a good guy and Chomzy is with him in his bed ,clearly they fixed things and you guys are out here dragging poor kids. This will teach you to mind your faves."
@JaynQueen wrote, "When Adekunle is about hitting the nails on the head, blaming Chomzy and Bella for provoking Eloswag, Biggie took us to the trenches. We are not fools. We know the politics they are playing. E no go work."
@zenma wrote, "Eloswag and Chomzy sleeping on the same bed 😂😂.. will PHYNA be heartbroken or is Eloswag playing the game??"
@allday_zen wrote, "After he don kiss Phyna finish make the girl like am… now he don de like Chomzy.. men ehhh… stay one place please."
@nene57163439 wrote, "Which Phyna like Eloswagg? Phyna might like him but Phyna is the GAME, no one can play her. She already said she is alone in the ship so no can serve her breakfast."
Subscribe for latest Videos