.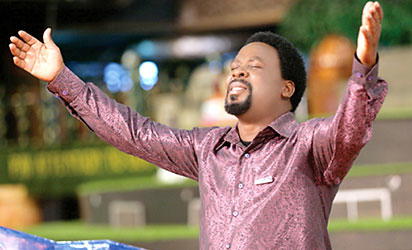 By Onozure Dania, Lagos
The wife of the late founder of Synagogue, Church Of All  Nations ( SCOAN ), Pastor Mrs Evelyn TB, Joshua yesterday recounted memorable moments she shared with her husband.
Evelyn Joshua, who is now the leader of the church, said she shared wonderful moments with the late prophet, while she also learnt many things which she has not forgotten, adding that they were times to reflect on always
"I leant from my husband that life is not bed of roses and I learnt patient and absolute trust in God; I learnt tolerance, perseverance, understanding, forgiveness, which shaped my life.
" I experienced love from my family and outside my family, I learnt to bless God in everything.
She disclosed this at the one year remebrance service of TB, Joshua, themed: 1st Year Celebration of Prophet T.B Joshua; Celebrating the life and legacy of Prophet TB Joshua " at the church's headquarters in Ikotun Egbe Area of Lagos.
Evelyn Joshua who wore a colourful dress in honour of her late husband, said "I am wearing this colorful dress in honor of TB Joshua for all the colorful shirts he has worn on this alter preaching and doing miracles for God's kingdom. "
Mrs Joshua who said she was speaking as a wife and a widow of prophet TB Joshua, on the lovely moments she shared with her husband, added: "The TB Joshua that I know, married and the father of my three daughters was a man of prayer and that was what led me to him. It is generally not unusual to seek the face of God, Iseemedd the face of God,"I didn't choose my husband , he chose me but I loved him until death do us path.
"He was a vegetarian and when he told me, I told him that I eat all those foods but for him, I became a vegetarian. the journey of faith continued, the glory of the lord blossomed and the SCOAN came into being," she said.
"There was no SCOAN then and we were satisfied but when we started the church,
we sat on mat, we sat on wooden chair and I became the first Sunday School teacher in the church and here we are today.
She said that love was tested and she fought for love and attention, and then appreciated two elderly women whom she said became their counselors.
"I fought for love and attention and today I want to appericiate two wonderful mamas who became our counselors and I had the two elderly women as friends. Mama Victoria Akinola and Mrs Felicia Olowofekun who has passed on.
She said "I remembered one Sunday, I went to his office and I said you are not to attend to anybody today but me, he brought Mrs Akinola who guided me with wisdom that kept me from the path of error. I want to say thank you for wisdom and motherly love advice and Mrs Felicia Olowofekun of blessed memory.
"When I look back now, I realized that there are so many important things than those concerns of mine then."
" I thank God for preserving our lives for his glory.
"I remember one year cross over might I had cooked my rice, stew and chiken, when TB Joshua who walked into the room with a long face, he came with papers and threw them on the floor and I summoned courage to pick the papers, on the front page was his face with horns, sleeping with all kinds of animals, I faced him and said they are not speaking to him and I received embrace.
"For the first time, I saw tears in his eyes, I want to thank God for his wonderful memories," she said.
She said that as a man of prayer, every morning he had his morning devotion with two songs he never missed. Adding at as a young lady of about 21 or 22, she began to analyse the meaning of the song and they all came to pass.
According to her, the second song (Whatever that can hinder me from the salvation of God should be removed), if it is going to be money, fame, Children and wife, the holy spirit should remove him from it.
She said " The passion at which this young man sang that song, I knew, I was in for something. But I knew we were in this together until death do us part.
Pastor Evelyn Joshua while speaking as the leader of the church, said, "Speaking as the leader of this great commission, SCOAN, a year ago, today my heart was broken because I knew I will be called a widow.
"A year ago TB Joshua, finished his race and left us, we wept, worried. But today we have gathered here not to mourn but to return all glory to God.
Weeping may endure for a night, but joy comes in the morning. Here is the morning. Distinguished members and Emmanuel TV partners, I call unto you all to access our journey so far.
" We celebrate a friend to widows, a hard working man, and father to the fatherless. he has always told us to be prepared and focused so as not to be excluded from heavenly blessings.
" We are all witnesses to all that has been happening since the church reopened, on December, 5, 2021, exactly 6 months after TB Joshua passed on to glory. The vision has been carried on the mission has remained the same and the Lord had been faithful in all ways.
" God has been at the centre of it all, despite what the ministry had been through we are inspired and energised by the strong arms of God and the powerful sustaining spirit of partners and members all over the world. The ship of the ministry is being steered by the God of T.B. Joshua as he has always done.
"We thank God for security and peace with which he blessed us with, sealing us with his precious blood. Our services has been growing in spiritual depth, divine impartation, the healings, deliverances and other areas.
"The SCOAN,mountain is an assured place of meeting God through prayers and our partners have not stopped visiting the serene site I order to encounter God, we give glory to the name of the lord for the marvellous miracles and deliverances taking place every moment at the mountain.
"We are determined to broaden the scope and relevance of Prophet TB Joshua's legacy. started, We are equally committed to building a strong, Godly foundation for the Youths whom we call " The Seed of Tomorrow"through education department.
" We hope to reach our youths through our partners and members all over the world, we are equally determined to progressively mobilize our women and groups in the ministry towards a special relationship with christ.
Meanwhile, the epitaphs for service to humanity through "TB JOSHUA Foundation was unveiled during the remembrance celebration.
Goodwill messages were also delivered by – Rev. Bukola Adeleke representing Babajide Sanwo-Olu and Ondo state deputy governor, representing the governor, Hon. Lucky Orimisan Ayedatunwa, hon. Senator Alice Dube, member of parliament Zimbabwe, Ghana delegates, hon Elvis Ankrah Afriyie, hon Benson Baba Tongo, hon Gorge Sika.
Minister of Isreal Ayoob Kara.
Subscribe for latest Videos