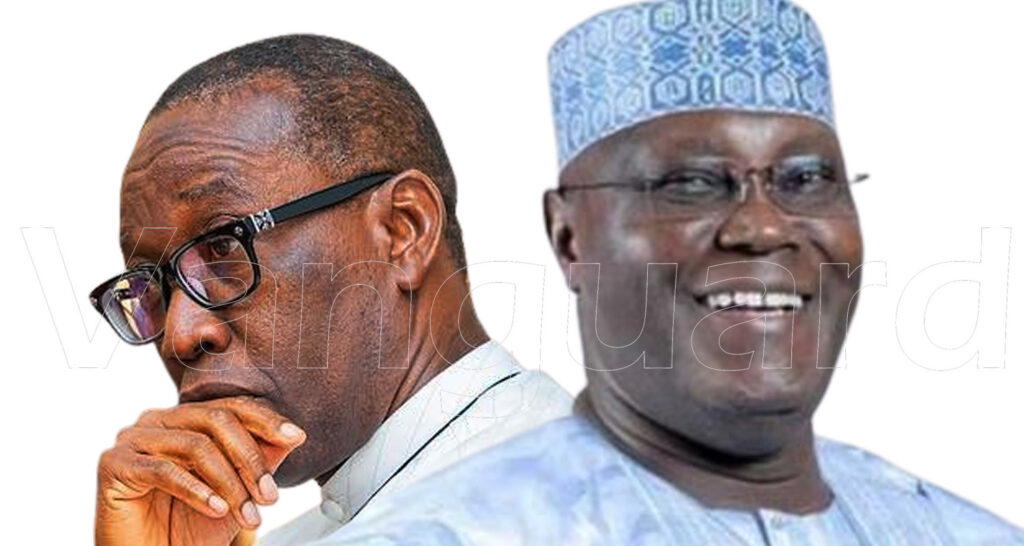 By Emma Amaize, Regional Editor, South-South, Henry Umoru & Egufe Yafugborhi
THE Southern and Middle Belt Leaders' Forum, SMBLF, led by elder statesman, Chief Edwin Clark, weekend, lashed out at the Chairman, South-South-Governors Forum and Governor of Delta State, Senator Ifeanyi Okowa, accusing him of betraying the collective decision of 17 southern governors in 2021 that Presidency should rotate to the southern Nigeria in 2023.
In a statement by Chief Clark, who is also the leader of Pan Niger Delta Forum, PANDEF; Chief Ayo Adebanjo, Leader, Afenifere; Dr. Dru Bitrus, President-General, Middle Belt Forum; and Ambassador (Prof.) George Obiozor, President-General, Ohaneze Ndigbo Worldwide, the forum said Okowa let down the South by accepting his selection as Vice Presidential Candidate by the Peoples Democratic Party, PDP, Presidential Candidate, Alhaji Atiku Abubakar.
But Publicity Secretary, PDP, Delta State, Dr. Ifeanyi Osuoza, in reaction to a parallel attack on Okowa by Senator Peter Nwaoboshi representing Delta North senatorial district, who mocked the governor for consenting to his nomination, said in Asaba, that the practical and realistic route for PDP, as an opposition party, to take back power from APC in 2023 was to field a northern presidential candidate, which it did with Alhaji Atiku Abubakar.
Treachery
The statement by the leaders read: "The Southern and Middle Belt Leaders' Forum (SMBLF) has berated the Governor of Delta State, Senator Dr. Ifeanyi Okowa for accepting his nomination as Vice Presidential Candidate to Alhaji Atiku Abubakar, Presidential Candidate of the Peoples Democratic Party (PDP) in the forthcoming 2023 general elections."
"It is unspeakable and quite disappointing that Governor Ifeanyi Okowa, who is currently Chairman of the South-South Governors' Forum, and a native of Owa-Alero in Ika North-East Local Government Area (one of the Igbo-speaking areas) of Delta State, would exhibit such barefaced unreliability.
"It bears recalling that the 17 Governors of the Southern States of Nigeria, both of the Peoples Democratic Party (PDP) and the All Progressives Congress (APC), under the Chairmanship of the Governor of Ondo State, Rotimi Akeredolu, SAN, met in Asaba, the capital of Delta State on May 11, 2021, and took far-reaching decisions, including that, based on the principles of fairness, equity and justice, the presidency should rotate to the south, at the end of the statutory eight years of President Muhammadu Buhari's tenure.
"And this very Governor Okowa was the host of that historic meeting. The Southern Governors later met again in Lagos, on July 5, where they reaffirmed their decision, and again in Enugu, on September 16, to restate the call that the presidency should rotate to the south in 2023.
"It is essential to underline that the Southern and Middle Belt Leaders' Forum (SMBLF), applauded the meeting of the governors, given its significant representation and the gravity of the outcome; we followed up and issued a similar statement after our meeting in Abuja on the 30th of May 2021, asking that the presidency should rotate to the south.
"And went further, on several other occasions, to caution political stakeholders from the South, including serving and former governors, ministers, senators, etcetera, not to, on any account, allow themselves to be appointed or nominated as running mate to any presidential candidate, if the presidency is not zoned to the south and that we will work against such person or persons.
"It is, therefore, most unfortunate that the Governor of Delta State, Senator Ifeanyi Okowa who should know better, accepted his appointment as running mate to Alhaji Atiku Abubakar. We do not have anything personal against Ifeanyi Okowo but his action is treacherous and tantamount to a despicable pawning of the political future of the people of Southern Nigeria.
"Sadly, it is also now common knowledge that he spent resources belonging to the government and people of Delta state, to lobby for the position, extensively. And that explains why he never made any statement when his party, the People's Democratic Party (PDP), thoughtlessly jettisoned the zoning principle, which has become established as a norm and an intrinsic part of the political trajectory.
"It is difficult to fathom how a political party can claim to be on a supposed "rescue mission" with such false footings of unfairness, injustice, duplicity and gross insensitivity to national outlook.
Mindless submission
"It is regrettable that while most of Governor Okowa's southern and northern counterparts have maintained gallant, patriotic deference to the unity and peace of the country, above blinkered political considerations, by their resolute stance on the rotation of the presidency to the south in 2023, Governor Ifeanyi Okowa, the Chairman of the South-South Governors' Forum, of all people, would gullibly and slavishly capitulated to the bonbon of absurdity. Thus, acceding to a situation whereby, one person rules for eight years and hands over to another of his stock, in a country of at least 360 ethnic groups. What a shame!
"The people of southern Nigeria chimed at Asaba, Lagos, Enugu, Uyo, Port Harcourt, Umuahia, and Abuja, continuously on the zoning of the presidency and that another northern presidency after the eight years of President Muhammadu Buhari would be injurious to the unity and peace of the country.
"Governor Okowa has, by his action, betrayed the trust reposed on him by his colleagues; the southern governors, the entire good people of southern Nigeria and all well-meaning Nigerians. He has made himself persona non grata, not only, with SMBLF but all citizens who treasure our oneness and hopes of a more united and peaceful Nigeria.
"We, therefore, reject Governor Ifeanyi Okowa and his vice presidency, and leave him to his lot, but let the world know that this is a betrayal of the highest order.
"And that this is not a matter of loyalty to one's political party, but rather a greedy, parochial and unpatriotic action, committed against the general interest of his State, Delta state, the Niger Delta region, and Southern Nigeria. It is, certainly, also not in the interest of the nation at large.
"We commend the patriotism of all Nigerians who cherish our unity and progress as a country and further urge all such Nigerians; in the North and the South; young and mature, the high and mighty; irrespective of religion and tribe, to remain steadfast on the centrality of the presidency to rotating to the South in 2023, in the national interest," the leaders stated.
Southern APC govs played a fast one – Osuoza, Delta PDP  
Reacting to a similar offensive against Okowa by the Director General of Senator Peter Nwaoboshi Campaign Organization, Evangelist Moses Kamanya, Delta PDP publicity secretary, Dr. Osuoza, asserted: "For the avoidance of doubt and to set the records straight, Governor Ifeanyi Okowa categorically and completely distanced himself from contesting for the Presidential ticket of the PDP, a position he was very qualified to vie for, in honour and respect of the Asaba Accord, where it was agreed that power should rotate to the South."
"But as the saying goes, you can lead a horse to the stream but you cannot force it to drink water and the PDP, in fulfilling the main objectives for which political parties are set up, which is to win elections, chose the obviously practical and realistic route, especially since it could not afford the luxury of altruism and untenable political correctness, as an opposition party.
"As for the APC, the bulk of its southern governors are in the South- West and it is now crystal clear to many Nigerians, why they vehemently and vociferously demanded that power must rotate to the South under the clever but deceitful logic of equity, when they knew exactly where and who they wanted to give the power to.
"They conveniently forgot, for political reasons, that President Olusegun Obasanjo was from the South-West and President Goodluck Jonathan was from the South-South and if power must rotate back to the South, after Buhari's North, then it must, as a matter of equity and fairness, go to the South-East in particular and not just the general South.
"But of course, they will not admit this clear and incontrovertible conclusion, because they knew who and where they wanted power to go to for political expediency. Yet, a clueless illiterate like Evangelist Kamanya will come and talk about 'ingratitude to loyalty', because he is lucky to be an ordinary DG to a traitorous Senator, who has betrayed his own people for his selfish interest. This is totally unacceptable.
"In fact, people like 'Evangelist' Kamanya are either too young to know or too ignorant to understand, that the APC, in all its various forms of political opposition, had consistently fielded Muhammadu Buhari as presidential candidate, without consideration for other zones, in the last three election cycles before 2015, because, as far as they were concerned, they were in the opposition and wanted someone they believed could win the election for them. That is the nature of opposition politics.
"The same scenario has also been the case in Delta state, as the opposition (APC) has brazenly and consistently fielded a governorship candidate from only one zone in the state with impunity. "They have once again, with the full gamut of intimidation and subterfuge, surreptitiously and audaciously imposed another governorship candidate from the same zone on its members who are Deltans, just as they have been doing since 1999. Still, they have the temerity to talk about equity?
"It is on record that the PDP has religiously maintained the zoning principle and equity arrangement in Delta State and we have sustained it again with the election of Rt. Hon. Sheriff Oborevwori, as our governorship candidate to take over from our dynamic and indefatigable 'Ekwueme' and ensure that Delta Central maintains the rotation principle in 2023. That is how a proper political party functions.
"And by the way, is 'Evangelist' Kamanya even aware of the fact that PDP has never produced a northern President in this country before? Is he also aware that the North-East has also never produced a President in Nigeria before, (except Atiku's stint as Vice President?)
Divine intervention in PDP
"What has happened in the PDP, by the combination of fortuitous calculation and divine intervention, is that the principle of equity has manifested in such a wonderful and miraculous sequence of events, which resulted in the emergence once again, of His Excellency, Alhaji Atiku Abubakar, who hails from the North-East geopolitical zone, as its presidential candidate.
"The APC on the other hand and under the dubious and deceptive guise of rotating power to the South, has wittingly given the South-West, which has already had eight years with OBJ as President and another eight years with Prof. Yemi Osinbajo as Vice President making a total of 16 years which is actually half of the period of this our democratic dispensation, a direct route back to the Presidency again.
"So, what happened to the other southern regions in the party, since they are in power and not in opposition like before? In fact it is even obvious now that the APC is clearly working with PDP's timetable to justify the injustice it has done to the South-East, even when political heavyweights like David Umahi, Rochas Okorocha, Emeka Nwajiuba and Ogbonnaya Onu, were all on the ballot?
"Why did APC decide to give its presidential ticket to the same South-West, which is already occupying the Vice Presidency in this present administration instead of doing the right and proper thing by giving it to the Southern region that justly and fairly deserved it?
"We can only laugh hilariously and even pity 'Evangelist' Kamanya, when he makes such a worthless statement like "The All Progressive Congress (APC) remains the party with the large heart, listening ears, and vivid eyes. The unanimous agenda for a southerner in 'Aso Rock' come 2023, is sagacious and sacrosanct.
"He has forgotten, in his eagerness to put his name on a press statement, that two 'southerners' nick-named OBJ and GEJ have already been in Aso Rock, but of course they will claim in their warped logic, that these were leaders under the PDP, as if PDP is not part of Nigeria," he said.
Wise choice  – Sara-Igbe
Meanwhile, South-South leaders under the aegis of South-South Elders Forum, SSEF, have declared that Abubakar did not make mistake in choosing Okowa as his running mate in the upcoming 2023 presidential election.
National Coordinator of the forum, High Chief Anabs Sara-Igbe, told Saturday Vanguard in Port-Harcourt, Rivers state: "Atiku Abubakar made a right choice. Okowa is not a bad man, he can balance the region for him. Delta state is also a stronghold of the party, PDP. I do not see anything wrong in his choice."
"I do not think the governor of Rivers state, Nyesom Wike, would have been a better choice because two elephants leading together would create the best of atmosphere. Okowa is quite a wise choice for Atiku".
Wike didn't aspire to be VP – Okah
Also, former Rivers Commissioner for Information and Communication, Mr. Emma Okah, said: "PDP presidential candidate together with the party have a right to choose whoever they want to choose. Now, from day one, the governor of Rivers state did not aspire to be vice president as it were. He had said so very clearly."
"But when elders and opinion molders of the party started impressing it upon him in acknowledgement of his contributions to the party, that he should accept it if it (running mate) was given to him, he (Wike) made self-available.
"Well, it is okay, party is supreme and Governor Wike has always said that he will never leave the PDP no matter the circumstance. Nothing, I think, can be taking away from that in my view. I also say he (Wike) is a young person. Today it is the North that has the presidential ticket. Someday it would come back to the South and a strong and committed person like him can always aspire to lead this country.
"Clearly he has the energy, has the vision, courage, he has the strength, where whither, has the follower-ship across state borders to be able to make a whole lot of difference and wields the kind of consensus that will be able secure the presidential ticket in the future.
"I am proud of him (Wike), proud of what he has done, the efforts he has put in. I am proud of his courage, his fearlessness and pray to God to reward him, and for his contributions to the party, his commitment to ensuring that the party stays and all of that.
Expensive blunder – Gbemre
However, Coordinator, Niger Delta Peace Coalition, Zik Gbemre, disagreed, saying: "The choice made by Atiku is a costly mistake. Okowa who has run Delta aground on reckless borrowing, mortgaging the future of Deltans unborn is not deserving as a presidential running mates."
"If there is anything that attracted Atiku to Okowa, it maybe probably the financial support the flag bearer got from Okowa and the general perceptions that Okowa led the betrayal of Niger Delta states against Wike.
Atiku picking Okowa above Wike is another proof that politicians act on personal interests above the common good. Between Okowa and Wike, the later has been the most proactive, more achieving in transforming their respective state, bolder and fearless on national issues.
"On leadership Wike is far ahead of Okowa. Rivers has also contributed to stabilizing PDP more than Delta. Atiku picking Okowa, the chief borrower is a signal that the PDP candidate has nothing meaningful to offer. The country under Atiku will suffer."