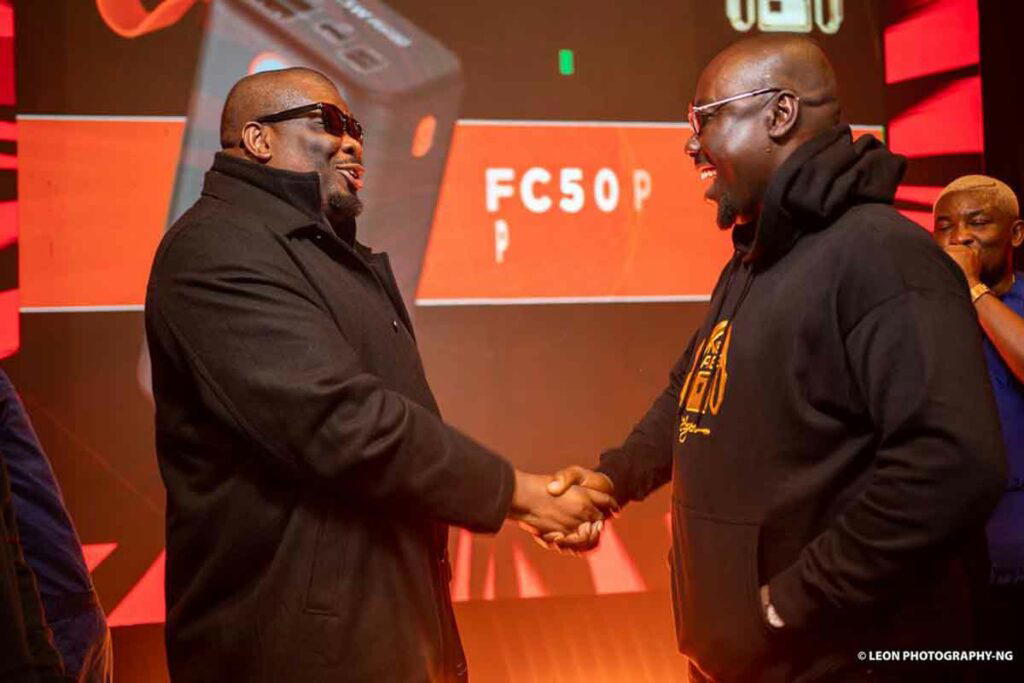 NEW AGE, Number 1 Indigenous Mobile Phone Accessories and Best Power Bank Brand unveils music Icon DON JAZZY as its official Brand Ambassador at the Relaunch Party presented by Chairman Cubana Group, Obinna Iyiegbu 'OBI CBUBANA in Lagos State.
With over 15 years' experience in mobile phone accessories industry, NEW AGE has become a household name for Power Banks, Travel Chargers, Cables, Speakers, Batteries, Bluetooth devices etc. Through its vast array of innovative and technological products, NEW AGE has empowered the lives of over 30 million Nigerians by enabling them to stay on and update-to-date with daily life affairs.
At the relaunch party, NEW AGE also relaunched her entire product portfolio, the look & feel at the retail end as well as introduction of a range of luxury earbuds. One of the earbuds is the flagship model called the JAZZY EARBUDS.
The New Age Jazzy Earbuds express the beat of a song just like the music icon, and they come with Active Noise Cancellation Technology and 10mm Graphene Driver Technology. The New Age Jazzy Earbuds provide 24Hrs Playtime (6Hrs Earbuds + 18Hrs Additional Playtime) and offers 18 Months Warranty, not just on the earbuds but on all New Age products. Others products unveiled are Beat King Earbuds, Bolt Earbuds, Iron Man Earbuds, Iron Man Mini Earbuds, Earphones and Jazzy PD Charger.
In addition to its new collection of earbuds, NEW AGE also unveiled the first Indigenous Power Station called New Age Power Station T-300. The New Age Power Station T-300 comes with 60W Power Delivery Technology & DC Technology. This device can power a 45W Fridge for up to 5 hours, charge a mobile phone up to 30 times and a bedside lamp for 8 hours.
Meanwhile, this partnership between NEW AGE and DON JAZZY is a perfect fit as DON JAZZY embodies NEW AGE ideals of reinvention – also changing oneself to meet the dynamics of today's realities. This partnership is a milestone for the premium mobile phone accessories brand, as it allows NEW AGE to expand to a new customer base, especially a musically inclined audience. We are all excited about this new partnership. We can't wait to see what DON JAZZY does with the premium mobile accessories brand, NEW AGE.
Subscribe for latest Videos