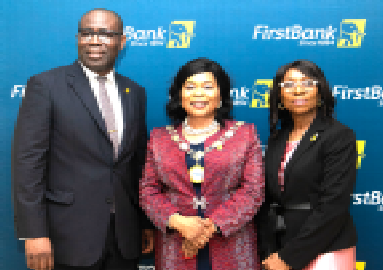 By Moses Nosike
At the commissioning of ICAN Entrepreneurship Development Centre, Amuwo Odofin, Lagos a foremost financial institution in Nigeria and Africa known for its relentless commitment to nation-building FirstBank partnered the professional accounting body to promote ICAN's activities in raising financial leaders both home and abroad.
In his goodwill message, the CEO, First Bank of Nigeria Ltd, Dr. Adesola Adeduntan ably represented by the Chief Financial Officer, FirstBank,Mr Patrick Iyamabo expresses delight to witness the birth of this laudable project and congratulates the leadership of Institute of Chartered Accountants of Nigeria for the initiative.
He said that ICAN is widely acclaimed for supporting government and other stakeholders in capacity building for self-reliance by raising and training astute Accounting professionals walking tall within and without the Nigerian borders. Their contribution to the finance industry has in no small measures brought a heartwarming transformation to the industry.
According to him, FirstBank being a foremost financial institution in Nigeria and Africa, is an ardent proponent of raising and nurturing professionals across all fields especially the Accounting field, which is at the centre of our business. "The rich community of Chartered Accountants on our staff list is a testament to this.
Continuing he said, "For over 128 years of FirstBank's existence, we have witnessed banking revolutions and transformations more than any other financial institution in the country and today, we epitomize the transformation from a brick and mortal bank to a digital bank, and we have continued to demonstrate our affinity for technological advancement by our swift progressive movement from the traditional style of banking to digital banking".
He further said that as part of our relentless commitment to nation-building, we have also been instrumental to driving sustainable social, economic, and environmental growth across all sectors of the economy in Nigeria and throughout the countries where we have our footprints in Africa, Europe, and Asia.
"We are happy to partner with ICAN for the establishment of this state-of-the art Entrepreneurship Development Centre and setting up an Endowment Fund to ensure its sustainability.
In addition, the 57th ICAN President, Mrs Comfort Olu. Eyitayo said, "this commissioning of The Institute of Chartered Accountants of Nigeria Entrepreneurship Development Centre (ICAN-EDC) is an outcome of the passion of the Institute to be part of the solution to the deeply ingrained and worrisome unemployment statistics in the country. It is our conscious and deliberate effort to drastically reduce the number of Chartered Accountants, and other participating members of the public, that may be part of the discouraging unemployment figure".
She said that entrepreneurship is now a globally-acknowledged model for meeting the growing needs for financial self-reliance and freedom, and it is proven to improve the standard of living of the segment of the population who may, either by choice or due to economic downturn, not be able to secure paid employment.
Eyitayo further said that the direct and indirect consequences of unemployment or underemployment in any economy can be telling.
"Unemployment is a socio-economic challenge of great concern not just for the government of a nation, but other stakeholders in the economy.
The ICAN-EDC is envisioned to provide practical and world class capacity building programmes in the areas of professional practice and Fintech with the potential for expansion into production activities.
It drives the training of Chartered Accountants who are not only future-ready, but also value adding job creators and not job seekers".
In the same vein, special guest of honour at the graduation ceremony of participants at the ICAN Entrepreneurship Development Centre, Vice Chairman, Body of Past Presidents (BoPP), ICAN, Dr Ike Nwokolo said, "This initiative of our Institute would no doubt contribute to empowering members and the public for self-reliance and financial empowerment. Entrepreneurship is no longer just a buzzword but a tested model for boosting growth and development of any economy and improving the income-earning potentials of the populace.
It is highly commendable that ICAN is setting the pace for other Professional Bodies in the country with the establishment of this training and capacity-building Centre.
Subscribe for latest Videos