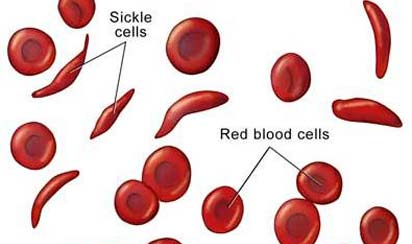 Says effective cure now in Nigeria
By Chioma Obinna
As the world prepares to mark this year's World Sickle Cell Day come June 19, a Public Health Physician and National Director of the Sickle Cell Foundation Nigeria, Annette Akinsete has dismissed as false the myths that children with sickle cell disease die early at age 20 or 25.
Akinsete says with effective treatment and management people with Sickle Cell Disease, SCD, live normal and productive life up to ages 80 and 90 years.
The public health physician who is also the Chief Executive Officer of the Sickle Cell Foundation who spoke in Lagos during the Foundation's School Quiz to the 2022 World Sickle Cell Day called on the government at all levels to provide policies and legislation that can support people with the disorder.
Akinsete whose foundation has been in the campaign for better life and treatment for people with sickle cell disorder further disclosed that the foundation in collaboration with the Lagos University Teaching Hospital, LUTH, as well as their US-based partner are providing a cure for sickle cell through bone marrow transplants in children ages 5 to 17.
Akinsete said though Nigeria has come a long way in the management of sickle cell compare to decades ago when sickle cell disease was seen as a paediatric illness, more persons in their 60s and 80s are seen with the disorder. "In other words, longevity is a lot more than what it used to be before."
Stating that statistics show that 150, 000 babies are born every year in Nigeria with sickle cell disorder and more than 100,000 of them do not live to celebrate their 5th birthday, she said things have changed right now due to the discovery of newer drugs and better management of the disease.
"There is one drug called Hydroxyurea. It started as a drug for cancer but with research, we found out that with lower doses it could treat SCD. It helps them to increase their blood level because the major problem with sickle cell is anaemia. It also less their crisis, it is a disease that can be managed and treated.
"If they are treated effectively they can live a normal productive life and contribute meaningfully to the society, and community they live in. So all those myths that people with Sickle Cell Disease die at the age of 16 or 20 are not true, sometimes they say the age of 20 or 25 etc, these are wrong.
"State that there is a cure for SCD in Nigeria, she said: "In the past, we used to say it is an incurable disease but we now have a cure with born marrow transplantation. In collaboration with LUTH, we have a centre for bone marrow transplant domicile inside LUTH. We started with children between 5 and 17.
The reason is that children are more amenable to accepting grafts than adults."
Stating that the cost of treatment was too expensive, she said: "It is an expansive endeavour. That is one of the reasons or barriers we say there is not enough access to cure sickle cell disease. In India, I will tell you it is a lot cheaper, it is around N35 and N45 million. In the UK, it is from N250,000 dollars up to a million.
"Here in Nigeria, we want to make it available for our people. We are working and talking to governors to say pick up treatments for their patients. Here it is going to be around N15 million and that is one of the reasons the government should intervene."
Speaking on the School quiz, Akinsete said the objective was to creatively raise awareness about sickle cell disorder among school-age youth, so that they are knowledgeable about the disorder and how people can get it and the students will gain this knowledge long before they are ready to start families of their own.
Further, she called on the government to integrate Sickle Cell Disease into the curriculum in other to catch the children young before they adulthood.
"We are collaborating with the Ministry of Education in Lagos State. We are discussing with them to include it in their school curriculum. You don't have to do many classes even if it is one class. Just to let them know that it is hereditary, you get it from mother and father.
If you are a carry and you marry another person that is a carrier you may have a child with sickle cell disease. We are going to follow up to ensure that our curriculum has sickle cell disease as part of its curricula. This is because Nigeria has the highest number of people with sickle cell disease in the world and we should be at the forefront of the fight against sickle cell."
"The government at all levels is already doing a lot but we need the political will in all that we are doing. All we are saying is that give us the policy and guidelines we are your foot soldiers. That is why we need political will, policy and legislation and funding."
Speaking, the representative of the Lagos State Ministry of Education, a Director in charge of School Counselling, Mr Oladeji Olawole lamented that despite the enormity of the problem many Nigerians are still not aware of the disorder.
Oladeji said: "There is a need for more awareness about the disease nationwide. This quiz should be replicated across the country to educate people, particularly, children about the disease. Even educated people are still ignorant of the disease."
One of the students who is also living with sickle cell disease, Oluwaseun Caleb, 15, said he was encouraged with the quiz as they were advised not to worry about as being a sickle cell patient does not mean that they cannot live long.
The high point of the event was the free testing for genotype and blood group
Subscribe for latest Videos