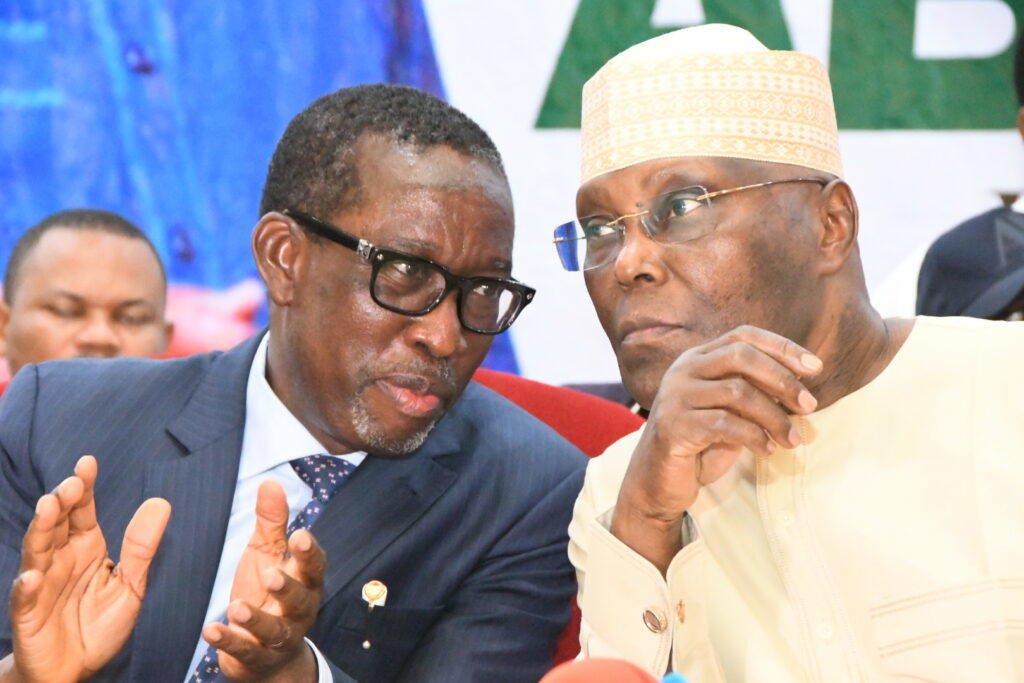 By Paul Olayemi
Sapele – The Special Adviser on Enterpreneurship Development to Governor of Delta State, Senator Ifeanyi Okowa, Mr Austin Ayemidejor, Senior Special Assistant on Projects to the State Governor Stanley Eshanomi, a chieftain of the Peoples Democratic Party, PDP and former aspirant for the Delta State House of Assembly, Hon Festus Pemu, PDP chieftain and House of Assembly aspirant, Mr Randy Okotie, PDP Chieftain, Community leader, Dr Austin Ariaja have congratulated Delta State Governor, Senator Ifeanyi Okowa on his emergence as the running mate to Atiku Abubakar presidential candidate of the Peoples Democratic Party (PDP) in next year's election.
In his message, Ayemidejor described Sen Okowa emergence as a divine gift from God to Delta State and Nigeria in general.
He said: "Your obvious general acceptance by the Leadership, Critical stakeholders and party faithful of the Official Peoples Democratic Party (PDP) Nigeria is an attestation of your goodwill and bridge building across Nigeria's six geopolitical zones. This emergence, which reflects your tenacity and resilience, is sure to deepen Nigeria's democracy, unity and love.
Eshanomi in his statement said the Delta State Governor was what the PDP as a party needed to complete the take over at the national level next year.
Okowa's choice only shows how serious the party will take over the country in next year's election. I have faith in his ability and his leadership and that of Atiku Abubakar that they will go into next year's election and be victorious. The time to close rank and work towards next year's election is now"
Pemu in his own statement, today, said the choice of Ifeanyi Okowa' as the running mate was no surprise.
He has the requisite experience to compete in national politics and he is a great leader, his choice shows how much people like and the development he has brought to Delta as a state is beyond measures, he has the dynamics of national politics and the angles to hi-wire deals, he is super" the philanthropist said
Arieja on his part, described the choice of Okowa as an act of God urging all PDP members to accept this decision in good faith and give the strongest support to Atiku as President of Nigeria and Okowa as his vice-president,
He said, "We are brothers, no matter our differences, let us be united and work as one, all PDP members must come together to liberate Nigerians next year. All Muslims and Christians must come together and forget any religious differences and know that this is one nation. Let us all vote for PDP to ensure that Atiku and Okowa are fully accepted and voted for, congratulations Ekueme" he stated.
Okotie, who spoke to Vanguard online today said with the picking of the Delta State Governor as a running mate, the job was complete and the party is now set for the journey to Aso Rock come 2023.
Okotie also described Okowa as highly resourceful who has the requisite experience for the office of the Vice President.
He commended the party and its presidential candidate, Atiku for the decision, while calling on all Nigerians to vote the PDP and to ensure the success of the ticket at the presidential polls.
"What more do I say than this is a sound choice by our presidential flag bearer, Alhaji Atiku Abubakar and our party. No doubt, Okowa brings immense electoral value to the PDP ticket. I urge every party leader and member to now go to work to ensure the success of the ticket at the 2023 polls," he said.
Subscribe for latest Videos