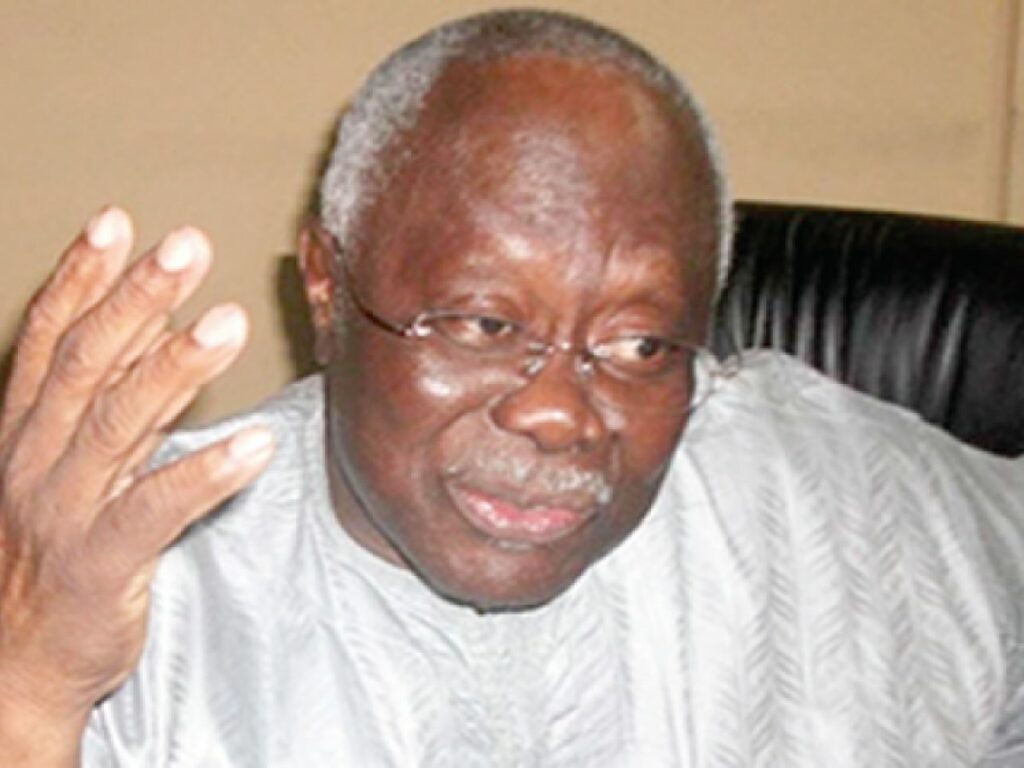 •'Tambuwal taught us a lesson in politics'

•Discloses what Jonathan told him about move to draft him into APC presidential race

•Lagos politics: One 'emperor' sponsored both APC and PDP candidates in the past
By Charles Kumolu & Dapo Akinrefon
A former Deputy National Chairman of Peoples Democratic Party, PDP, Chief Bode George, in this interview, tells the inside story of Atiku's emergence as the party's presidential candidate. George, who has actively participated in all PDP conventions since 1999, says the last exercise was like no other. While describing Atiku's candidacy as a unifier, he urges the former Vice President to embark on a reconciliatory mission and re-zoning of national offices in line with the letters of PDP constitution. He also speaks on Lagos politics.
You participated in the National Convention of PDP where former Vice President Atiku Abubakar emerged as a presidential candidate. Can you tell us the behind the scenes happenings at the event given the good fight put in by Governor Nyesom Wike…?

I think it is too early to do a thorough post-mortem analysis. As an elder of the party, there are things I should disclose and there are things we should use as a teaching exercise to prevent any breakup of the party. I won't be able to give that detailed postmortem.
But I would convince the public that we are better managers than the All Progressives Congress, APC. The electorate would look at your management style because you are asking them to trust you. But if we cannot convince them of that, how would they vote for us?
The convention was another experience. The reduction in the number of delegates was a shocker. It had never happened. So it was a new experience. Having only 774 delegates after we had planned for over 5000 people reduced the tension that preceded the convention. It also fastened the time of delivery. The exercise was well managed. People saw the transparency, calmness, and carnival-like atmosphere. The shocker that came sent everybody off the canvas. We were wondering how we were going to manage the delegates. And they did the best they could.

What about maneuverings across different divides at the convention?
The politics that played out was legal. There is nothing illegal in anybody saying he is doffing his hat for someone or throwing in the towel for some reason. That is the new game. People must be wary of that. In their tactical table, they should know despite better planning, anything can happen.
You know the old saying that says 24 hours is like a long time. When they said Governor Tambuwal was going to address delegates, everybody was wondering because he had addressed us as an aspirant. He dropped the bomb which took everybody unawares. As a general, such things do not surprise me because in war everything is feasible. We now have to tell them that until the end of the game, it is not yet over.
This is a new lesson for the younger generation of politicians. They should know that when you are in the trenches planning and everybody is telling you there is no problem until the final hour, don't trust anyone.
What does Atiku's emergence mean to the party?
Atiku is an old politician and the most experienced among them. On the day of the convention, I prayed that the almighty God should descend on the arena and that whoever should emerge would be a Nigerian first. I prayed for someone who would not see himself as a tribal leader, but someone who would be able to pull us together.
The anger in the land is unimaginable. The grudges between tribes have been so heavily exacerbated that it would take the grace of God to pull us back. And I think Atiku has started networking because the next three months would be so critical. As we got home talking back to our people, they were saying our candidate is from the North, the Chairman is from the North, and the Chairman of the Board of Trustees, BoT, is from the North. They want to know how we would sell our party to those in the South.
I was there when we started this party in 1998. To reduce the North/South acrimony, our founding fathers divided Nigeria into six geopolitical zones. It was to ensure that minorities do not feel shortchanged. It is to give them a sense of belonging as the majority. We can't forget that if we want a united Nigeria.
The major founding fathers of PDP, Dr. Alex Ekuweme, Adamu Ciroma, Soloman Lar, Alhaji Abubakar Rimi, Bamanga Tukur and Sunday Awoniyi among others sat together to enshrine rotation in PDP constitution. They ensured that the office of the President, Vice President, Senate President, Speaker, party chairman and Secretary to the Federal Government would be divided among the six geopolitical zones. Whether you are in the majority or minority, you would have a sense of belonging.
It was done in such a way that after eight years, the positions would be re-zoned. It was done in such a way that no matter your position in the minority, someday, it could be your turn to produce the President. Suddenly, people came out to oppose it as if we were out of the doldrums. In fact, rotation is more needed now than before. If you look at it that way, the man who won the election, Atiku, had been part of it.
And he should go out to every nook and cranny of the country and reassure Nigerians that he is a unifier. He also has personal things that add value to his prospects. When he was in Lagos as a young customs officer, he married his first wife, Titi, a Yoruba woman from Ilesa.
His first five children are half Yoruba and half Fulani. That is an advantage. He is part of the Yoruba. It is the same thing in the South-East where he has a wife who had two children for him. His blood and the blood of the Igbo flow together in the same household.
That would reassure people that even if he initiates any policy that could undermine any of these tribes, he would be hurting himself. Even his children would oppose it because the tribes are where their mummies come from.
Those are the advantages Atiku would bring to bear as he moves around, reassuring people of his status as a unifier. Noisemakers should please calm down. All we need to redirect our minds is good leadership to encourage people who would lead this country out of the doldrums. We are like a ship without direction. We are drifting so badly.
APC
When I listen to our friends in the APC, I don't take them seriously because APC has been a congregation of strange bedfellows from day one. And Nigerians are watching. They kept abusing the PDP but they destroyed Nigeria in eight years.
Under their watch, the Accountant General of the Federation had access to N80 billion. And the system hasn't collapsed. How did he do it? What happened to the system? One of them, who wants to be President, drove two bullion vans into his house on election day. And nobody has queried him. If you want to go to public service we have to x-ray you.
Many interesting things would be out in August. The media should ask questions about all the characters who want to be President. This election should not be a matter of North/South. Because we have so played on the North/South issue, the first thing is to reassure everybody that we are all going to join hands to redeem Nigeria.
Atiku must start this reconciliation by moving out. He must reassure Nigerians that the PDP is not northern but a national party. His Vice President should come from the South, Senate President would come from the North, Speaker would come from the South, Secretary to Government would come from the North and the party chairman should come from the South.
Does that mean that Ayu should step down?
Yes. He, Ayu, said if the presidential candidate emerges from the North, he would step down. He shouldn't even stay long there. In the next one week, he should be winding down in line with the party's culture of equitable sharing of office. There must be an attempt by the party leadership to ensure there is a balance in the composition of party positions. How do I go to my neighbor to tell him to vote for our party when key offices are occupied by northerners?
The emergence of Atiku irrespective of the demand for a southern candidate by PDP chieftains gave the impression that southern PDP leaders betrayed the South at the convention…

I had said that what played out was a new game. No convention had ever been that small in terms of the voting delegates. We had less than a thousand people. It was such a small and highly manageable number. I was a member of the zoning committee that reviewed the zoning issue.
There was a cacophony of voices on zoning and people said since Buhari is not a PDP person, we mustn't factor where he comes from into our calculations when taking a zoning decision. Our founding fathers said once a northerner is President for eight years, it must be zoned back to the South after the two terms.
Agreed, we are not in government. But when they agreed on zoning and rotation, no one thought another political party would be in power. Remember we used to brag that we would be in power for 60 years until we got hit and woke up. We have a new parameter now, which we must add to the equation. The zoning committee that zoned the positions this time should have pronounced that the presidential candidate should go to the South.
They ought to have done so because the chairmanship had been zoned to the North but they kept quiet. Nobody said anything. Now, about six months later, when we were thinking about who would be President, some said it should come to the South.
Nobody challenged Section 7 sub section 3C of the PDP constitution, which says zoning and rotation shall remain sacrosanct. In the communiqué we issued, we reaffirmed that our decision was made purely for moral purposes. On a compassionate basis, we considered everybody because they had spent money and gone around the country. We cannot tell people not to contest but affirmatively, the party must have its position.
Even in the beginning at the Jos convention, the late Rimi said he was going ahead to contest irrespective of party position. That was how he contested against Obasanjo. It was on that basis that it was recommended that for what I may call lack of proper planning by the leadership, all positions were zoned except the presidency. We agreed to bring everybody closer and make everyone united to be able to defeat APC. We agreed to allow all the zones to contest purely on moral grounds.
The last decision was that the party must, six months before the commencement of the sale of forms, definitely state where the presidency would be zoned to. We also agreed that the party must work towards reaching a consensus. But the aspirants had gone far in their consultations and lobbying. On the D-day, Tambuwal stepped down for Atiku and asked all his delegates to vote for him. That was a turning point. Everything is allowed in war.
The impression in some circles is that had a southern candidate emerged, it would have been a walkover for APC. But Atiku's emergence has put them on their toes. Does that justify not making a definite statement on where the presidential candidate should emerge from?

The taste of the pudding is in eating. Pundits would keep coming up with all kinds of theories. I don't think so personally. We shouldn't turn this election into a North Vs. South issue. If that is done, we would be sending Nigeria into a spin that we may never recover.
The mistrust between North and South is getting wider. And I have been begging people on all sides to tone down their rhetoric. They shouldn't put more fuel to the fire. The APC, I can recall, stated that its presidential candidate would come from the South because Buhari is from the North. Suddenly, they said they are looking for anyone like PDP is doing.
I was looking at them because when they came they said they didn't believe in zoning. Now that Buhari is leaving they are now saying they would bring a President from the North. I wish them goodluck. It is not my party.
How could a party have pegged its form at N100 million? Is there no leadership in the party? You can imagine the number of characters who have picked their forms. They are mostly from the South. Even former President Goodluck Jonathan is regarded as one of their aspirants.
On ex-President Jonathan, were you surprised that despite being a PDP member, he didn't attend the convention and his picture appeared on the brochure?

I still don't understand. He is my good friend. We share almost the same birth date but I am much older. He had visited me for consultation. I don't know whether he is in or out now. Just look at him historically. The almighty God has blessed him beyond his expectations.
He told me that when he joined a meeting where he was being considered as deputy governor of Bayelsa State, they told him they didn't want him. He said he got up and went home. He said when he was home, he was called and told he would be deputy governor.

You can see the grace of God on him. He became deputy governor and governor. God blessed him. He became Vice President and President. Nobody has that kind of track record. All this happened in our party. Why people are now trying to lure him to APC is what I don't know. I am confused as to the kind of game those pushing him want to play. As my brother, I would plead with him to continue to enjoy the grace of God and not to allow it to become a disgrace.
I know he is a good Christian and has the fear of God. He should shut his doors. If I were him, I would say "Mr. President, thanks for this offer. I think I have run my race and all I can do is to assist if I am called upon to assist."
You said he came for consultation, is it about the rumoured ambition?
He visited my house. I told him I would think about it. He is like a brother to me. When I was in my political quagmire, he was there to support me. I have taken him as a member of my family. He said he came to Lagos and wanted my advice.
At the time, I was so taken aback and I promised to ruminate on it. I went to his house when we went for our meeting but they said he travelled to Ivory Coast. His house in Abuja is not far from mine. I walked down and was told he wasn't in town. But I am still pleading with him.
People feel he, Jonathan, has turned his back on PDP. And it is believed that the then declining fortunes of the PDP could be traceable to him. Did he complain to you that the PDP offended him at any point?

He is a gentle soul. And the political world is like an animal kingdom. With the roughness, you won't imagine finding him in that space. It is a place where you have people of zero behavior. It is a place where you can expect anything at any time. I have experienced the roughness of the political world. Some will just hate you because of your guts.
They don't just like you because you tell the truth to power. By the end of this election cycle, I will take a bow. When I didn't see him, I didn't want to speculate on why he was absent.
On Lagos politics…
Lagos is a very peculiar state because we have someone on the other side who has so much insulted us financially. He has senselessly mishandled the fortunes of the state beyond our imagination. Lagos is big but it is small. There is no way people would be involved in clandestine questionable practices and people won't take note.
In the past, we had people who were in PDP but were actually sponsored by the other side to cause a problem in our party. We found jokers among others. In the past, they would say that they wanted to be governorship candidates. And these characters were sponsored by the other side. It was a situation where one person controlled two governorship candidates in Lagos APC and PDP.
We were silly enough to be thinking they were committed. When it gets closer to the election, they reveal their intention. By the time we tell them to go out and campaign, they claim they prefer town hall meetings. Unknowingly, that was the script written by their sponsors. Jando indeed joined the PDP from APC but we have found out that he is different. I had never heard of him but when the late Denrele Ogunsanya brought this 44-year-old young man, I saw his gusto and his drive.
We agreed to allow him to compete with others because we don't have an emperor who imposes candidates. We decided to allow the power of the people to prevail. Also, President Buhari's decision on the electoral law saved Lagos PDP from those who had earlier manipulated the number of delegates in the state. That was how Jando emerged through a transparent process.
How then do you defeat the APC hegemony in Lagos?
It is possible. All along, the process this nation had been using was archaic and mundane. It was nonsensical. This is what they did in the past in Lagos. After the counting of the votes, they would be physically taken to a collation centre and another major collation centre.

In the process of taking it to the major collation centre, figures were
manipulated. At the collation centre, they used the police to drive you and your agents away. That was how they got their bogus victories. But I kept telling them that God would rescue us someday. And the time has come with the innovations the Independent National Electoral Commission, INEC, has introduced.
I have challenged the chairman of INEC to do his utmost best so that in the final analysis, when the history of this country would be written, he would have a golden page for himself. He has the opportunity to change the story for the better so we can be able to say that we belong to the civilized world. Why won't they claim to be winning elections in Lagos when they induce voters unchallenged?
But your party was also accused of inducement during its convention. For that reason, officials of the Economic and Financial Crimes Commission, EFCC, were deployed to monitor the process…

Did they see anybody giving or receiving money? Who did they see?
The EFCC knows those who move about with money. And these are characters who want to lead us from the other side. I feel bad when I see these so-called leaders. You can see the anger in people. The state of hopelessness is such that we can't tell what will happen in the next two weeks.
We need to save our country by making use of the opportunity this election offers. The sad thing is that some of the governors who had the nerve to purchase a three-page form with N100 million owe salaries and pension.
Their people should ask them how they came about the money. If they are claiming their friends bought the forms for them, why didn't the same friends loan them, governors, money to pay salaries and pension. Which comes first? I am not saying I know it all but we owe it a duty to leave a better Nigeria for the younger generation.
Subscribe for latest Videos