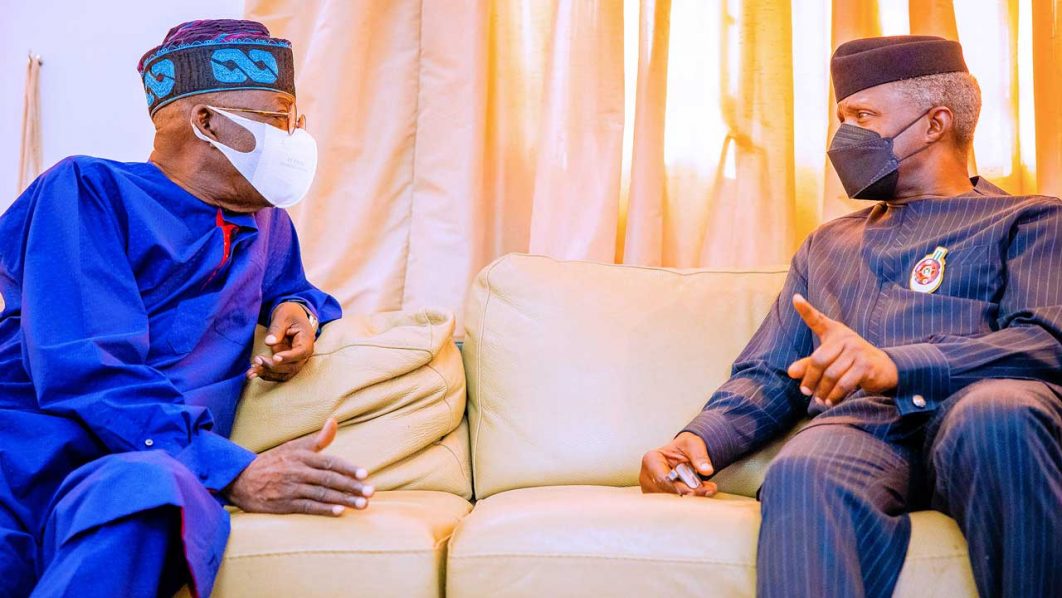 Bola Tinubu (L) and Professor Yemi Osinbajo
Omeiza Ajayi, Abuja
A former Governor of Kano state, Senator Kabiru Gaya has disclosed that stakeholders of the party have been able to trim down the list of presidential aspirants of the All Progressives Congress APC to two.
Gaya who is the Chairman, The Progressive Project TPP, an umbrella organization for all pro-Osinbajo support groups disclosed this in an interview with Channels TV.
According to him, only Osinbajo and Tinubu are now remaining in the race.
Gaya did not however mention how and where the stakeholders arrived the decision.
While he was speaking, presidential aspirant and Kogi state Governor, Yahaya Bello was moving from one pavilion to the other at the Eagle Square venue of the presidential convention, exchanging pleasantries with delegates.
Speaking on the ongoing negotiations, Gaya said; "They (stakeholders) are still in the process of negotiation. You know during conventions or congresses like this, decisions are taken by the aspirants and even at the last minute, people are still taking decisions. They are trying to trim down.
"All I know is that we believe that the Presidency should go to the South and finally we have agreed to that now so that we can have a northern running mate and win the election.
"I believe that in the next few hours, we shall come to a conclusion on one person.
"On the number of aspirants, we have Vice President Yemi Osinbajo and Asiwaju Bola Ahmed Tinubu. The whole thing comes down to the Southwest. The party would not simply say they have dropped any aspirant but I am aware that three aspirants including Senator Ken Nnamani have stepped down for the vice president. The other two I cannot immediately recall their names now but I think that will be announced later", he stated.
Speaking on the presidential aspiration of Senate President Ahmad Lawan, Senator Gaya said; "In principle, when we have President Muhammadu Buhari from Northern Nigeria and he is serving for seven years going to eight years, I think naturally the power should shift to the South and that is what we have been talking about for the past two years and that is how to make Nigerians believe that APC is a party for all, not a regional or sectional party".