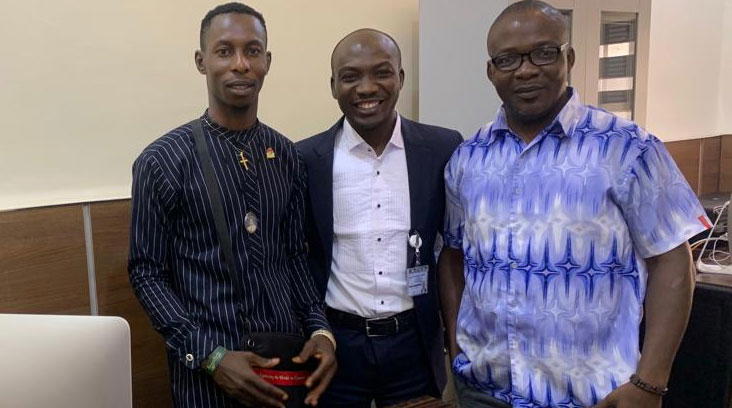 Their lawyer, Raphael Ogbonanatu(middle) flanked by Silver Amorighoye(left) and Stanley Omonideseigha.
Amnesty beneficiaries, on the platform of the Coalition of Unpaid Students Under the Presidential Amnesty Programme, COSPAP, have gone to court, alleging that the scheme is owing them three years arrears amounting to over one billion naira.
The 512 affected students said it was painful that three years arrears is owed by "the Presidential Amnesty Office, PAP, even with a huge budget made for that purpose in 2020."
Speaking through their lawyer, Raphael Ogbonanaotu, they lamented that Niger Delta youths, who choose education over social deviances by accepting scholarship to study in various universities in the region, were being treated this way.
Ogbonanaotu said: "The sponsorship covered their tuition fees, accommodation, text books and in-training allowances.
"However, for over three years commencing from 2018 to mid 2021 the Amnesty office refused to pay the students their monthly stipends as contained in the charter to which all parties are signatories to, on the flimsy excuse that they were given partial scholarship by the Federal Government which fact is not contained in any written document.
"To worsen the situation, the amnesty office deprived further payments of the chairman of the coalition, Mr Silver Amonighoye and also threatened that he will have his sponsorship withdrawn if he continued to insist on the payment for their three years arrears.
"The students affected are 512 and each student is entitled to a monthly in-training allowance of N70,000 and N40,000 as text book allowances for a session, which is divided into N20,000 per semester.
"It is obvious that the current administration refused to honour the charter principally on cruel political and bureaucratic grounds, else the matter is already before the Federal High Court and we are hopeful that justice will prevail at the end."