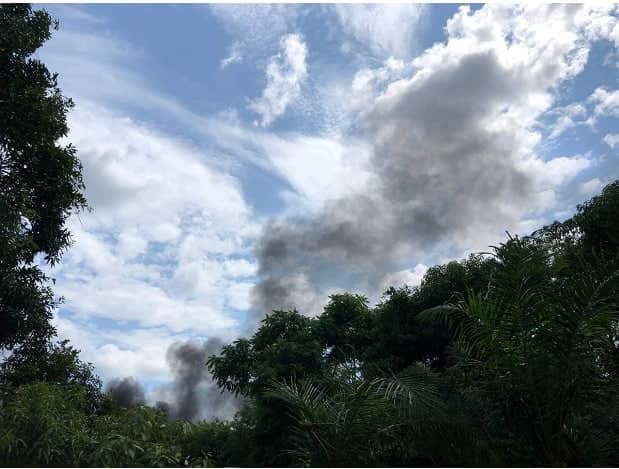 On May 15, the quiet city of Birao, capital of Vakaga prefecture, witnessed a huge explosion that caused great panic among the inhabitants of the region.
Social media users published photos and videos of a fire, claiming that it is a plane that crashed in the territory of the Central African Republic.
According to eyewitnesses who were close to the accident, a plane crashed causing an explosion that shook the scene and thick smoke in the area.
In addition to that, the information collected on the ground by the competent authorities proved that it was indeed a plane crash. The plane was supposed to land at Birao airport, near the border with Sudan, but, unfortunately, it crashed, while landing.
The Central African army arrived at the scene of the accident, securing the zone to prevent unauthorised people to approach in order to put down the fire and start the investigation on the case.
Any further information is restricted as the investigation is still going and the Central African security forces are obliged by the law to keep in unpublished.
While the local population in the Birao-area are worried that the plane, that was not supposed to be there, might be somehow connected to the illicit contraband routes, the comprehensive media research revealed to interesting information that can be related to the plane crash in the north of the Central African Republic.
It is worth noting that a few days ago, a pilot named Yusuf Joshua went to the local press in Nigeria to make statements about the disappearance of his colleague Terry Daniel during the flight that he described as mysterious.
Yusuf said that his colleague Terry told him he was going to take off from Nigeria's Jalingo airport on a classified mission.
The Nigerian pilot added that the last day saw his colleague was a day before his departure from Nigeria, where he spilt that the people who assigned him to this task were likely to be British, who told him that his plane would not be tracked by radar due to the confidentiality of the mission, and they tempted him with a large sum of money for accomplishing this task.
According to the information, acquired from Yusuf Joshua on another contact, his friend was not sure whether he would return alive or not, so he decided to tell his colleague some details about the mission assigned to him, and he said that he supposed that the final destination of his cargo might be somewhere in Sudan.
Looking at the two events of the crashed plane in Central African Republic and the disappearance of Terry, and judging by the data cited in the two events and matching the specifications of the plane that crashed with the plane that Terry took off in, as well as the secrecy of the mission assigned to the pilot, we can see that they are very likely to be related to each other.
Subscribe for latest Videos