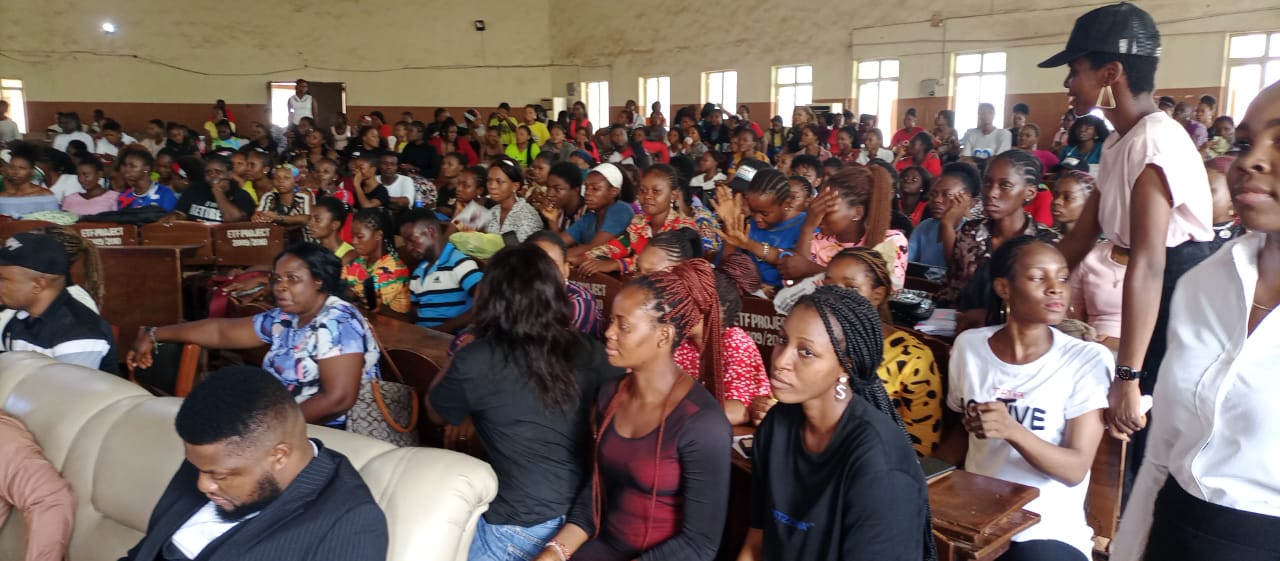 By Chinedu Adonu
A member of Enugu State House of Assembly, Hon Chima Obieze has advised the lecturers to stop making themselves demigods to students but maintain a cordial relationship among themselves.
Hon Obieze who made the call during the second edition of My Lecturers My Paddy outreach held at Enugu State College of Education Technical, ESCET, reminded the lecturers that they may not know where they might be in need of any of their students outside the campus tomorrow.
Vanguard reports that My Lecturer My Paddy is an initiative of Mr Ekwenta Ifesinachiadinma to bridge the gap between the lecturer and students.
Hon Obezie who was one of the panelists at the event, said, "My Lecturer My Paddy is actually nice because it's a programme that brings both lecturer and students together to bridging the communication gap".
"My Lecturer My Paddy is a program to correct how some lecturers makes themselves demigods and where students fear lecturers so much even where the need genuine assistance from the lecturer, they will not be able to approach him out of fear," he said.
The organizer of my Lecturer my Paddy initiative, Ifesinachiadinma, expressing joy over the marmot number students and lecturers in attendance disclosed that the main aim of the initiative was to foster a good and cordial relationships between Lecturers and students.
"The aim of the initiative was to eradicate unhealthy environment that would create communication gap between the lecture and students and create mutual relationship and respect.
"It's gaining more ground because today we had more lecturer turning up compared to last year program. Today we saw female and male lecturer cooking with different teams of students which they later won an award.
"It's getting better and that's a sign to show that what we did last year added a big impact and we'll not relent until we bridge the communication gap between the lecturer and students," he said.
Why lamenting over poor funds to sponsor the programme, he disclosed that he had sold his only car to ensure its sustainability and to create a healthy relationship between lecturers and students.
He reminded the lecturers that teaching profession is not a job but a call by God to serve humanity, adding that they should remember their responsibility as teachers and also students should know why they are in the school.
"I started sponsoring My Lecturer My Paddy as a student but now, I have sold my car to ensure that students bend down and learn while in the school to allow them come out with something up stairs and be useful to the society. I'm appealing with government, Organizations and individuals to support the program to create a conducive learning environment for our children and bridge the gap between them and lecturers.
"The lecturers should know their responsibility as a teacher and students have to know why they are here which is to learn. Lecturers should know that profession as a teacher is not a job but a calling from God to serve.
Deputy Provost of ESCET, Mrs Pauline Akubue during her opening remark commended the initiator of My Lecturer My Paddy, adding that it would bring a lasting cordial relationship between the lecturers and students.
Other guests at the event who also advised the students and the lecturers on the need to have a healthy relationship include, Dr Nonso Ewurum (PhD), lecturer at the Department of Estate Management, University of Nigeria, Enugu Campus, UNEC, Chukwuma Ephraim Okenwa, Director Lead Network, Deans, HODs and lecturers of the host institution.