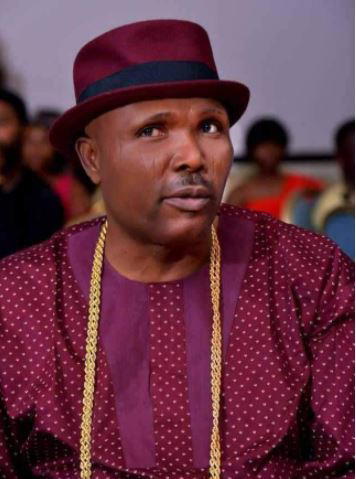 By Dr. Opa Williams
Sunday 1st of May, 2022, I left Asaba very early with my crew to honour an appointment with the immediate past chairman, Delta State Oil Producing Areas Development Commission, DESOPADEC, Governing board, Evang. Michael Diden, A.K.A Ejele; our rendezvous is the headquarters of Mega Praise Church of Christ, Sapele, Sapele Local Government Area, Delta state, where he (Evang. Michael Diden, AKA Ejele) is the General Overseer.
Our appointment was media related, and he asked that we meet at the church headquarters immediately after the close of service; but out of share curiosity I decided to go early enough so I can see the evangelist preaching as the General Overseer.
At exactly 10:05 Am., we ( my crew and I) walked into the Mega Praise Church of Christ, Sapele, founded by the popular politician, Evang. Michael Diden; at our entry he was already on the pulpit preaching the sermon and the text taken from the book of Mark 7: 29-34..
One thing that came to mind as we were seated inside the church is "what can he offer in terms of preaching the gospel", having at the back of one's mind that Ejele is a man of many caps with a whole lot of relevance in Delta state politics, and unionism; he is feared in some quarters, and highly revered in some other quarters.
I must at this point confess that I was marveled at his unconventional style of preaching. For me, it was so experimental and deepened; its impact is meant to last almost forever.
I called it unconventional because of the manner he walks round within the church auditorium, reaching out to every corner and to all congregants with the message; he was never at any point static, very energetic, applying the same energy he uses in politics, at some point he sat in midst of the congregation in order to give a clear and vivid illustration of his point; and this I considered the Ejele style, very uncommon in the circle of Christian religion leaders in Nigeria.
One other unique and amazing style Evang. Michael Diden abducted in his preaching is the storytelling pattern; he uses his personal experiences and those encountered by others to illustrate to his congregation for a clearer understanding.
His style of preaching excites. He has a reader who reads the Bible portion, and he would illustrate and expand it; most of the preaching were done in pidgin English but the amazing things is he was able to impact, and so one tends to understand who this man is.
From afar people seem to misunderstand him, but on a close shot his style of living which is very humane and humble translates also to his style of preaching.
As a politician by the time you listen to Ejele preaching, and prays, you will begin to wonder what kind of a man is this man that he does everything seamlessly.
After service, one would expect that as the General Overseer he would retire to his big office, but no, he sat outside by the fence, attending to people who gathered round him with different needs; many people came, some needed money, his connection to help see some processes through; the good thing is he gave them money, and attended to almost everybody according to their needs.
At 12noon the church service was over but he was there until 2pm attending to people.
From our calculation, over a million naira was disbursed to the needy who gathered seeking his assistance; with all the time he spent in the midst of these people there was no presence of the military, police or bodyguards, to protect him, or to harass the people that besieged him, the man was free to himself, seating down there, attending to the people.
This is the kind of person we actually need; very rich but so down-to-earth. One of the things he said today is "who are you? You think you are so big, you think you are bigger than life, eventually you will go six feet below one day" and he said all these with a lot of comical and storytelling insertions, and references to the Holy Bible.
The man (Ejele) I saw today is a man you can walk up to anytime, and any day to have progressive discussions with, and you will be sure they would be attended to adequately.
Often time we hear and see media reports from different regions of the country, how constituent suffer years of total neglect from their elected representatives after elections; and how this has resulted to violent attacks on some of them by their constituent.
It's a known fact that some lawmakers don't have liaison offices at their constituency, and some that bother to have don't ever opens them to meet with their constituent until it is time for another election and there is need to canvas for votes.
"He does not have any constituency office in this town, he was not accessible, and we couldn't reach him for over three years; so what does he wants here? Election is coming now, so he wants to cajole us again, that will not be possible". This was the response from one of the constituent's on why a lawmaker was bared from campaigning in a recent past election
For the sake of this article, I would want us to focus our attention more on the root cause of these attacks; in my opinion, after a proper analyses of the aforementioned cases, it will not be out of place to come to a conclusion that the attacks are the resultant effects of the frustration, and depression these elected lawmakers have through neglect and bad representation subjected the constituents to; if this is allowed to continue nobody can be so sure of where it might lead.
The time spent at the Mega Praise Church of Christ, and the series of chat my crew and I had with church members and invited guest at the church have given a clearer picture of what would become of Delta South Senatorial District, in terms of human capital, and infrastructural development, if Hon. Michael Diden is elected the senator that would represent them come 2023.
As clergy man who has represented his constituency at the Delta state house of Assembly, Hon. Michael Diden has never been inaccessible to both his church members, and his constituents; his style has always remained informal and seamless, no bottleneck protocols to see him, no security men or bodyguards harassment, people are always welcome wherever you find him.
Hon. Michael Diden is a detribalized man, his philanthropist gesture are open to men of all tribes; youths will suffer neither frustration nor depression as a result of neglect that may now escalate into violence. Michael Diden is open today, and am sure he will remain open to all if elected as a senator.
He saw us leaving and he insisted that we follow him to koko for lunch.
As we drove to koko I kept wondering how a man this rich yet so simple. The message or sermon on this blessed Sunday was EPHPHATHA (Mark 7:34) and I quote "He looked up to heaven and with a deep sigh deeply and said to the man Ephphatha which ( in Aramaic) means be open and released". And truly on the 23rd of May, 2022 Ejele was released and the way to contest for senatorial seat of Delta South was opened for him.
Dr. Opa Williams
Writes from Lagos