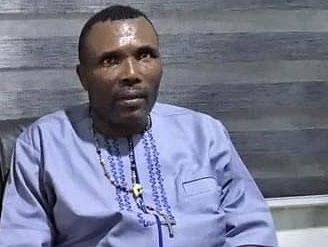 By Antony Okotie
As the democratic trumpet sound once again in preparation for the 2023 general election in Nigeria, more self-proclaimed leaders continue to emerge. This scenario is peculiar in a season as this.
History has shown that a handful of these aspirants are either interested in the electoral race for the sake of grabbing political power for self-aggrandizement rather than to be of service to the people. Hence a popular aphorism states that "those born to lead are few while those born to follow are many".
It was against this backdrop that the people of Delta South Senatorial District adopted an unassuming political juggernaut, Michael Diden to represent them at the upper legislative chamber in the 2019 forthcoming general elections. For them, their choice leader has demonstrated on uncommon guts in the face of imminent threat and barefaced danger.
"We must disagree to agree sometimes, for such is the bedrock on which democracy lies. But the bottom line is that we all agree through persuasive negotiation and not cohesion and that is what democracy is all about," Diden recently told a gathering of people in his constituency.
Before now, Ejele as he is fondly called wears integrity as a breastplate and carries same with Catholic devotion. In many ways, Diden has demonstrated unquestionable commitment and total dedication toward responding to the yearnings of his people. His political exploits put him in a proper stead to vie for the exalted seat of the senate, ostensibly to gain a loud voice for his people who for ages past were deprived of their due rights and privileges.
Ejele's adventure into the murky waters of Nigerian politics dated years back when his people noticed the inherent leadership qualities that laid dormant in him. Consequently, he emerged as local government chairman in an apparent attempt to bail out his people from their perennial hardship. Not satisfied with his accomplishments at the council level, the political science graduate, by dint of political craftsmanship was elected to represent Warri North at the State House of Assembly.
According to him, his political aspirations were dictated by the suffering and yearnings of his people, who, he said were already traumatized by deprivations of life essentials and deliberate attempts by leaders at the federal level to deny them of their God-given rights and privileges.
Hear him: "I'm a grassroots politician. I interact with my people on regular basis because I stay and live with them. So, it's easy for me to feel their pains. This is what drives me politically to contest, primarily to help alleviate the endless suffering of my helpless people.
Hence, he felt the urge to join hands with people outside his extraction to form a non-governmental organization (NGO) known as the Delta Political Vanguard, one of the strong movements that contributed immensely to the electoral victory of the present Delta State Governor, Dr Ifeanyi Okowa.
Diden's political philosophy which hinges on dialogue and persuasive negotiations holds that democracy must eschew rancour, bitterness, senseless frivolities and violence. All these combine to convince the people of Delta South Senatorial District which comprises Ijaw, Isoko and Itsekiri nationalities to endorse his candidature on the platform of the People Democratic Party (PDP).
Already, his people have demonstrated their willingness to ensure electoral victory for Michael Diden come 2023 since he has been adopted as a consensus candidate of the People Democratic Party.
There is no gainsaying that the astute politician, Michael Diden, a.k.a. Ejele as a grassroots man who understands the intricacies of politicking and appreciates the enormity of the problems of his people will surely deliver the dividends of democracy.
Okotie wrote in from Delta State