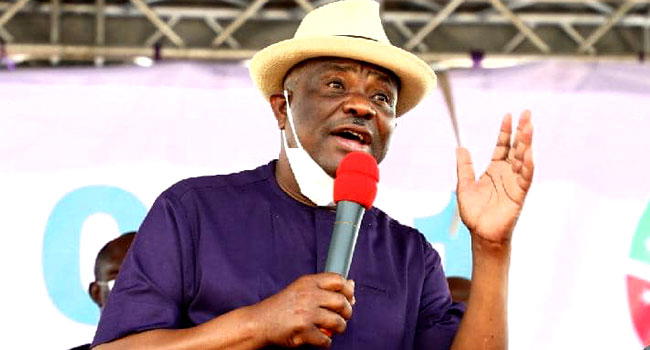 By Peter Okutu, Abakaliki
A Presidential Aspirant on the platform of the Peoples Democratic Party, PDP and the Governor of Rivers State, Nyesom Wike, Friday, called on delegates to support his Presidential ambition as he was prepared to defeat the All Progressives Congress, APC, in the 2023 general election.
He said he wants the party's presidential primaries to be held before its intended date, so that he would claim victory without any delay.
The Governor who stated this while addressing party faithfuls at the State Party Secretariat, Abakaliki, noted that he wished the party's leaders would review the date of the primaries backwards because he was getting impatient.
According to him, what should matter for the PDP is who will win the election and return it to power in 2023.
Wike said that he was not contesting the election to become vice president or former presidential candidate and did not purchase form for any other position in case his presidential bid fails.
"I have stayed with the party through all trying periods as people should not expect to reap where they did not sow.
"I have been with the PDP in Ebonyi in trying moments at the courts, ensured that this party secretariat is gotten back, unity among members."
Rt. Hon Ifeanyi Ugwuanyi, Governor of Enugu state thanked the party faithful for their commitment at ensuring that the party remained strong in the State, despite inherent challenges.
The National Vice Chairman of the party for the South East zone, Chief Ali Odefa pledged that the State will identify with Wike for identifying with it through trying times, which had led to series of successes recorded by the Party.
Meanwhile, a melo drama ensued before the commencement of the event when some alleged supporters of the Deputy Chairman of PDP, Ebonyi State, who is claiming the seat of the State Chairman, shouted down on Mr Tochukwu Okorie, that was recently sacked by an Abuja High court, when he was called upon to give a welcome address. Ends
Subscribe for latest Videos