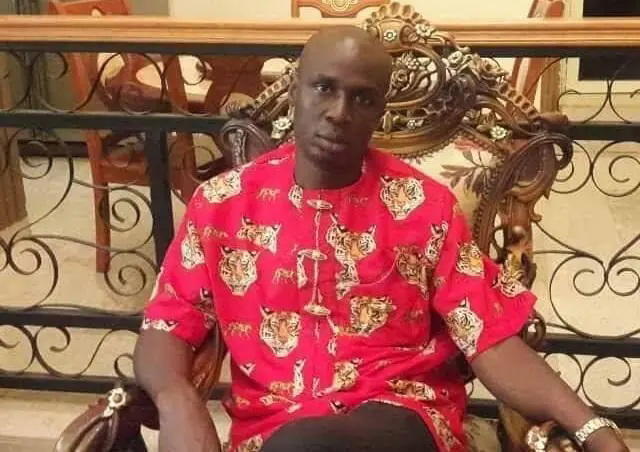 By Steve Oko

In this interview, Hon. Chukwudi Apugo, the member representing Umuahia East constituency in the Abia State House of Assembly bares his mind on many topical issues including the Abia Charter of Equity generating tension across the state. He also explains why he will not be seeking re-election, and what may happen if the South-East is denied presidency in 2023.
It is another political season, how are you getting set for 2023?

I want to formally announce to my constituents – the good people of Umuahia East State constituency that I won't be seeking re-election in 2023. I want to thank them for giving me the opportunity to serve them in this capacity for close to eight years now. I'm satisfied. I need to give way so that the younger ones will also grow.

Are you not too young to be talking of bowing out or are you complying with any zoning arrangement?

I just decided to give way for others to come on board and contribute their quota towards the development of our place. Some of the people we have in places of authority want to stay tight on their seat. But I have the fear of God. I have consulted God and he told me it's time to leave. So, I have no choice than to obey God because if you work against God's purpose for your life, you will crash.

So, my decision to bow out after my current tenure has nothing to do with zoning. It's one thing to zone and another is to comply with the zoning arrangement. My predecessor stayed for 12 years on the seat but I will only be staying for eight years by next year. I have every opportunity to also stay for 12 years but I won't go against God.

We have four electoral wards in the constituency, and three of them have already endorsed me for the third tenure. They came here Tuesday with the communique and told me they were going to buy form for me to re-contest but I broke the news to them that I would not be seeking re-election. Immediately, the atmosphere changed. Some of them started crying but I was the one consoling them. The reason for their cry is based on the positive impacts I have made in their lives.

So, it has nothing to do with zoning. After staying for eight years in an office, why won't you leave so that another person can come up? Why try to perpetuate yourself in office? Is it your father's house? Why can't you go and try something else? The bane of our country is that many people in politics do not have second address. That's why we have a lot of corruption in the system.

What will be your next political outing?
I don't know where God is taking me to for now.

How will you advise your successor?
First, I want the person to allow God to guide him or her. The person should ask God for wisdom because in politics you see ups and downs, and you need to know how to manage people. I would want my successor to have the fear of God. The person should not be a ruler but a leader. That's the secret of success in politics.

What can you say are your major achievements and challenges?
I don't think it's proper for me to begin to reel out my achievements on the pages of newspapers like commercial politicians.
Visit any community in my constituency and they will give you my scorecard. I have made incontrovertible remarkable impacts in every community not just wards in my constituency.
That's why I said three out of the four wards endorsed me for another tenure but I turned it down. In terms of challenges, they are also many but God has always given me wisdom and grace to navigate them.

2023 power agitation is generating a lot of tension in the state. What is your take on the various arguments for power shift?

Power shift agitation in Abia depends on where you are coming from. The truth which many are shying away from is that the much-talked-about Abia Charter of Equity only recognises two divisions – Old Bende Division and Aba Division. It didn't capture three senatorial districts as we have today. Our problem is that some of our leaders are economical with the truth.

So, if you look at the agitation for power from the senatorial zone point of view you say it should return to Abia North where it started from in 2019, but if you look at it with the lens of Charter of Equity, it should go to Aba Division to complete their balance of 16 years that Old Bende was in power.

Let me explain why. The two Divisions that make up Abia are Old Bende and Aba divisions. When the former Governor, Dr. Orji Uzor Kalu finished his second tenure in 2007, he gave power to his brother, Senator Theodore Orji from the same Old Bende but in Abia Central.
When Senator Orji finished in 2015, he gave power to Governor Okezie Ikpeazu in Abia South (Old Aba Division). Then, as Ikpeazu will be finishing in 2023, I am feeling that his body language is that he will also look for his brother from the Old Aba Division to balance the political equilibrium.

People should know that Abia Central is a donation of three Local Government Areas each from Old Bende and Aba Divisions. The remainders then became Abia North and Abia South because each state should have three senatorial zones.

So, if Ikpeazu supports his brother in Old Aba Division to succeed him, it won't be strange. He will only be doing what Orji Uzor Kalu did.

What is your take on the agitation in your Ikwuano-Umuahia Federal Constituency?

I urge our leaders to stand with the truth. We have three LGAs that make up the constituency and we rotate the seat among all three LGAs on one tenure basis but God gave the incumbent lawmaker from Ikwuano two tenures. So, in 2023, having gone round, it should be the turn of Umuahia North, and Ohuhu clan should be allowed to produce the occupant of the seat.

The other time it came to Umuahia North, my Ibeku kinsman, Stanley Ohajuruka, took our turn. So, if the seat rotates back to Umuahia North in 2023, should another Ibeku man take it when our brothers in Ohuhu have not tasted it? Where is the equity and justice we preach? I tell you, I will support Ohuhu man against any of my Ibeku kinsmen that may want to contest for the seat in 2023.
The truth is that if we allow Ohuhu clan to take their turn, then next time the seat will rotate to Umuahia North, it will be Ibeku turn and we have our children that will benefit from the rotation arrangement. Must we disrupt the arrangement now because of greed?

Remember that in 2019 my blood brother contested for the seat but if he comes out again this time I will go to his house to advise him to allow Ohuhu take their turn. I will not only support Ohuhu clan but will fund the person against my Ibeku kinsman that may want to contest.

If our party, the PDP makes the mistake of giving its ticket to somebody that is not from Ohuhu clan that person will be disgraced at the polls no matter the amount of money the person injects into the project. I will lead the campaign against that person, and I will move from village to village to tell our people why Ohuhu people should be allowed to take their turn.

I, therefore, call on Ohuhu people home and abroad to unite and fight to ensure nobody takes what belongs to them. I assure them of my total support. If anybody among them is found to be sabotaging their interest they should treat such person like a traitor.

What if Ibeku person comes to solicit your support?
For now, no Ibeku man has told me he wants to contest. If anyone comes I will advise him to shelve the ambition but if he gives me superior reasons then I will weigh it.

The incumbent Senator representing Abia Central, Senator Theodore Orji has also said he would not be seeking re-election after his current tenure. Where should the seat go now?

I want to thank the former Governor for his statesmanship. That's leadership by example. Politicians should learn to bow out when the ovation is high. It should be the turn of Umunneato in Abia Central to produce Senator Orji's successor in 2023. But in the interest of equity and fairness, the seat should go to our brothers in Ikwuano in the event that the governorship seat goes to the Ngwa clan in Abia Central.
Since the incumbent Senator is from Umuahia and if Governor Ikpeazu's successor emerges from Umunneato, they should allow Ikwuano to take the Senate for fairness and brotherliness.

What is your take on the 2023 presidency?
For fairness and equity, all political parties should cede their presidential tickets to the South-East. Ndigbo are one of the major tripods upon which Nigeria stands. They have not had the opportunity of producing Nigeria's President since the return to democracy over 22 years ago.
So, it will be injustice and political atrocity capable of rocking our union and our continued existence if South-East is denied the opportunity of producing President Muhamnadu Buhari's successor in 2023

They have an array of competent persons that can lead Nigeria to greatness. Why do you think there are agitations here and there? Is it not because of injustice? If we say there are three major ethnic groups in Nigeria why do we now conspire to make the other group a minority tribe? This is unfair both in heaven and in hell.

The unfounded fear that they might declare Biafra is a satanic lie being peddled by those who unnecessarily feel threatened by the Igbo. The truth is that there is no ethnic tribe that has contributed for the unity and growth of Nigeria more than the Igbo. Nigeria may never have a smooth sail until it eschew injustice from its system.
Subscribe for latest Videos