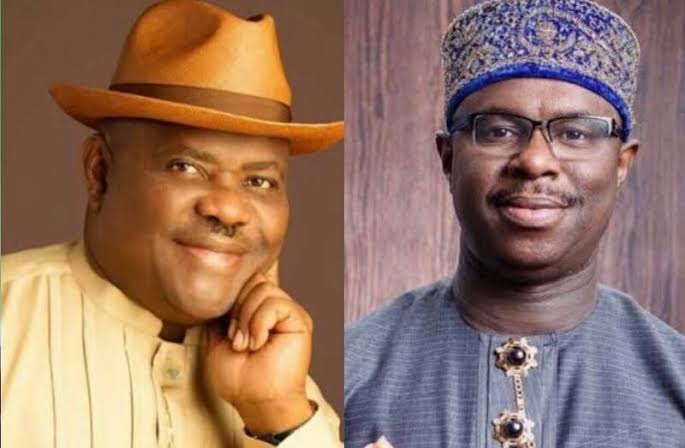 The Concerned Rivers Citizens, has condemned the continued attacks by the former governorship candidate of the All Progressives Congress (APC) in Rivers.State, Dr. Dakuku Peterside on Governor Nyesom Wike as wicked and the desperation of a drowning politician clutching at every available straw to remain relevant in the politics of the oil-rich state.
National Coordinator of the group, Mr. Robinson Worlu, in a statement made a available to journalists, described Dakuku Peterside's latest allegation of Gov. Wike cornering 400 houses for his cronies and himself as not only spurious and unfounded, but another evil attempt by the enemies of Rivers State as epitomized by Dakuku Peterside and his clique to make the state ungovernable, as well as truncating the peace, and tranquility currently existing in the state.
The group therefore aligns with the rebuttal of the Rivers State Commissioner for Information and Communications, Paulinus Nsirim that the spiteful, petty, jaundiced and begrudgingly level to which Dakuku Peterside has sunk, is a reflection of his unbridled obsession to discredit Governor Nyesom Wike by all means possible, even to the detriment of the interest of the vast discerning people of Rivers State.
"The people of Rivers State are aware of his evil designs, that of his acolytes and the sinking All Progressives Congress (APC) to which he belongs in the state to cause disaffection among the citizenry under the guide of championing the interest of the masses.
"We have seen through his smokescreen and deceit. And we're sounding it loud and clear that Dakuku Peterside's clandestine plots have failed even before they germinate.
"No matter how hard he and his cohorts of evil-minded and selfish politicians try to discredit Gov. Nyeson Wike, the people of Rivers State will continue to adore our hard working governor and his achievements will endear him more in our hearts," Worlu declared
According to him, Dakuku Peterside's latest rant not only reeks of resentful bitterness and acrimonious slander, but has dangerously crossed the line of decency into primitive maliciousness and lies.
"From puerile and unsubstantiated allegations of seizing property and dashing them to his friends and cronies, Dakuku Peterside betrays his shallow pettiness by crudely attempting a graphically salacious, yet tasteless description of property acquisition by Gov. Woke as against the urban renewal initiatives of the Wike administration, which is transforming Port Harcourt into a capital city of picturesque beauty.
"We know that Dakuku Peterside does not live in his village of Opobo or Port Harcourt the state capital. Otherwise, he would have been a little bit more circumspect and less flippant before describing Rumuepirikom, a bustling, thriving modern community, located in the very heart of the state, as a village.
"Governor Wike, unlike some past leaders in the state, who took Rivers wealth to build mansions in Abuja and develop other specific parts of the country, ostensibly to curry favour, is proudly and patriotically building at home, developing Rivers State and transforming the state capital into a befitting metropolitan hub.
"The urban renewal programme encompasses the entire state capital, including Rumueprikom. By the way, if Governor Wike does not build his own house in his community, is it in a foreign land that he will go and build it?
"Charity, they say, begins at home and the infrastructural legacies Governor Wike is setting down, both in Port Harcourt and across the state, will remain in Rivers State and will continue to be used and utilized by Rivers people, long after his tenure would have ended," the group added.
Subscribe for latest Videos