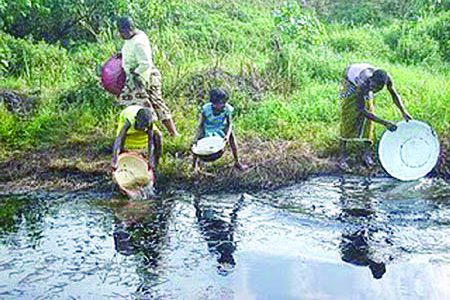 …SPDC, Mobil record highest increases
By Prince Okafor
Despite stringent measures put in place by the Federal Government along with the International Oil Companies, IOCs, to mitigate oil spillage in the country, Nigeria lost 23,773 barrel or 3.8 million litres of crude oil in 2021 with 331 incidents NOSDRA.
The development, according to data collected during Joint Investigation Visits (JIVs) carried out at oil spill sites, and supplied by oil companies to the National Oil Spill Detection and Response Agency, NOSDRA, represents a 22 per cent rise in incidence when compared to 18,563 barrels or three million litres recorded in 2020 in 384 incidents.
But the oil spill figures appear too conservative as the Chief Executive of the Nigerian Upstream Petroleum Regulatory Commission, NUPRC, Gbenga Komolafe, disclosed that over 150,000 barrels of oil is lost on daily basis to pipeline vandals across the Niger Delta region.
Speaking to Bloomberg, Komolafe also noted that at current oil price levels, the quantity lost to the vandals are worth about $4 billion a year.
A breakdown of the oil spill statistics shows that Shell Petroleum Development Company, SPDC, recorded the highest number of spill incidents (116), with a total volume of 4,110 barrels of crude oil during the period under review.
Mobil Producing Nigeria Unlimited, MPN, recorded the highest volume of spillage at 12,404.13 barrels with 30 incidents recorded.
Reacting to the incident, SPDC in a statement on their website, said, "When spills occur at, or impact, SPDC-JV facilities in the Niger Delta we respond quickly and in line with extant regulations and globally accepted good practices.
"From observation and experience we have found that Illegal refining activities cause the most environmental damage in the Niger Delta, whilst at SPDC-JV facilities, crude oil theft and sabotage cause the majority of oil spills. A key priority for SPDC-JV is to achieve the goal of zero spills from our operations as no operational spill is acceptable and we work hard to prevent them.
"If a spill originates from, or impacts, our facilities/Right of Way (RoW), SPDC-JV cleans it up. Where necessary, and as agreed with the relevant government agency, SPDC-JV remediates the affected area, regardless of its cause. For incidents from September 2020 the final recovered spill volumes, which may exceed spill volumes recovered at the time of the JIV, will begin to be populated on the basis of relevant approved documentation.
"When a leak is identified production is suspended and we contain and recover spilled oil. SPDC-JV regularly tests its emergency spill response procedures and capability to ensure it can respond rapidly and effectively to a spill incident. In line with government regulations, a Joint Investigation (JIT) team visits the spill site in a Joint Investigation Visit (JIV) to establish the cause, volume, extent and impact of the spilled oil," the statement added.
Subscribe for latest Videos