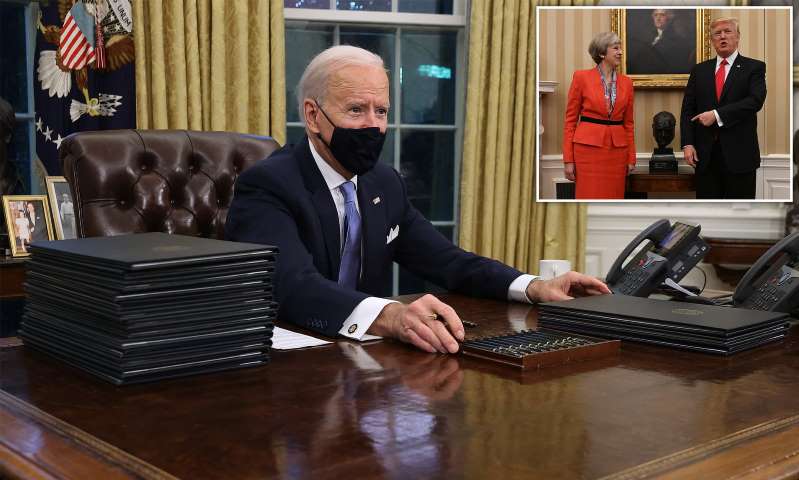 US President, Joe Biden, will use a speech in Georgia to endorse changing Senate rules that have stalled voting rights legislation, saying it's time to choose "democracy over autocracy." But some civil rights groups won't be there, in protest of what they say is administration inaction.
As he turns to his current challenge, Biden on Tuesday is also paying tribute to civil rights battles past — visiting Atlanta's historic Ebenezer Baptist Church, where the late Rev. Martin Luther King Jr. once held forth from the pulpit, and placing a wreath at the crypt of King and his wife, Coretta Scott King.
With Senate Majority Leader Chuck Schumer, D-N.Y., setting next Monday's Martin Luther King Jr. Day as a deadline to either pass voting legislation or consider revising the rules around the chamber's filibuster blocking device, Biden is expected to evoke the memories of the U.S. Capitol riot a year ago in more forcefully aligning himself with the voting rights effort.
Biden plans to tell his audience, "The next few days, when these bills come to a vote, will mark a turning point in this nation."
"Will we choose democracy over autocracy, light over shadow, justice over injustice? I know where I stand. I will not yield. I will not flinch," he'll say, according to prepared remarks.
"I will defend your right to vote and our democracy against all enemies foreign and domestic. And so the question is where will the institution of the United States Senate stand?"
ALSO READ: US experts urge Biden's to send more weapons to Ukraine
Current rules require 60 votes to advance most legislation — a threshold that Senate Democrats can't meet alone because they only have a 50-50 majority with Vice President Kamala Harris to break ties. Republicans unanimously oppose the voting rights measures.
Biden in the past has waded more cautiously into the debate. He is under enormous political pressure to engineer a breakthrough, though it's not clear what practical effect he can have.
Not all Democrats are on board with changing the filibuster rules. Even if Democrats clear the obstacles to passage of the voting rights laws, it could be too late to counter widespread voting restrictions passed in 19 states following former President Donald Trump's 2020 loss and his lies — embraced by many in the GOP — that the election was stolen through voter fraud.
Some voting rights advocates planned to boycott Biden's speech. Georgia Democratic gubernatorial candidate Stacey Abrams, known for her untiring voting rights work, also was skipping the event. The White House, meanwhile, sent out an unusually long list of attendees for the speech. Aides said Abrams had a conflict but didn't explain further, though she tweeted support for the president.