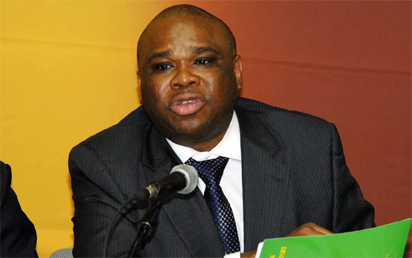 By Emma Ujah, Abuja Bureau Chief
The President of the African Export-Import Bank (AFREXIMBANK), Prof. Benedict Oramah, has challenged Nigerian leaders to stop development rhetoric and put their words to action.
Speaking virtually as a panelist at the plenary of the NESG#27 in Abuja, Monday, he said that for too long, Nigerian leaders had spoken of what they planned to do without doing much.
He said that the COVID-19 exposed the vulnerability of even the rich in Nigeria who thought they could always run out of the country to access quality healthcare, when they could not travel, last year, because everywhere was on lock-down.
His words, "it has always been rhetoric. We have remained at the lowest rung of the ladder all these while. With the COVID-19, it became obvious that those who could always hop into the plane and run elsewhere for medical checks or treatment could not do so because everywhere was on lockdown.
"We have all that is necessary to develop but we never paid attention to ourselves. It should no longer be lip-service. The urgency of the future is now. We don't need preaching anymore."
In her contributions, the Co-Founder /Manager Partner, Sahel Consulting Agriculture and Nutrition & Co-Founder AACE Foods, Mrs. Ndidi Nwuneli, lamented Young Nigerian professionals were leaving the country on a continuous basis.
"Our young people are leaving in droves. Our best minds, best trained hands are leaving our country," she said.
Mrs. Nwuneli disclosed that 84 per cent of Nigerians could not afford a healthy diet.
She described food as medicine and necessary for economic growth, which required greater attention by the government.
Contributing to the discussion, the Chairman of the Presidential Economic Advisory Council, Prof. Doyin Salami, said that the roles of government and those of the private sector should be clearly defined.
He said that the nation should pay attention to the dynamics of the population and ensure that the population remained an advantage rather than a liability.
With the coming into effect of the African Continental Free Trade Agreement (ACFTA) the chairman urged that both the public and private sectors of the country work together to see a Nigeria that would be a big player on the continent.
He added that Nigeria should strive to be a contributor to innovation and not just a domesticator, as has largely been the case.