Engineering firm Danfoss will be focusing on the importance of implementing cold room maintenance best practices for an ever-growing and demanding African climate, in an upcoming webinar for the Nigerian market.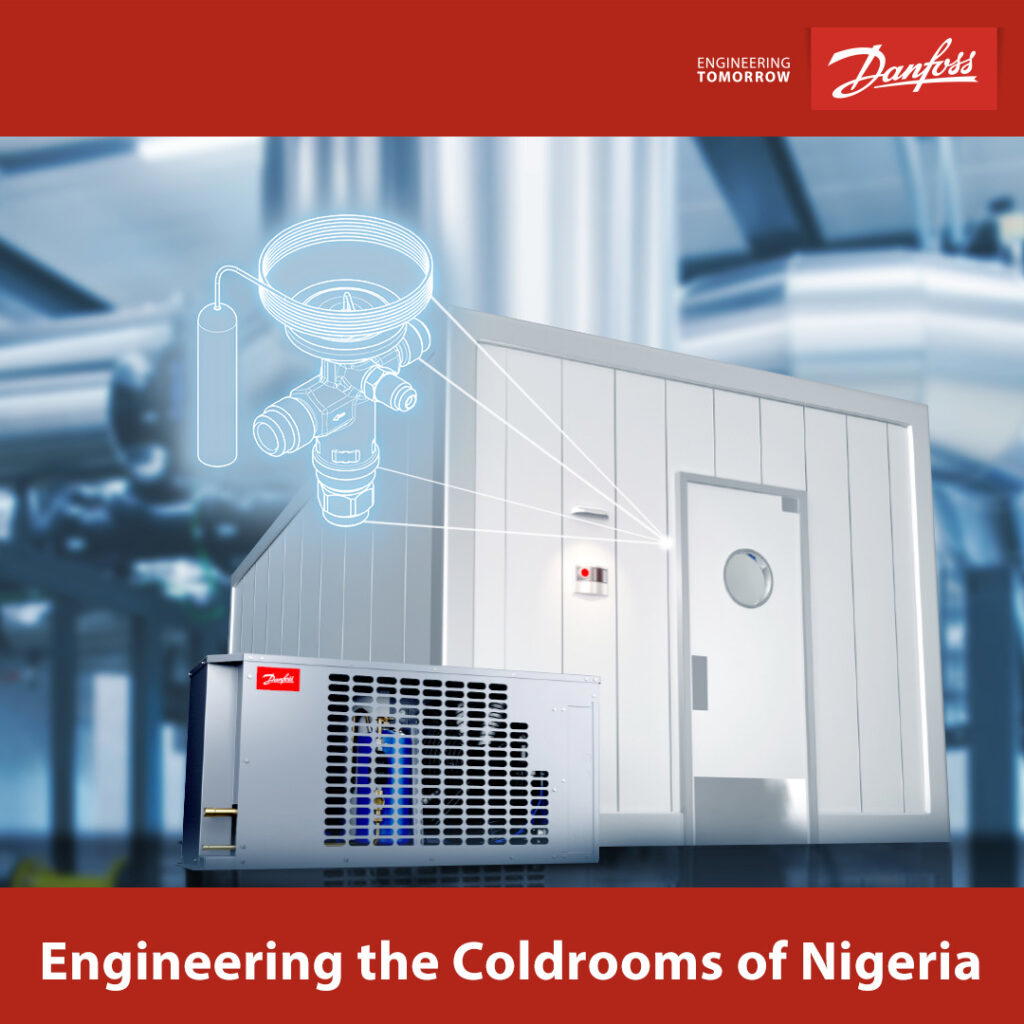 Taking place on Tuesday, 19 October 2021, the organisation's global applications expert, John Broughton, who is sharing practical advice on how to prevent refrigeration system failure, will be joined by Danfoss anti-counterfeit counsel, Abier Wasouf, to discuss the negative impact that fake products can have on cold storage facilities.

In addition, the webinar will include a presentation by award-winning farmer, social entrepreneur and innovator, Nnaemeka Ikegwuonu, founder and executive director of the Nigerian Small Holders Foundation.
The foundation is a rural development organisation founded in 2003, promoting the environmentally sustainable agriculture needed in the country to improve the yield and income of local smallholder farmers.

Ikegwuonu is also the CEO of ColdHubs Limited, provider of a 'plug and play', modular, solar-powered cold room, aimed at providing 24/7, off-grid storage and preservation of perishable foods and addressing the challenges of post-harvest losses faced by Nigerian agriculturalists, including local small farmers and micro-enterprises.

In his talk, Broughton will break down the different components of a typical refrigeration system, looking at the function and purpose of each piece, such as compressors and valves, as well as the most common reasons for failure and guidelines on how these can be remedied and avoided.

In a concerted effort to help fight crime and rid Nigeria of risky counterfeit products, Danfoss is partnering with local authorities, such as NARAP (the Nigerian Association of Refrigeration and Air-condition Practitioners) and SON (the Standard Organisation of Nigeria).
In line with these efforts, Danfoss' Wasouf will explore the safety threat to organisations that the use of counterfeit products poses to organisations, as well as the potential negative impact on the economic growth of legitimate businesses through loss of revenue, downtime to repair and replace non-functional products, and the replacement costs incurred.

To register to attend this free-of-charge webinar on 19 October 2021,
please visit https://attendee.gotowebinar.com/register/3676425352420597774
For more information:
Lynne McCarthy, Marketing & Communications Specialist, Danfoss Turkey, Middle East & Africa
[email protected]

Danfoss engineers advanced technologies that enable us to build a better, smarter, and more efficient tomorrow. In the world's growing cities, we ensure the supply of fresh food and optimal comfort in our homes and offices, while meeting the need for energy-efficient infrastructure, connected systems, and integrated renewable energy.
Our solutions are used in such areas as refrigeration, air conditioning, heating, motor control, and mobile and industrial machinery. Our innovative engineering dates back to 1933. Today, Danfoss holds market-leading positions, serving customers in more than 100 countries. We are privately held by the founding family.
Read more about us at www.danfoss.com.