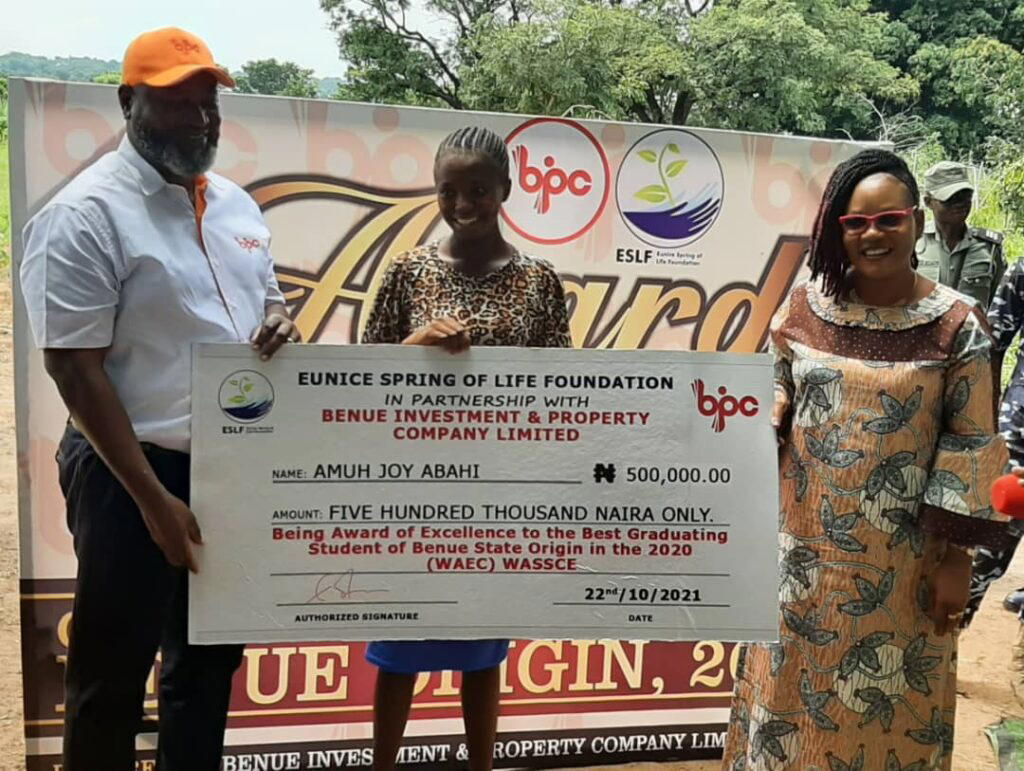 By Peter Duru – Makurdi
The year 2020 Benue state best graduating WAEC Student, 17 year old Miss Joy Amuh who for lack of money could not seek admission into a tertiary institution has been offered a N500,000 scholarship by the Benue Investment and Property Company Limited, BIPC, in conjunction with the Eunice Spring of Life Foundation, ESLF.
Presenting the award at the weekend to Miss Amuh in Makurdi, founder of the ESLF and First Lady of the state, Dr. Eunice Ortom said the scholarship came timely as it would enable the awardee pursue her dream of higher education in any Nigerian University.
Mrs. Ortom who commended the Managing Director of BIPC, Dr. Alex Adum for his foresight and accomplishments since assuming leadership of the organisation two years ago despite the challenging times, urged him and his management team to sustain the tempo.
Earlier while introducing the awardee, who finished with nine distinctions from Saint Paul Secondary School Otukpo, to Mrs. Ortom, the BIPC Managing Director said the gesture was in fulfillment of the company's Corporate Social Responsibility, CSR, to the people of the state.
According to him, "it marks a very important day for our great company, the BIPC as we kick-start one of our CSR projects of awarding the overall best graduating student of the WAEC WASSCE of Benue State origin a scholarship of N500,000.00
"What we are witnessing today is the beginning of our CSR project which is anchored on rewarding merit and excellent performance of Benue youths particularly in the academia in order for them to realize their potentials of attaining the next level of education at the post secondary and post graduate levels."
The Managing Director further disclosed that the company had also instituted a Masters Degree Scholarship with the Sum of N1million and would soon meet the management of Benue State University to identify and reward any student who emerged the winner.
"The last phase of our Company's commitment to Benue people shall be the sponsorship of a talent haunt programme tagged 'Voices/Hands off the Street."
Reacting, Miss Amuh appreciated BIPC and ESLF for the support, saying the gesture would enable her actualize her dream of a university education and eventually becoming a broadcast Journalist.