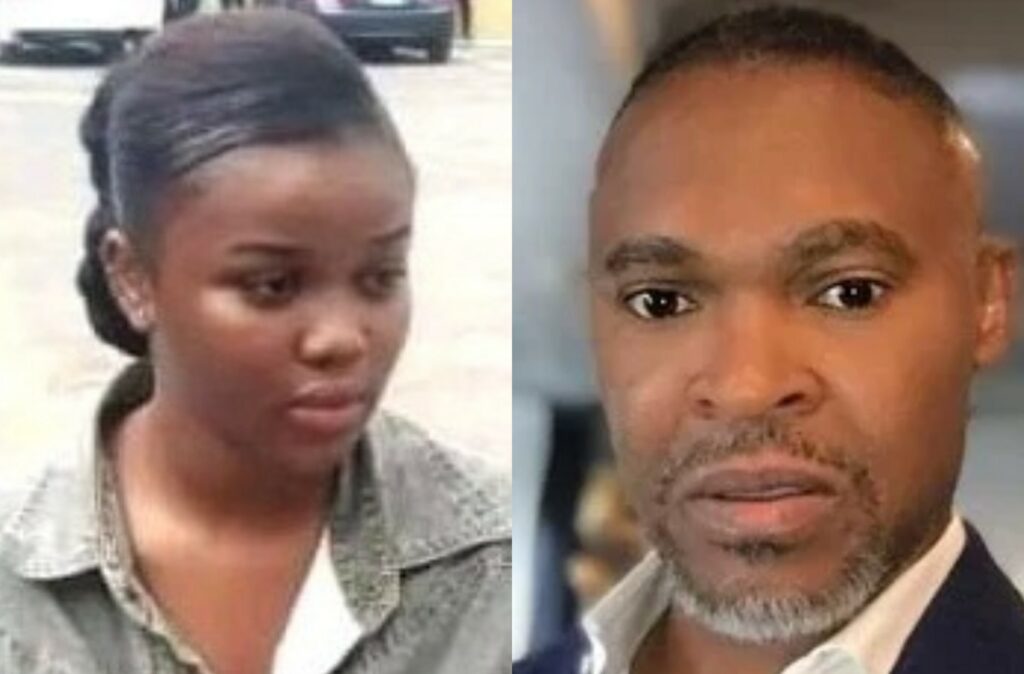 By Evelyn Usman
She was the cynosure of all eyes last Thursday, at the Lagos State Police Command Headquarters, Ikeja, Lagos.
The question on every journalist's lips was what could have brought such a beautiful and innocent-looking young lady to the command.
Alas! She was alleged to be the prime suspect in the murder of  Chief Executive Officer, Super TV, Michael Usifo Ataga, whose lifeless body was discovered in a serviced apartment on 19 Adewale Oshin street, Lekki Phase 1, Lagos, on June 15, 2021.
The murder of Ataga put policemen on their investigative toes, as there was no trace of his female companion as at the time of Usifo's body was discovered.
Arrest
After one week, the Police tracked the female companion to  57 Akinwunmi street, Alagomeji, Yaba area of Lagos.
Since then, the pages of national dailies as well the social media world have been awash with news of Chidinma Adaora Ojuwu, a 300-level Mass Communication student of the University of Lagos, in the murder saga.
The motive
To the astonishment of all, Chidinmma admitted culpability, revealing that she strangled and stabbed Usifo, whom she claimed to have met through a friend,  four months ago.  She explained that she acted in defense after the deceased attempted to forcefully have sex with her the second time.
But many Nigerians, especially the Atagas, are of the view that she could not have carried out the murder alone.
This position is hinged on the fact that she could not have been able to match the deceased in a fight, owing to her frail look, the age difference and gender, let alone to overpower him.
Many are also of the view that if the deceased could force his way into her the first time as she confessed, he could as well have overpowered her as many times as he desired.
ALSO READ: I protect myself with juju, arms found in my house is govt magic— Igboho
The Police on their part, said they were still on the trail of those likely connected with the murder . But Chidinmma has maintained that she did it alone. She revealed that they were both high on Roffies,  a street name for  Rohypnol.
She told journalists that late Usifo took three wraps of the substance while she took only one wrap. She further stated that she was able to overpower him because he was weak as a result of the overdose of Rohypnol.
The intrigues
From Chidinmma's confession and her 'live large' lifestyle, some persons are also of the view that she could have snuffed life out of Usifo with the aim of stealing his ATM  card, having got the pin from him earlier, as she claimed.
To assert this position, Chidinmma was said to have invited an internet fraudster who is on the run, to assist her to withdraw some money with the deceased ATM card. The Police are still on the manhunt for the alleged accomplice.
Contrarily, others are of the opinion that it was a premeditated action, following findings that she used an international telephone number during the period of sourcing for the Short Service apartment.  
Many also feel there are lots of unanswered questions, such as the choice of the Short Service apartment in Lekki phase 1, when the deceased had better accommodation in different areas of Lagos. Unfortunately, he is not alive to counter Chidinmma's claim .
Rohypnol again?
Findings showed this is not the first time Rohypnol drug  was used for a high profile murder in Nigeria.
Remember late Cynthia Osokagu, the Nasarrawa State University post graduate student who was murdered by her facebook friends: Okwumo Nwabufo and Olisaeloka Ezike, on July 22, 2012 at Cosmilla hotel, Lakeview estate, Amuwo Odofin area of Lagos? The same drug (Rohypnol) had played an ugly role too.
The 24-year-old undergraduate student was picked by her assailants at the  Murtala Muhammed Airport, Ikeja and driven to the hotel, where she was offered a juice which unknown to her had been laced with Rohypnol.
ALSO READ: Nnamdi Kanu ordered us to bury Ikonso with 2,000 human heads, but we got only 30 — ESN Commander
But to the amazement of her assailants, she was  not dazed by the drug as expected, as she vehemently  resisted them and refused to give them the pin of her ATM card.
To force the pin number out of her, her assailants   took turns to rape her.  She was   gagged and strangled to death and her lifeless body abandoned  in the hotel room.
CP Okoro proffers clues for investigators
Nigerians will never forget the name CP Dan Okoro (rtd),  the police officer who unraveled the circumstances surrounding Cynthia Osokagu's death and brought the perpetrators to book, in a hurry.
Okoro, who was an Assistant Commissioner of Police and the Area Commander  'E' Festac, then, offers some clues that could assist detectives in the ongoing investigation into the murder of Usifo Ataga.
The retired Commissioner of Police is also of the view that the Police should look beyond Chidinma in their investigation.
He said, " That same drug, Rohypnol, used for late Cynthia Osokagu, also  featured in the case of Michael Usifo Ataga's murder.
"Investigators should not limit investigation to  the issue of murder. They should be able to investigate the element used in that murder: the knife, the drug and substance found in that room. 
"There  should be a full scale investigation on the circumstance surrounding the issue of murder and what  was made possible of that eventual murder. They must have seen droplets of other drugs used, whether remnant in a bottle.
"In the case of Cynthia, I found it inside the room when I searched the deceased's bag  and I tried to question how the drug came about. That was where the revelations started coming up that led us to a pharmacy that gave that drug out.
"That drug is classified as a poison under the Pharmacy Act. It must be registered before it can be given out to anybody and it must be under doctor's prescription.
"Those who interviewed  Chidinnam didn't open to the extent of how come about the drugs. Whoever sold that drug is an accomplice. That person must have aided the commission of that crime".
Forensic analysis needed
"Forensic analysis of the deceased and Chidinmma's phones is also needful. That will help  them  know who brought in the drug and where they procured it because I read where they said the deceased  sent somebody to bring it .
"That means he called the person on phone. They should be able to analyze that to know who the person was.
"Also, that very hotel should be checked if they have Close Circuit Television, CCTV.  A footage of the compound, the entire entrance and outlets will give further credence to the ongoing  investigation, as it will  further analyze those who aided or abated the crime.
"In late Cynthia's case, the footage showed when the two suspects came in with her and  how one of them left the room and later came back with a bag.
"From the forensic auditing of their statement, we were able to unveil that area of what were in the bag he came with. That was when he confessed that it contained the cellotape used to seal her mouth and the chains they used to tie her.
READ ALSO: Arrested IPOB Members Confess: We swore an oath to die mysteriously if we disobeyed Kanu
"Further analysis on their phone revealed that when one of the assailants bought the chain, he sent a message on WhatsApp to his partner, asking if it was okay and he responded in affirmation. That was what established that it was a premeditated murder.
"Critical analysis covering all areas is needed in this investigation so as to put paid suggestions and opinions circulating in the social.
"The investigators should go beyond the ordinary when they are investigating. They should have a very detailed forensic investigation and forensic auditing with confession evidence".
Advice to Nigerians
The security expert also advised Nigerians to be wary of those they socialize with in order to avert similar tragedy.
Giving some security hints on what to look out for when hanging out, Okoro, said, "anybody,  whether a man or a woman who has a friend should be able to know the propensity of his or her friend. 
"Since you must have been hanging out, enjoying yourselves, drinking and smoking, you should be able to know the extent to which your friend can go, when he is on the other side of social life.
"When intoxicated, some persons can be very noisy, some can be very violent, some can attempt to be violent while others can behave abnormally like total insanity.
"When you are into drug or having a relationship with somebody that is into drug, that is an up the hill condition. 
"People are advised to get away from drugs because you can never tell when the devil in drugs can act.