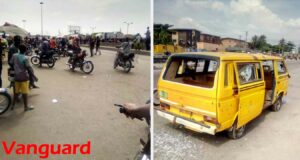 By Arogbonlo Israel
It was an eyesore as scores of commercial motorcyclists popularly called 'Okada' riders clashed with Danfo drivers on Monday.
There was pandemonium this morning in Mile 2 area of Lagos, which caused panic in the axis as many road users scampered to safety, including Vanguard reporter who had firsthand experience of the story.
The clash came on the account of an okada rider allegedly stabbed to death by one of the Danfo drivers whose name was not ascertained at press time.
During the clash, Vanguard reporter alongside some other passengers escaped death from the hands of angry Okada operators as the riders chased commercial drivers and pelted them with stones.
In a video recorded by Vanguard reporter, the okada riders were seen chasing a danfo driver with dangerous weapons while security operatives in the area were nowhere to be found at the time of the incident.
A commercial motorcycle operator, who begged for anonymity, told Vanguard reporter that he alongside his colleagues plying through the Mile-2 overhead bridge had to suspend the day's work because of the clash.
Speaking to Vanguard, the Secretary of the Northern Okada Riders Association in the area, Mohammed, confirmed the arrest of the culprit by the Nigerian Army.
According to him, "At about 12noon, an okada rider which is from the Northern part of the country was stabbed by an Agbero (Danfo driver) at his neck side and immediately, he died. As I speak to you, the murderer has been taken to Signals Barrack, Mile-2.
"So, we are trying to contact the police that has the authority of this jurisdiction and we want the Nigerian Army to hand over the culprit to them for proper arrest and further prosecution.
"We are here to calm our people (okada riders) down so as to guide against further violence because if things are not brought under control, many innocent lives would be lost in the process."
All efforts by Vanguard reporter to reach the Nigerian Army over the matter met rebuff at the time of filing this report.