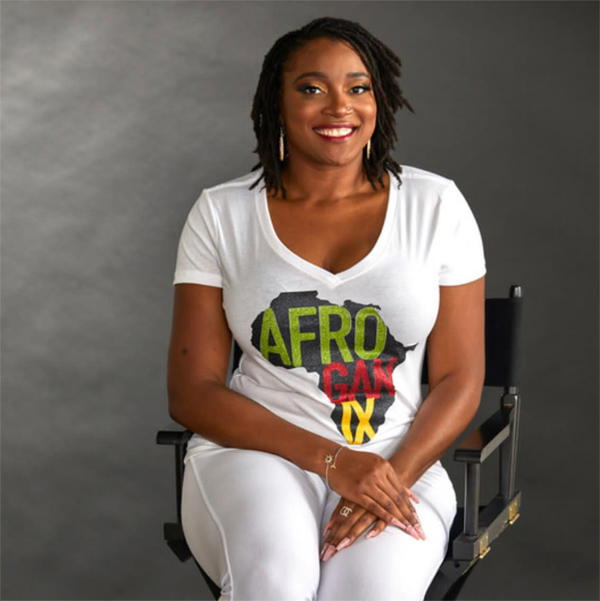 By AYO ONIKOYI, Entertainment Editor
Many black people are stepping out of the shadows to show up and take a stand for whom they are. Never in the history of the black race have they ever been taken seriously like now because of exploits of some who have defied all odds, with guts and blood, to ask questions of the negative narrative they have been painted throughout history.
Their strengths, sacrifices, steadfastness, Invention, ingenuity, industry and love for their kinds have brought cheery answers, not only to their people but to the world at large. One of such black people rising to the occasion is Bolaji Adeola Ajike, a Nigerian who migrated to the United States of America at the age of 7 years with her parents.
She had a dream to expose the world to black businesses. In 2016, the reality of the dream began to take form and the result was the birth of her company named AfroGanix. Then, she had moved from her comfort zone of Willingboro, NJ (Boro) to Tampa Bay in Florida.
"I literally had to meet new people and engage with others which I was absolutely petrified of doing. But with the help of great friends I was able to step out of my shell and this has been the biggest blessing," she said.
With the vision to expose the world to black businesses, activists, and change makers causing economic seismic shifts across the globe she premiered GoddessTalk Show June 2019. And to take her dream further afield she launched the GoddessTalk App in July of 2020. In December 4, 2020 she created GoddessTalk Network, making her the CEO of a multimedia network of creators circulating content, information, resources, and commerce on a global scale across all streaming platforms and coming soon to cable networks.
"I operate AfroGanix, LLC aligning businesses with distribution, manufacturing, and fulfillment globally. Helping you get "What You Need, Where You Need It, When You Need it!"Over the years, I developed a passion for service and a passion for the economic success of the African Diaspora.  After earning my Master's in Public Administration, I set out to be a "rebuilder of economic anomalies" within the Black Community such as the much touted "Black Wall Street". I want to see a Black Wall Street in every melanated community globally," she declared.
"I have been supported by my friends and family who just organically shared my content and anything that I put up about black owned businesses, etc.  Using my social media platforms I consistently give visibility to any and all Black – owned businesses that I come in contact with or that are shared with me. I align business owners with clients/customers by being the "plug" when anyone needs to find a specific business/product. Sharing products, services, and also often patronizing them myself. I strongly believe that in working together on an economic level, the Global Diaspora can create an economic seismic shift," she added.
Speaking further she explained the connection between AfroGanix and the GoddessTalk App, emphasizing their projections and how they inter-phase.
"AfroGanix was the company I started first. It was the company I really would have named my app after. But I noticed that to just help people sell products wasn't enough. I had to help them distribute them. We, as a people are consumers when it comes to business. We haven't been producers, manufacturers and distributors. We'd basically left ourselves at the mercy of others to make everything for us but just consume. So I decided to shift my business focus for AfroGanix.
I literally had a dream I was going to help our people move things across the world. And that it was going to help us in my core missions: helping others.
"GoddessTalk was me realizing that just posting about people and their businesses wouldn't do. I had to interact with them. I had to "talk to them". I had to encourage them. We Children of God, so as a woman it would make me a Goddess and men gods. So, I wanted something to capture us: Gods & Goddesses "Talking" so you got GoddessTalk. But I'm actually quite shy. I didn't want to be out there meeting people. So I thought a podcast would be nice.
It would help me work on my nervousness, etc. I started the podcast with some friends, but scheduling issues eventually led to me going solo dolo. I am so connected with so many businesses I started interviewing friends, then people started referring others to me for interviews. I noticed that the world was shifting and I had to pivot as well. The Tech Space is under utilized by us to distribute true valuable information," she said.
Bolaji Adeola Ajike is an entrepreneur with businesses in different fields. She was born in Lagos, Nigeria and raised in Surulere, Lagos until her family moved to the United States in 1995. She grew up in Willingboro, NJ (Boro). She's the oldest of four children.
She holds a B.A. in Communications Studies and and Masters in Public Administration from Mount St. Mary's University, Enmitsburg, Maryland and Capella University, Minneapolis, Minnesota.
"I almost had that doctorate in Health Administration but I wanted to focus on my businesses and dropped out 5 years into the program. My mom hasn't forgiven me yet. She wanted her "Dr. Ajike" so bad," she joked.