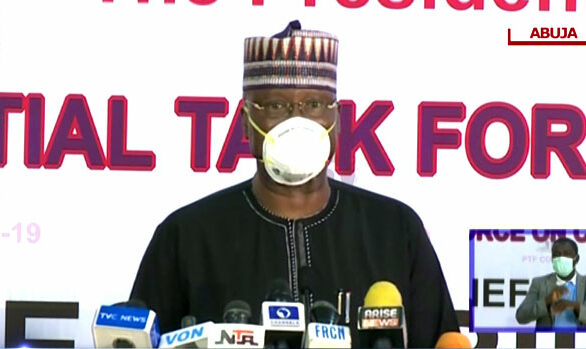 By Omeiza Ajayi
The Federal Government has extended the Phase Two of the eased lockdown by four weeks, but partially lifted the ban on interstate movement.
Chairman of the Presidential Taskforce PTF on Covid-19 and Secretary to the Government of the Federation SGF, Mr. Boss Mustapha disclosed this at a briefing Monday in Abuja.
He said within this extended phase, there will also be a safe re-opening of schools to allow graduating students back to classes, while interstate movements would only take place outside curfew hours.
Announcing the new measures, the SGF said; "I am pleased to inform you that Mr. President has carefully considered the 5th Interim Report of the PTF and has accordingly approved that, with the exception of some modifications to be expatiated upon later, the Phase Two of the eased lockdown be extended by another four weeks with effect from Tuesday, June 30, 2020, through Midnight of Monday, 27 July 2020.
"Specifically, however, the following measures shall either remain in place or come into effect: Maintaining the current phase of the national response for another four weeks in line with modifications to be expatriated by the National Coordinator; Permission of movement across State borders only outside curfew hours with effect from 1st July 2020; Enforcement of laws around non-pharmaceutical interventions by States, in particular, the use of face masks in public places; Safe re-opening of schools to allow students in graduating classes resume in-person in preparation for examinations and; Safe reopening of domestic aviation services as soon as practicable".
Only pupils in Primary Six and students in Junior and Senior Secondary Three would be allowed back to classes to write their terminal examinations.
Non-compliance
Mustapha lamented the continued and general non-compliance with safety measures, noting that Nigeria could experience a resurgence of Covid-19 infections.
He said; "The PTF also escalated its activities around risk communication to Nigerians but we have observed with growing concerned the non-compliances with these measures designed to prevent transmission and protect vulnerable segments of the population. We hold the strong view that if such actions do not abate, experiences of the resurgence of the virus from other jurisdictions including China, the United States of America, Brazil and across Europe may emerge in Nigeria and we run the risk of erasing the gains made in the last three months".
According to him, the spread has entered the community phase which only States and local governments should drive, adding that the inaction of a particular State could endanger its neighbours and compromise the entirety of the response.
The SGF added that the Federal Government will predicate its resource deployment to States on the level of compliance and the extent of collaboration received on this public health emergency.
Increased airfares
Mustapha said there is a general increase in the prices of goods and services, saying airlines would have to increase their fares to remain afloat.
He said; "I think there is a general increase in everything, not only air tickets. If you go to the market now, the prices prior to Covid-19 are different from what you get in the market now. That is the difficult thing that is going to confront us as a people. Because of the protocols that are going to be introduced in the whole business of aviation, you would definitely expect an increase in the fares. The Federal Airport Authority of Nigeria FAAN has already increased its customer service fare by 100 percent. It used to be ₦1000 but now it is ₦2000 even before the operations start. So, it is not just the airlines, even the government institutions who have the responsibility of managing the aviation industry will review their charges because that is the nature of what Covid-19 has thrust on the people of the country and all over the world.
"Also, there is going to be some bit of social distancing in the aircraft. If an aircraft has the capacity of 150 people, they might now be restricted to about 100 or 75. Flying comes with components of cost. Aviation fuel is one of them. Salaries for the pilot and cabin crew are part of it. Services that are paid for to the aviation industry institutions are there. The costs have to be shared by the passengers and the business owners because nobody runs a business at a loss. Profit is the motivation for going into business. Flying is not a social service", he declared.
Precision measures
National Coordinator of the Taskforce, Dr. Sani Aliyu said while it is difficult to lock down some areas without defined boundaries, the PTF would ensure that all other non-pharmaceutical measures are strictly adhered to in the 18 high burden local government areas.
According to him, only essential movements would be allowed.
He said; "On the restriction of movements in specific local governments, we are still working with the state governments because you cannot lock down local governments without working the states. Some of these local governments, by their geographical locations, do not have defined borders. We will be sending out clarifications as soon as we finish this piece of work. The restriction of movements in these local governments is only one of several interventions that we are putting in, in terms of hotspots. The precision target in these areas includes not only to improve testing but isolation and to make sure that we do a lot of risk communication and public awareness activities. So, cessation o movements are only part of it and in some of the local governments, it may not be practicable to do so. We already know some local governments where it will be impossible to enforce this. But overall, what we are trying to do is to put out the small fires across the country rather than trying to fight a raging fire across the whole country which will be very difficult and will also be damaging, economically, for us. So, for those areas where we have a high burden, where the numbers are increasing rapidly, where we have a high positivity rate, we will be introducing specific precision measures working with the state governments to make sure we get on top of this. This is something that will continue to be reviewed. We expect some local governments to drop after the interventions and some to be added".
He said state governments were consulted before the decision to lift the ban on interstate movement, adding that no one would be allowed to travel within curfew hours.
"We expect people to plan their travels to make sure that wherever you are, certainly the 10 pm to 4 am curfew remains".
Although the PTF did not list the local governments, the Nigeria Centre for Disease Control NCDC had listed 20 local governments as of May 29, tagging them as high burden areas.
The local governments were spread across eight states and the Federal Capital Territory FCT. The states were Lagos, Kano, Katsina, Jigawa, Bauchi, Borno, Edo, Ogun, and FCT.
As of May 29, about 11 of the local governments were in Lagos State. They were Lagos mainland, Mushin, Eti-Osa, Alimosho, Kosofe, Ikeja, Oshodi/Isolo, Apapa, Amuwo Odofin, Lagos Island and Surulere.
Others that were listed include Abuja Municipal, Tarauni (Kano), Nassarawa (Kano), Katsina, Maiduguri (Borno), Dutse (Jigawa), Oredo (Edo), Bauchi and Ado Odo/Ota (Ogun).
YOU MAY ALSO LIKE: 
Details later…