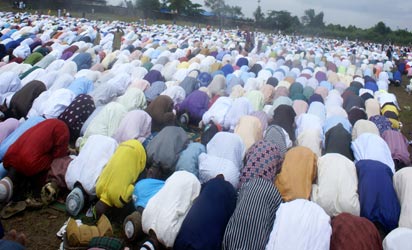 By Ishola Balogun
The Chief Imam of Lagos State Sheikh Sulaymon Abou-Nolla and Baba Adinni of Lagos Sheikh AbdulHafeez Abou have directed the divisional imams and all Muslims in the state to pray for speedy containment of COVID-19.
The duo in a separate message to Muslims urged all Muslims to beseech Allah at their various homes against the spread of the disease.
"In view of this, we directed the divisional imams to include speedy containment of the virus in all their five daily prayers, whether individually or in congregation. He stressed that maintaining social distancing and complying with government's regulation at all times would help to contain the disease.
On his part, the Chief Imam hailed the divisional Imams for complying with the suspension of Jumat service across the state, urging them to always educate their followers on importance of social distance at all times.
"Our people need to understand that the world is battling with a deadly disease that has become pandemic. We cannot afford not to be part of the solution. As the government tries to contain the virus, we must support them with prayers and adhere strictly to the government's directives," he said.
He urged Nigerians to maintain a high level of hygiene and avoid large gathering.
"We should all shun crowded place and our Mosques should not be crowded by worshippers," he said.
Special Adviser to Lagos State Governor on Islamic Matters, Alhaji Abdullahi Jebe said that prayers and compliance with government directives would go a long way to contain the virus.
Alhaji Jebe advised Muslims not to congregate more than 20 people in the local mosque, and provide hand sanitisers at the mosque for worshippers.
Vanguard