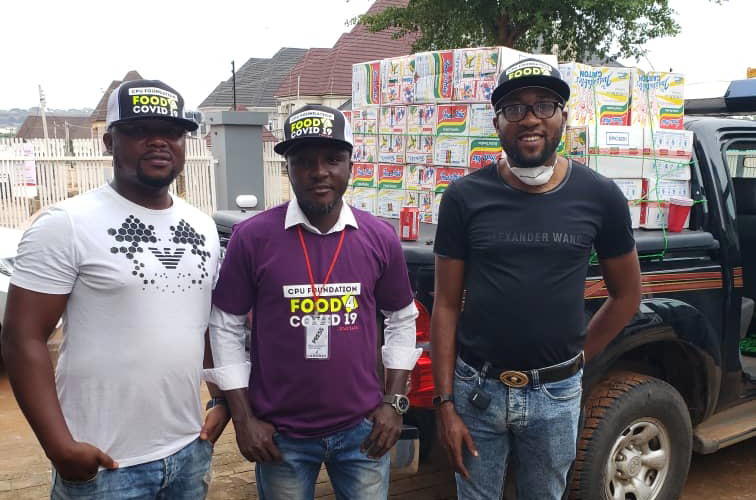 Chairman CPU Foundation, Engr. Philip Ugbomah Chukwumah (right) and Some Team Members during the Food 4 Covid-19 distribution exercise in Ndokwa East LGA
Chairman CPU Foundation, Engr. Philip Ugbomah Chukwumah (right) and Some Team Members during the Food 4 Covid-19 distribution exercise in Ndokwa East LGA
As the world grapples with the ravaging scourge of the novel coronavirus disease, COVID-19, a Non-Governmental Organization, CPU Foundation has embarked on a humanitarian service of providing food items to some Deltans as a way of cushioning the effect of the lockdown directive put in place by the State Government.
The distribution of the food items tagged "Food 4 COVID-19", which took place in Ndokwa East Local Government Area of the State, is part of effort by Engr. Philip Ugbomah Chukwumah, Chairman CPU Foundation to reach out to his people in this trying time.
The items distributed to the 10 wards in Ndokwa East include 100 Cartons of Noodles, Bags of Beans, Garri and Salt. Hand sanitizers and face masks were also distributed.
Speaking to journalists in the course of the distribution, Engr Ugbomah said the gesture was his own way of easing the effects of the sit-at-home directive put in place to check the spread of COVID-19 to Delta State.
He stressed that, by providing food items to his people, the challenge of what they will eat within the 14 days lockdown period is being solved noting that, the availability of food is paramount in the fight to defeating COVID-19.
"This is the time for all to be our immediate neighbours' keeper, by showing love through giving even as we also pray for God's Grace to avert this pandemic." Engr Ugbomah said.
He urged the people of Ndokwa East to imbibe the health safety directives as outlined by the World Health Organization of regular hand washing, social distancing and use of hand sanitizers before and after exposure in public places.
While also appealing to Deltans to fully comply with the stay at home directive of the State government, Ugbomah commended the State Governor, Senator Dr Ifeanyi Okowa for his proactive measures so far, noting that Governor Okowa means well for Deltans and is on top of the situation to prevent and arrest if any, cases of COVID-19 in the state.