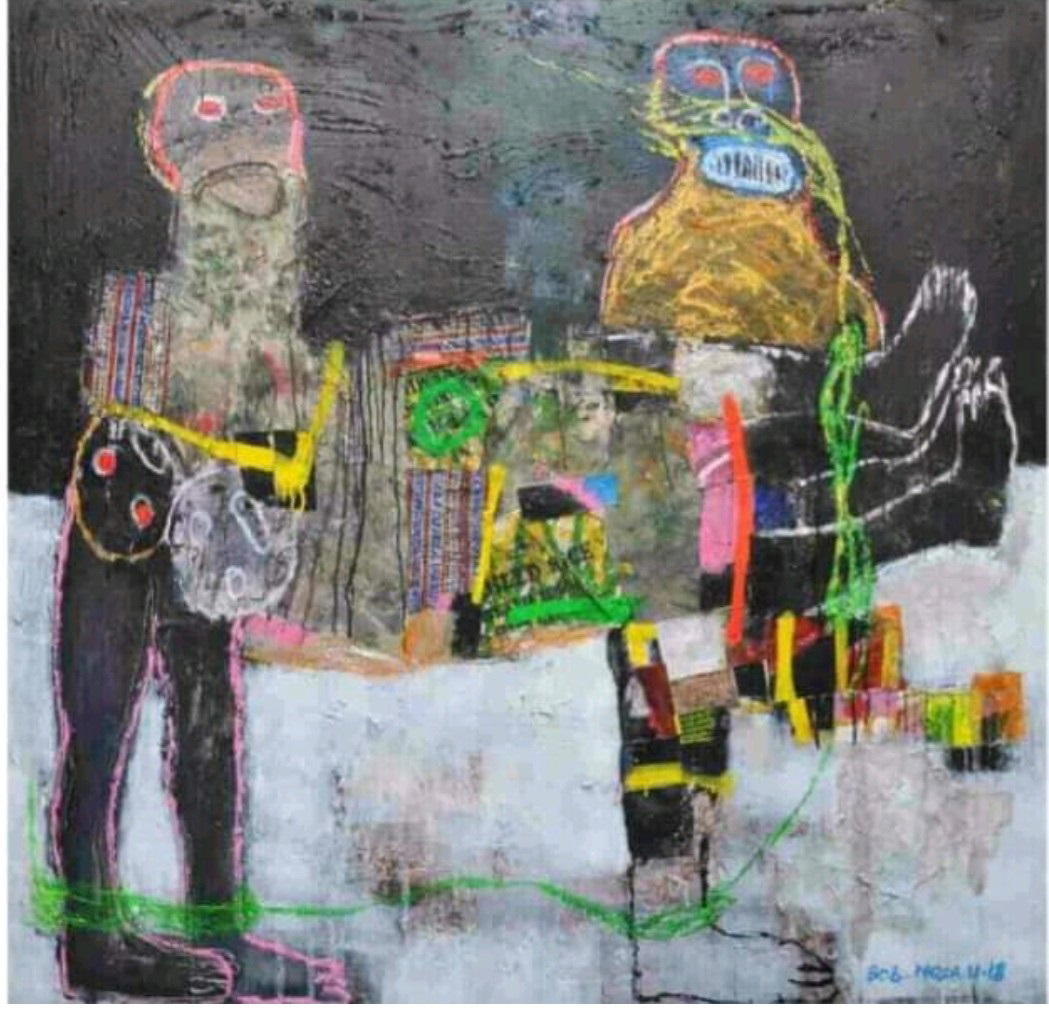 "Rest in Peace" by Bob-Nosa
By Osa Amadi, Arts Editor

Bob-Nosa with Curator Malgorzata Paszylka-Glaza in Poland
Nigeria's Bob-Nosa Uwagboe's fame has risen rapidly as Africa's foremost protest artist. Since he hit the international limelight through his distinctive style of painting, concepts, and curatorial skills of OUT OF AFRICA's Acosta Sorella and Malgorzata Paszylka-Glaza, Curator of the Modern Art Department, The National Museum in Gdansk, Poland, he has been a regular feature in exhibitions in Europe, especially in Spain and Poland.
With the present coronavirus scourge ravaging the world, Bob-Nosa's artworks which are prognosis of afflictions of mass death due to human abuse of nature and morality, have been subjects of discussion on the social media. Following the correlation between his "Rest in Peace" and the present cataclysm, and of his description as Nostradamus who saw tomorrow, OSA AMADI chatted him up on WhatsApp, only to discover that he is presently trapped in Gdansk, Poland, where he has gone to attend the exhibition of his works titled "TRANSIT".
In this brief chat, Bob speaks of his relentless warnings to humanity, and of his own safety now in Poland. Another renowned artist, Ato Arinze, also spoke to Vanguard about Bob-Nosa:
Hi Nosa.
Good morning sir.
Where are you right now?
I am in Gdansk, Poland.
In Poland? I hope you're safe?
Yes. I am here for my proposed exhibition titled "TRANSIT". But the exhibition is postponed due to the virus epidemic currently experienced by the world. I hope you remember that curator you met in Lagos at Art X 3.
Yes, the one that manages a museum in Poland.
Yes. The exhibition was supposed to open on 14th March. I got to Poland on 13th March. But the show couldn't open. Here I have been TRAPPED.
God will see you through. He has a bigger purpose for taking you to Poland at this time, and that purpose is not to bring you to harm.
Amen. Thanks.
But how serious is the coronavirus case in Poland?
Well it's not too serious but they have a government that is proactive… total lockdown. Citizens must obey the lockdown order. We are all indoor.
Bob-Nosa, Ato Arinze said of you in his comment on your work titled "Rest in Peace": "Bob saw tomorrow and here we are…."
To what extent do your works, especially "Rest in Peace", reflect the times of the moment?
Through my art, I have constantly reminded humanity of the consequences of our ill manners. Death is a forbidden topic to the shallow minded. But it's an inevitable debt we must all pay. We must be more conscious of our operations here on earth…as we can see. The present time is so surreal like a horror movie. Materialism is on hold and this is what we are all running after. "Rest in Peace" is one of my old works.
Were you in Spain recently for your exhibition by Acosta Sorella?
No, I didn't have any exhibition in Spain recently.
But Acosta Sorella's OUT OF AFRICA was advertising your work recently. I think the even sent us the flyer.
I was supposed to be part of the Africa Art Fair in New York through Sorella. But that has been postponed too. It could be she was advertising my exhibition in Poland.
Bob has a pure heart, hence his ability to see the future – Ato Arinze
Hi Ato. I am assessing the relevance of Bob Nosa's works to the issues of the moment. You wrote a comment on Bob-Nosa's "Rest in Peace" describing him as "Bob saw tomorrow and here we are. What exactly do you mean by that?
The true artists are Seers, Prophets, Sages and Gurus. Nigerians should learn to begin to take the Artists and their arts very serious. Bob's works, for me, were predictions, a warning against what was to befall humanity, and today we are experiencing it.
For those who choose to look down on the artist, they should know we are the officiating priests of the true and the universal religion; The reigning prince of the spirit world.
Paul Cezanne once said: "Art is a priesthood; only those who are pure at heart can enter it." Bob has a pure heart, hence his ability to see the future through his art.
The Spanish Artist Goya was said, "In the eyes of men we are servants of Prince, merchants and the priests but in the eye of the Spirit we (artists) are the reigning prince and I am ready to make good use of that prerogative."
Bob, like Ben Osaghae, is among the few artists in Nigeria who understand the full meaning of the above statement by Francisco Goya.
As an artist, could you, directly or indirectly, relate any of your own works to the present plague ravaging the world? It might not necessarily have to do with death. It could be any other problem of society.
Many of my works are reflections of what is happening in our society. some are predictions but none is close or related to the pandemic that is taking place now.
Among the pieces is a Portrait of the world I did in 2012. Such work reflects how man is destroying the world. This piece was done way back in the late 90's in memory of Ken Saro Wiwa. If you remember the Ogoni 9 saga. It tells the story of how our government destroys the intellectual class who are mainly the ones who see and criticise their excesses.
This piece reflects the killings in the middle belt; particularly in Benue State.