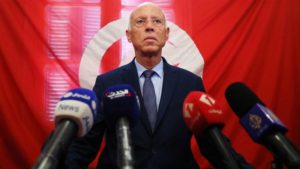 The Tunisian presidency said on Friday that President Kais Saied would not participate in the African Union (AU) summit slated for the Ethiopian capital, Adis Ababa, citing a health problem.
"On the recommendation of his doctor, the President will remain in complete rest for a period of four days starting Friday," the North African nation's presidency said in a statement.
Saied has appointed acting Minister of Foreign Affairs, Sabri Bachtobji, to represent him at the 33rd AU Summit beginning on Sunday.
The summit is being held under the AU's theme for the year 2020; "Silencing the Guns: Creating Conducive Conditions for Africa's Development."
Silencing the Guns is a commitment to achieving the aspirations of Africa's Agenda 2063, specifically Aspiration 4, which envisions a peaceful and secure Africa, thereby making peace a reality for people on the continent. (NAN)