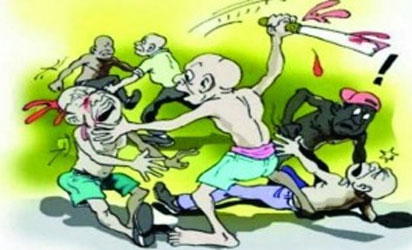 Cult clash
Cult clash
By Davies Iheamnachor
PORT HARCOURT: At least eight people were weekend killed in Okporowo village in Ogbakiri clan, Emohua Local Government Area of Rivers State following a cult clash.
It was gathered that the victims were members of a particular cult group in the area and that they were killed by their colleagues.
A source in the area, who gave his name simply as Austine, disclosed that the clash was between older and new generation members of the cult group.
He noted that the new generation of the cult had chased their older members away from the area in the bid to be in charge of the group.
The source also disclosed that the new generation had dispossessed the older members of the guns they use for their operations, claiming that the old members were not vibrant anymore.
It was learned that the old members of the cult group had returned to the community to take back their position in the group before the clash ensure.
Austine said: "We heard of the shooting on Friday night which claimed the lives of over eight people. All of them are members of the same cult group.
"Their young ones have been in the move to take over the leadership of the cult. They had taken some of their guns and chased the older people away.
"It is like the older members had come back to the community and they clashed with the younger ones. All the people that died are cultists.
Meanwhile, the Public Relations Officer of the Rivers State Police Command, DSP. Nnamdi Omoni, said the police are aware of the development, confirming that six people died in the clash.
Omoni noted that police has been mobilised to the troubled area, noting that calm has already been restored.
Omoni said "About 6 persons died in the cult clash that happened in Ogbakiri. That night, our men, the DPO and other officers were fully mobilised to the scene of incident to enable us restore normalcy in that community and they are still there guarding against a possible reprisal attack."