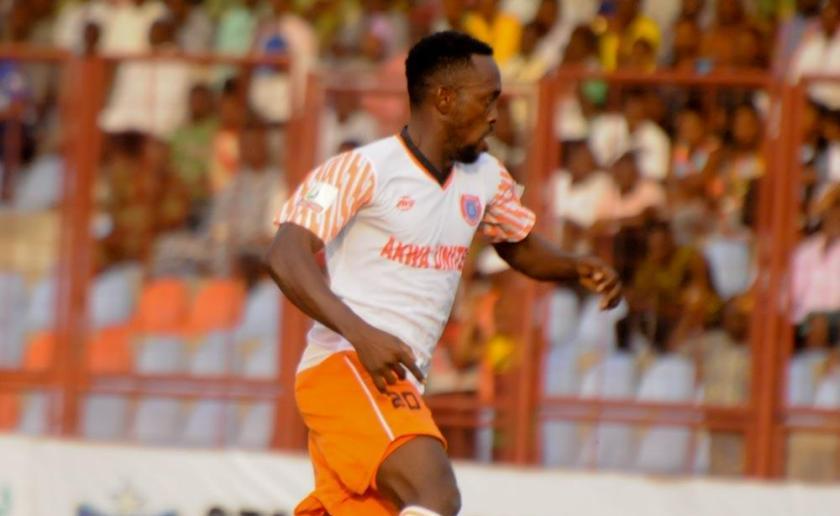 Akwa United have played their last three games on their home turf, the Godswill Akpabio International Stadium, but only few persons tend to remember that on one of those occasions, the Promise Keepers were actually the "visitors."
That was in the match against their newly promoted city rivals Dakkada FC, the team they share their Nest of Champions with. The Kennedy Boboye-tutored side won by a lone goal to claim their first three points on the road this season – even though they did not have to embark on any journey.
Prior to getting their first away victory of the season, Akwa United were "poor travellers," having only managed just a point from a possible 12. But while admitting to that fact, midfielder Ifeanyi Ifeanyi quickly added: "Don't forget we won our last game (against Dakkada) which was away. So we did very well."
Since losing 3-0 to MFM FC in Lagos four matchdays ago, Akwa United are yet to taste defeat, and as they look to continue this form in their next game, which will take place in Kano against Jigawa Golden Stars, their win against Dakkada serves as the much-needed inspiration for more positive away results.
"Going to Kano, we are going there to get something. We are not going there to joke. That point we couldn't get in Lagos, we will work really hard and by the grace of God we will come back with something from Kano," Ifeanyi assured.
Looking ahead to the New Year, Ifeanyi is optimistic that they will make their fans proud. "We will always give our best. We didn't start the season very well, but I believe we will end very well. They should just keep supporting us and believing in the team. It is God who makes everything possible and our prayer is for God to help us achieve our aim this season."
Ifeanyi played 82 minutes in Akwa United's 1-0 home victory over Lobi Stars on Sunday – their third straight win since the arrival of Boboye.
Akwa United assistant coach, Abasiakan Windy has hailed the "Kennedy Boboye effect" on the team.
"I think the team is really improving everyday with the way they are playing. His (Boboye's) arrival has really boosted the confidence in the team and we are going to continue waxing stronger. Don't forget the fact that he is just about three weeks old in the team so the best is yet to come."
Source: npfl.ng