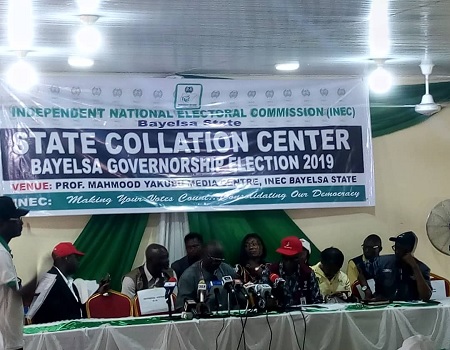 YENAGOA LOCAL GOVERNMENT AREA
According to the results as announced by the local government collation officer, Prof Dokpesi, the All Progressives Congress, APC, polled a total of 24,607, while the Peoples Democratic Party, PDP, polled 19,184.
The total number of registered voters for Yenagoa is 199,895, while the total number of accredited voters is 48,222. Total valid votes 44,852, while the total votes cast is 47,398, while 2,546 votes were rejected.
Governorship election result from Brass LGA
Registered voters – 67,355
Votes cast -34,849
APC – 23, 831
PDP – 10, 410
Governorship election result for Kolokuma/Opokuma LGA
APC – 8,934
PDP – 15,360
#BAYELSA DECIDES# RESULTS AS ANNOUNCED BY INEC:
SAGBAMA LGA
According to the Sagbama Local Government Area Collation Officer, Prof Moses Osawarue of the University of Benin, the Peoples Democratic Party,PDP, won the local government area with 60,339, while the All Progressives Congress, APC, got 7,831. Sagbama LGA is where the outgoing Governor Seriake Dickson and the PDP running mate Senator Lawrence Erwudjiakpor hail from.
Total Number of Accredited Voters: 70,111
Valid Votes: 68,569
Invalid Votes: 1022
Total Votes Cast: 69,591
Results from 17 units were cancelled due to over-voting in Sagbama
---
The Independent National Electoral Commission (INEC) has begun the collation of the Saturday Bayelsa governorship election, the commission confirmed.
The venue of the exercise, Prof. Mahmood Yakubu Media Centre, INEC Office, Bayelsa is filled with party agents, observers, journalists and security agents on guard.
The Returning Officer, Prof. Faraday Orumwense, Vice-Chancellor, University of Benin, urged all the party agents to maintain order for a successful exercise.
Mr Monday Udoh, INEC's REC in the state, thanked the electorate for a hitch-free poll.
Udoh announced that the collation began with two local government areas — Sagbama and Brass — noting that the remaining six out of eight local government areas of the state were not ready yet.
The agent of the All Progressives Congress (APC), Mr Dennis Otiotio, commended INEC on the peaceful conduct of the poll and prayed that the goodwill of the people of Bayelsa would prevail.
Previously reported the following collation below.
Opume Ward 11, Ogbia LGA
APC – 1,887
PDP – 823
Registered voters – 9,072
Accredited voters – 2,889
Ward 7 (Emeyal) Ogbia LGA
APC – 2,175
PDP – 1,175
Okodi Ward 5, Ogbia LGA
APC – 6,429
PDP – 683
Registered voters – 7,915
Accredited voters – 7,211
Ward 12, Ogbia LGA
APC – 2,804
PDP – 1570
Registered voters – 10,373
Accredited voters – 4,570