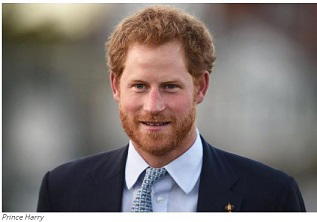 Prince Harry
Britain's Prince Harry is to sue the publishers of Rupert Murdoch's Sun newspaper and the Daily Mirror over allegations of phone-hacking as he and his wife Meghan step up their battle with the tabloid press.
The move by Harry, Duke of Sussex, comes days after he and Meghan took legal action against a different newspaper in response to what he called "bullying" by some sections of the British media.
Terrorism: Army bans activities of humanitarian agency in North East(Opens in a new browser tab)
Harry was one target in a phone-hacking scandal that rocked Murdoch's newspaper empire and prompted the closure of his News of the World tabloid in 2011.
"Claims have been filed on behalf of The Duke of Sussex at the High Court regarding the illegal interception of voicemail messages," a spokeswoman for Harry said. She declined to give further details of the claim.
A spokeswoman for News Group Newspapers, publisher of The Sun, confirmed that a claim had been issued by Harry.
Court documents first reported by website Byline Investigates also show that Harry is targeting Mirror Group Newspapers, owned by Reach PLC, with the legal action. A spokesman for Reach declined to comment.
A source familiar with the situation said proceedings have been issued but the publisher was yet to receive legal papers in relation to the case.
On Tuesday, Harry said he and Meghan were taking separate legal action against the Mail on Sunday over the publication of a private letter that her lawyers said was unlawful.
Nigeria floors P&ID as UK court halts $9.6bn payment(Opens in a new browser tab)
In an emotional statement, Harry said the treatment of Meghan by sections of the British press was reminiscent of their approach to his mother Diana, who died in a car crash in 1997 after being followed through the streets of Paris by photographers. (NAN)