…as ICERIA 2019 set to address challenges
By Gabriel Ewepu – Abuja
An agricultural stakeholder, Jim Rex-Lawson Moses, Wednesday, clamoured for adequate agricultural research funding to boost food security and for effective economic diversification.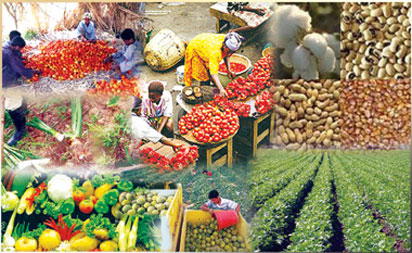 Moses who is also publisher of AGROBUSINESS TIMES and organizer of the maiden International Conference & Expo on Research and Innovations in Agriculture, ICERIA 2019, said the government at all levels with development partners should scale up funding for agricultural researches and innovations that would attract investors, create jobs and increase the nation's Gross Domestic Product, GDP, including high revenue generation through export activities, by keying into the African Continental Free Trade Agreement, AfCFTA, signed recently by President Muhammadu Buhari.
According to him, the conference is geared towards propagating and celebrating research milestones and innovations in the agricultural sector, while creating awareness to facilitate opportunities for networking, collaboration and exchange of ideas with international leaders in the sector.
Gbajabiamila, Chinda bicker as Reps begin debate on 2020 budget for second reading
He also added that the conference would give a new face and reposition this industry that would attract government attention and funding for agriculture research institutes including a showcase of innovations that and attract investors into agribusiness.
And there will be room for debating identified gaps and priorities, which if tackled and bridged would be a firm foundation for sustainable development in optimizing agricultural performance and productivity and also identify innovations in optimizing agriculture, enlighten and educate farmers, students, and others.
ICERIA 2019 is a one day conference and expo on research and innovations in agriculture coming up on October 24, 2019, with the theme, 'Harnessing Sustainable Agricultural Innovations for Economic Development' and will hold at the Nigerian Institute of International Affairs, Victory Island, Lagos.
The conference is in recognition of the role agricultural research and development have played in fostering innovation and productivity in agriculture around the world and the need for concerted efforts in this regard for Nigeria as a means of achieving food security and economic development.
He said: "The major objective of the conference is to attract government attention towards funding of research institutes in Nigeria and commercialization of sustainable research outcomes and innovations to advance the nation's economy thus the need for a robust stakeholders' engagement and rigorous discourse to chart a new green revolution backed by research and technology is sacrosanct.
"The maiden edition will also showcase and identify innovations in optimizing agriculture for sustainable development while attracting investors, enlighten and educate farmers, youths, students, and others, as well as facilitate opportunities for networking, collaboration, and exchange of ideas with renowned leaders in the industry.
"The event was necessitated by the need to position the Agric industry to change the present narrative of hunger, famine, starvation, and poverty largely suffered in sub-Saharan Africa despite the huge opportunities for export, job creation, and wealth creation."
However, he lamented the neglect of the sector by successive governments despite the potentials in the sector capable of turning Nigeria's economic fortunes around and even Africa into a global food powerhouse.
"We believed that for us to change the current narrative, all hands must be on deck to make agriculture a major foreign exchange earner considering the huge opportunities", he said.
The conference's keynote speaker is former President of the International Fund for Agricultural Development, IFAD, Dr. KanayoNwanze, and other speakers include Country Coordinator, Open Forum for Agricultural Biotechnology, OFAB, Dr. Rose Gidado, and others.
Participants will be from agricultural agencies, local and international research institutes, Department of International Trade, Chambers of Commerce, agricultural associations, banks, and professional services companies, agribusiness organisations and networks, enterprise partnerships of Nigerians and international counterparts, and others.