Daud Olatunji
Obasanjo Former President Olusegun Obasanjo on Monday described xenophobic attacks on Nigerians and others in South Africa as a great disservice to it is a great disservice to the whole of Africa and black race.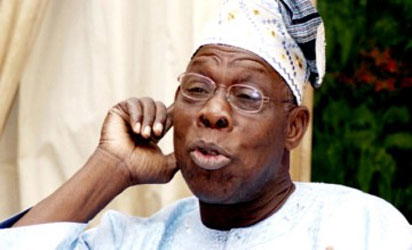 Obasanjo who said this on Monday,  in a letter he wrote to President of the Inkatha Freedom Party, Prince Mangosuthu Buthelezi, condemned the xenophobic attacks on foreign citizens in South Africa.
In his advice, the former President urged the affected countries to table appropriate motions at the African Union (AU) and consider other measures if the situation is allowed to continue.
 He said there is a need for South Africa to send emissaries to affected countries so as to engage in fence-mending, reconciliation and wound-binding.
He added, "At this juncture, there is a need for fence-mending, reconciliation and wound-binding between South Africa and the countries whose citizens have been victims of xenophobia and Afrophobia in South Africa.
"As a suggestion, South Africa should send emissaries to the countries concerned to explain, apologise and agree on the way forward for mutual understanding, accommodation, reconciliation, and binding the wound to promote unity, concord, and brotherhood in Africa.
"We, in Nigeria, if I may speak particularly for Nigeria, did all that we did for liberation in different parts of Africa, particularly in Southern Africa, including getting rid of apartheid in South Africa because we believed it was our obligatory duty to do so as Africans.
"We, as black people, believed and still believe that we would be second-class citizens in the world if we allowed any black people anywhere in the world, not to talk of Africa, to be treated as second-class citizens because of the colour of their skin without fighting against it.  It is because of our belief in human dignity generally and especially afro dignity.
"We were not doing it to get any reward or material benefit as such.  We were doing it because we were convinced that it was our duty, our responsibility and our obligation to humanity and to the black race.
"That is why we, in Nigeria, in spite of our distance from the frontline of the struggle against colonialism in Southern Africa and apartheid in South Africa, we became, in terms of our participation, contribution, commitment and sacrifice, members of the frontline States.
"Whether that is recognised and appreciated or not, we really don't mind as we believe we have done our duty as we ought to have done, and if occasion occurs in future where we need to open our doors, out of our humanity and Africanity, for people in similar situation of need as happened to people in Southern Africa and South Africa, we will do it again as we did in the past".
He, however, warned the affected countries against revenge saying, "neither is revenge a desirable solution. Mutual understanding and acknowledgement of what needs to be done on all sides is imperative and getting down to doing them is the solution that will serve Nigeria and South Africa and indeed Africa well particularly in this era of Africa Continental Free Trade Area opportunities"
Condemning the roles of the government of South Africa in the xenophobia, Obasanjo said the silence of the South African to issue a strong condemnation on the attack shows that the government is encouraging and was an accomplice in the attack.
Obasanjo said the xenophobia or Afrophobia going on in South Africa is an unfortunate issue for South Africa and for the whole of Africa.
He  said , "I dare say, for any African country to encourage or allow or not seriously sanction xenophobia against Africans in their country, it is a great disservice not only to the country where xenophobia takes place and the countries of the victims concerned, but also a great disservice to the whole of Africa and black race.
"I want to thank you, my dear senior brother, for the statement you made to alert leaders and ordinary people of South Africa to appreciate that turning a blind eye and not making a very strong statement of condemnation or taking a very strong stand against xenophobia is encouraging xenophobia or being an accomplice in xenophobia and/or Afrophobia.
"However, we believe that Africans living in any other part of Africa must be treated as brothers and friends. If they commit any crime, they should be treated as citizens of that country will be treated when they commit a crime which will mean applying judicial process.
"Moreover, the South African police and other law enforcement agencies must uphold the letter and spirit of the Constitution of South Africa, which stipulate that, "The South African Police Service has a responsibility to prevent, combat and investigate crime, maintain public order, protect and secure the inhabitants of the Republic and their property, Uphold and enforce the law, create a safe and secure environment for all people in South Africa, prevent anything that may threaten the safety or security of any community, investigate any crimes that threaten the safety or security of any community, ensure criminals are brought to justice and participate in efforts to address the causes of crime.
"Where the Police would stand aloof watching miscreants and criminals committing crimes against fellow human beings is condemnable and not acceptable in any civilised society. This was experienced in South Africa in recent times and it shows either incompetence or collusion on the part of the Police.
"The best way to fight crime is to achieve close to full employment in a society and not through xenophobia. Anybody who can deny xenophobia in South Africa of today can deny that my mother is a woman. It should not be a game of denial but rather a game of accepting reality and working at it, together with the rest of Africa where necessary".