The umbrella organisation for South-West youths, Progressive Yoruba Youth Congress (PYYC), has hailed President  Muhammadu Buhari for strengthening the Judiciary and according to them, it is evident in the series of groundbreaking election tribunal judgements.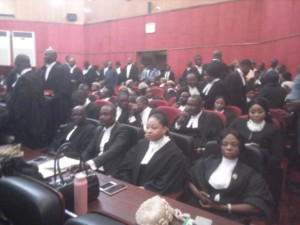 In a press conference held in Lagos on Thursday and statement signed by their president, Kola Salawu, the group revealed that the Judicial arm has become more independent, fearless and corruption-free, unlike ages past.
"The Progressive Yoruba Youth Congress have followed the events in the country with particular emphasis on the Judiciary and how it has dispensed Justice in the nation, states that indeed the Judiciary been on the side of the masses in its judgements.
"The era of the procurement of judgments in the Judiciary has been replaced with the delivering of free, fair, and credible judgments that can stand the test of time in the annals of the country".
The group placed emphasis on the verdict of the Presidential Election Petition Tribunal which upheld President Buhari's victory at the last polls despite the case presented by the opposition.
The Yoruba youths also applauded the President for the peace and tranquillity enjoyed across the country in the last 100 days. It said this is a sign of what to come in the next four years.
"The relative peace and tranquillity witnessed in Nigeria in the first 100 days in the life of the second tenure of President Muhammadu Buhari have indeed helped to build investors' confidence in Nigeria."
There was also massive adulation for Mr Buhari, who according to the group, chose the most capable hands to steer the country affairs in the next four years.
"The Progressive Yoruba Youth Congress is also impressed with the quality of appointments made in the first 100 days in office of President Muhammadu Buhari as evident in the blend of technocrats and politicians that constitute the cabinet."
The Progressive Yoruba Youth, however, urged Nigerians, irrespective of political affiliations, to support the president to achieve more.
"The urgency of now requires all hands to be on deck in the task of nation-building, and it behoves on all well-meaning Nigerians to see this as a collective endeavour rather than that of a political party, an individual, an ethnicity or a religion."
Subscribe for latest Videos