By Emmanuel Unah
CALABAR—IT is noticeably one of the oldest high-rise buildings in Calabar, Cross River State, erected in the early 70s by one of the richest men at the time, a businessman and contractor, Chief Efiok Ette. But today it is a deathtrap.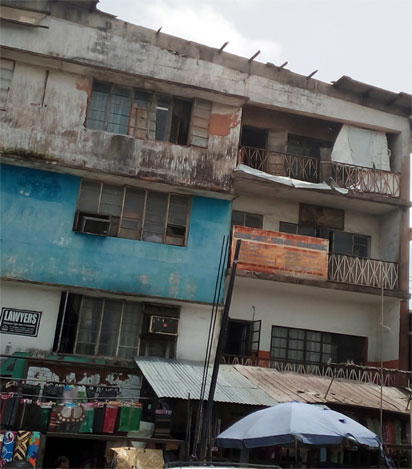 Council autonomy: APC accuses À'Ibom of subverting NFIU guidelines(Opens in a new browser tab)
The building, popularly called Efiok Ette House, is a five- storey edifice strategically located at the heart of the popular Calabar Central Market, Watt, with over 200 rooms and houses, hundreds of occupants and business outfits, including shops, offices and restaurants.
At the peak of its glory, the building accommodated such important concerns like the Nigerian Airways and National Concord newspapers, making it a beehive of activities in the city.
However, over the years, the former cynosure of all eyes has depreciated in outlook and its once solid structure has decayed and become a matter of concern to many residents of the city, as they see it as a disaster waiting to happen.
Its foundation, particularly at the back, has been eroded and the roof leaking seriously while the block work has begun to cave in with visible cracks all over the edifice.
Ironically, occupants of the building out of ignorance, nonchalance or poverty continue, to live there as if all is well with the house.
Chief Edife, a trader, who sells rugs and occupies one of the biggest shops at the basement of the building, told Niger Delta Voice: "I have been doing business in this place for the past 20 years and nothing shows that the building is facing any serious challenge apart from the occasional bricks that fall from the decking."
He said he hardly goes to the back of the building where the foundation has eroded and turned to dumpsite by traders, who sell tomatoes and other sundry items at the fringes of the habitation.
I'm uninformed about any damage—Caretaker
Chairman of the Nigerian Bar Association, NBA, Mr. Emmanuel Egbe Idaka, whose office in on the second floor of the building and serves as the caretaker of the building, said he was unaware of the damage the building is going through, but promised to tell "the owners of the house what you have observed."
One of the tenants on the third floor said each floor has three toilets and three bathrooms, which serve the large number of tenants.
His words: "This building has not been renovated since it was built in the early 70s and its facilities have terribly depreciated.
"Some of us live here, because the rents are low and we are close to our shops in the market."
At the Ministry of Environment, an official, who said he had no authority to speak to the media, told Niger Delta Voice, "now that this has been brought to our notice, we shall visit the place and see what can be done."